DISCLOSURE: I am not a mental health professional. If you need help finding a mental health care provider, call 1-800-662-HELP (4357) or visit Online Therapy to call, message, or video chat a certified therapist online. This post contains affiliate links. As an Amazon Associate, I earn from qualifying purchases. I may also receive compensation from Online Therapy or other sources if you purchase products or services through the links provided on this page. You can read my full disclaimer.
The HappyLight Lucent was sent to me for free to review.
I'm always looking for more ways to help improve my mental health. The more strategies I can have in my self-care arsenal, the better.
When I first started hearing about light therapy lamps about a year ago, I was intrigued. I wondered if there was any science to it, or if it was just some sort of placebo effect.
When I was sent the Verilux HappyLight Lucent free for review, I was so happy to try it out!
When you're struggling with depression, it might be helpful to talk to an online therapist. I always recommend Online Therapy, because it's a complete online counseling toolkit, and you can get incredible therapy for an affordable monthly cost.
Does Light Therapy Actually Cure Depression?
HOW LIGHT THERAPY WORKS
Verilux HappyLight Lucent is an LED light therapy lamp that delivers a powerful 10,000 LUX (a measurement of light intensity) for increased energy, mood, focus, and sleep.
A study done by the National Institute of Health says that light therapy has been proven effective for treating the "winter blues", as well as sleep disorders related to circadian rhythm, irregular sleep schedules, and general healthy light deprivation.
In an ideal day, we would all get a minimum of 30 minutes of sunshine.
But for many of us, that's just not possible. A lot of us work indoors, and many of us live in a rainy or cloudy climate.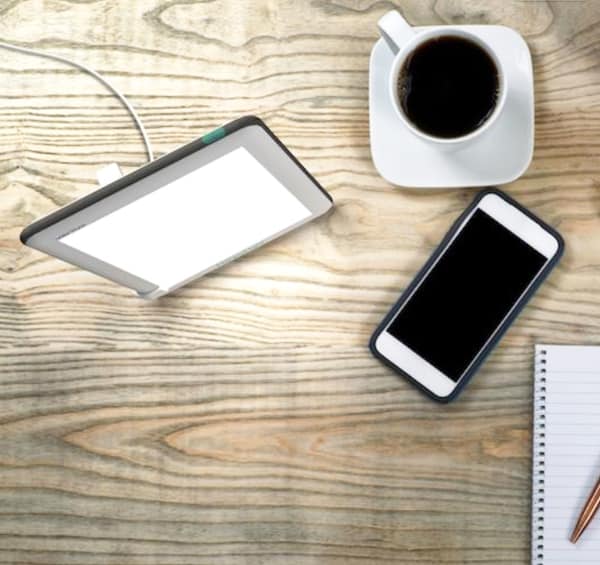 However, our brain's chemistry and internal clock are affected by light.
When we don't get enough sunlight, our bodies don't feel as happy.
We might start feeling sluggish, tired, and unmotivated. We might even isolate ourselves and feel agitated.
When you use a light therapy lamp, a biochemical change happens that helps improve your mood and relieves symptoms of both winter blues and Seasonal Affective Disorder.
This is because light stimulates hormones and neurotransmitters that greatly influence our overall feelings of wellbeing.
More specifically, light therapy improves mood and energy by triggering the release of serotonin (which is a chemical that improves mood and happiness).
The HappyLight Lucent brings daylight indoors by emitting a bright white, full spectrum light that safely mimics sunlight. It offers a natural, UV-free, drug-free alternative when you can't get your daily dose of sunshine.
LIGHT THERAPY BENEFITS
Sunlight is an essential part of a healthy lifestyle.
However, many of us don't get the daily recommended amount of sunshine we need to experience its benefits.
Luckily, light therapy can give us many of the same benefits.
Benefits of Light Therapy:
1. Mood: Light therapy improves mood by triggering the release of serotonin.
2. Focus: Full spectrum light provides signals in your body to help you relax, focus, and feel revitalized.
3. Energy: Studies found that light therapy lamps combat tiredness associated with the winter blues.
4. Sleep: Light therapy improves sleep by resetting your circadian rhythm to its natural state and regulating melatonin.
When you add light therapy to your daily routine, it'll help you support a more healthy, balanced lifestyle.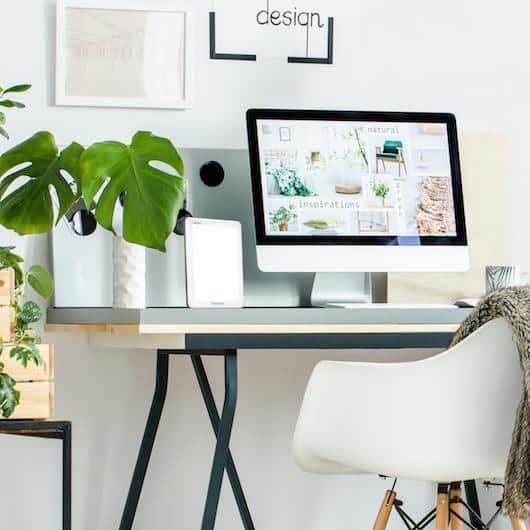 RECOMMENDED USE
I was so happy to find out that using HappyLight is incredibly simple! The hardest thing you have to do is plug it in!
To get the most benefit, it's recommended that you use your therapy lamp early on in the day for around 30 minutes to an hour. Try to use your light around the same time each day. If you're like me and have a sensitivity to light, you can divide the time into several mini-sessions.
It is also recommended that you sit within 24 inches of the HappyLight. The light should be slightly off-center from your face. As long as your eyes are open, you should be reaping the benefits!
It's great that you can engage in other activities, such as reading, writing, applying makeup, or working at your desk while you're using your light. I love turning my light on as I'm planning out the goals of my day. It really helps me feel motivated!
When you are feeling sluggish and lethargic, it's recommended that you spend more time with the light. You can adjust your light so that you're sitting more closely to it. If you experience edginess or feel over-stimulated, move the HappyLight farther away from you or reduce your session.
Most people who use a therapy lamp start noticing its positive effects in as little as 2 weeks. I started seeing a change in my sleeping patterns with the first few days!
Have you ever tried light therapy before? Let me know in the comments below!
---
Did you know that there is online therapy?
Online Therapy is a complete online therapy toolbox.
Your therapy toolbox includes:
Live video, voice, or text chat session with your therapist
8 easy-to-follow sections, including 25 worksheets
Activity plan, journal, and tests
Yoga and meditation videos
What I love about Online Therapy is that there are several life-changing options and therapists available, and you don't even have to leave the comfort of your home.
This means you never need to worry before getting help.
Get 20% off your first month with my exclusive link.
---

Facebook | Instagram | YouTube | TikTok | Pinterest