DISCLOSURE: I am not a mental health professional. If you need help finding a mental health care provider, call 1-800-662-HELP (4357) or visit Online Therapy to call, message, or video chat a certified therapist online. This post contains affiliate links. As an Amazon Associate, I earn from qualifying purchases. I may also receive compensation from Online Therapy or other sources if you purchase products or services through the links provided on this page. You can read my full disclaimer.
Trying to pinpoint the essentials for managing anxiety can be really overwhelming.
Anyone with anxiety knows how draining it can be. Let's be real…It can be downright exhausting.
Over the course of my recovery, I've become the queen of self-care.
I'm always looking for new ways to prioritize myself and my mental health.
That means doing more of the things I enjoy, as well as learning different strategies to cope with my anxiety.
Here are 10 self-care essentials I recommend for managing your anxiety.
When you're struggling with anxiety, it might be helpful to talk to an online therapist. I always recommend Online Therapy, because it's a complete online counseling toolkit, and you can get incredible therapy for an affordable monthly cost.
10 Self-Care Essentials for Calming Your Anxiety
1.
ANXIETY JOURNAL GUIDE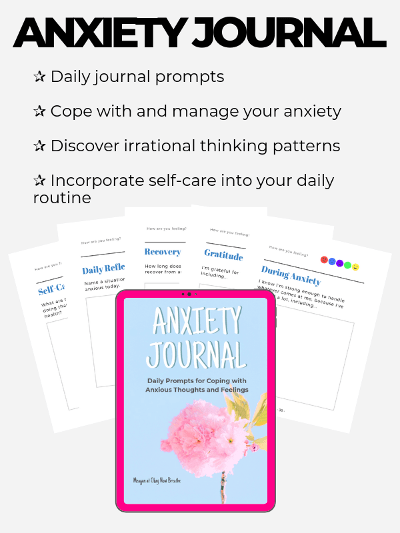 Journaling is a great way to combat feelings of anxiety.
My Anxiety Journal: Daily Prompts for Coping with Anxious Thoughts and Feelings is designed to help you overcome anxiety, practice self-care, and start living a more grateful, fulfilling life.
Achieve a life free from anxiety with eye-opening journal prompts that will help your loved one (or you!):
⭐ cope with and manage your anxiety
⭐ incorporate self-care into your daily routine
⭐ learn to love yourself unconditionally and
⭐ become free from the shackles of anxiety
The Anxiety Journal includes daily journal prompts from a variety of topics, such as During Anxiety, Recovery, Gratitude, and Self-Care.
Your loved one will also get a mood tracker on each prompt.
2.

LAVENDER ESSENTIAL OIL ROOM MIST
I've used Lavender Aromatherapy Room Mist every night right before bed for over a year. It's made up of lavender, lavindin and spike lavender essential oils, so it helps calm the senses, relax the body, and soothe the spirit.
I love that it's also cruelty-free and vegan. Since it's made from safe ingredients, I'll spray it all over my bed and body to help me sleep at night.
3.

CHAMOMILE TEA
Chamomile tea is my go-to tea. I love drinking it in the morning to help calm my nervous system. It helps level me out and helps set the mood for the rest of my day. I'm less irritable and more likely to be able to focus.
Because chamomile is so calming, it can also help you sleep. So if you struggle with anxiety-induced insomnia, try drinking it a half hour before bed to see how you feel.
Related post:
4.
WEIGHTED BLANKET
If you have trouble sleeping because of your anxiety, try buying a weighted blanket.
Weighted blankets help relax the nervous system by simulating the feeling of being held or hugged. This increases serotonin and melatonin levels and decreases cortisol levels, which improves your mood and promotes restful sleep at the same time.
The relaxing sensation helps to soothe your body's muscles, making you fall asleep faster and sleep better throughout the night.
5.

COLORING BOOK
Coloring books are all the craze when it comes to trying to remedy some symptoms of anxiety. It's easy to forget about your racing thoughts when you're concentrating on coloring in the lines.
My aunt bought me this coloring book a couple years back.
Just breathe into the designs in front of you and focus on staying in the lines. In no time, you'll start to feel yourself zone out and forget about the problems going on in your head.
6.

BUBBLE BATH
Baths are my go-to self-care activity when I'm trying to calm my anxiety. Taking a bath also keeps the body aches away, improves sleep, and helps your body detox.
Lavender bubble bath soap is especially amazing at calming nerves. Lavender soothes your body for a deeper sleep while nourishing your skin.
Related post:
7.

BREATHE ANXIETY WORKBOOK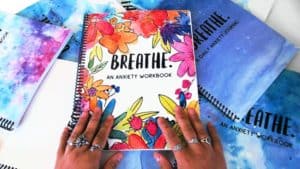 The Blessing Manifesting Anxiety Workbook is such an amazing deal if you're looking to improve your anxiety.
What's included:
142 pages of anxiety tips and worksheets
30 pages of "Anxiety Today" check-in sheets
Digital or printed physical copies
And more!
8.

SOCIAL ANXIETY TO SOCIAL SUCCESS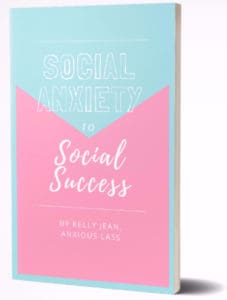 Social Anxiety to Social Success is a practical hands-on guide, complete with printable worksheets and bonus material. packed with mindset changing tips and challenges.
Unlike a lot of self-help book, Social Anxiety to Social Success is warm, funny, and highly relatable. It made me see things in myself that I didn't even realize I did because of my social anxiety.
9.

ANXIETY PLAYLIST
Music can be incredible at relieving some symptoms of anxiety. I love keeping a playlist of my favorite soothing music that I can easily turn to when my anxiety is high.
Some of my favorite songs:
The Beginning by Factor Eight
The Only Moment We Were Alone by Explosions in the Sky
Son of Man from Tarzan
Breathe by Superchick
Keep Breathing by Ingrid Michaelson
You can find out more about my favorite songs here.
10.

FIDGET CUBE
A fidget cube is the perfect sensory object, because it's an instant stress reliever. It's a great distraction, and it gives you something to do and something else to focus on.
Let's not forget how satisfying it is to pop bubble wrap, which is infinitely included in a fidget cube. I could pop some every day if no one got annoyed by it.
What are your essentials for calming your anxiety? Let me know in the comments below!
Related posts:
---
Did you know that there is online therapy?
Online Therapy is a complete online therapy toolbox.
Your therapy toolbox includes:
Live video, voice, or text chat session with your therapist
8 easy-to-follow sections, including 25 worksheets
Activity plan, journal, and tests
Yoga and meditation videos
What I love about Online Therapy is that there are several life-changing options and therapists available, and you don't even have to leave the comfort of your home.
This means you never need to worry before getting help.
Get 20% off your first month with my exclusive link.
---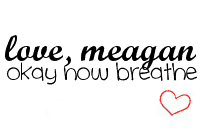 Facebook | Instagram | YouTube | Twitter | Pinterest