DISCLOSURE: I am not a mental health professional. If you need help finding a mental health care provider, call 1-800-662-HELP (4357) or visit Online Therapy to call, message, or video chat a certified therapist online. This post contains affiliate links. As an Amazon Associate, I earn from qualifying purchases. I may also receive compensation from Online Therapy or other sources if you purchase products or services through the links provided on this page. You can read my full disclaimer.
Meditations are the biggest contributor to helping me better my social anxiety.
I've found so many fantastic social anxiety meditations free on YouTube that I had obviously had no choice but to write a post and talk about them.
Truthfully, being able to find meditations so readily available online has improved countless areas of my mental health.
Have you downloaded your free affirmations for social anxiety PDF yet? ↓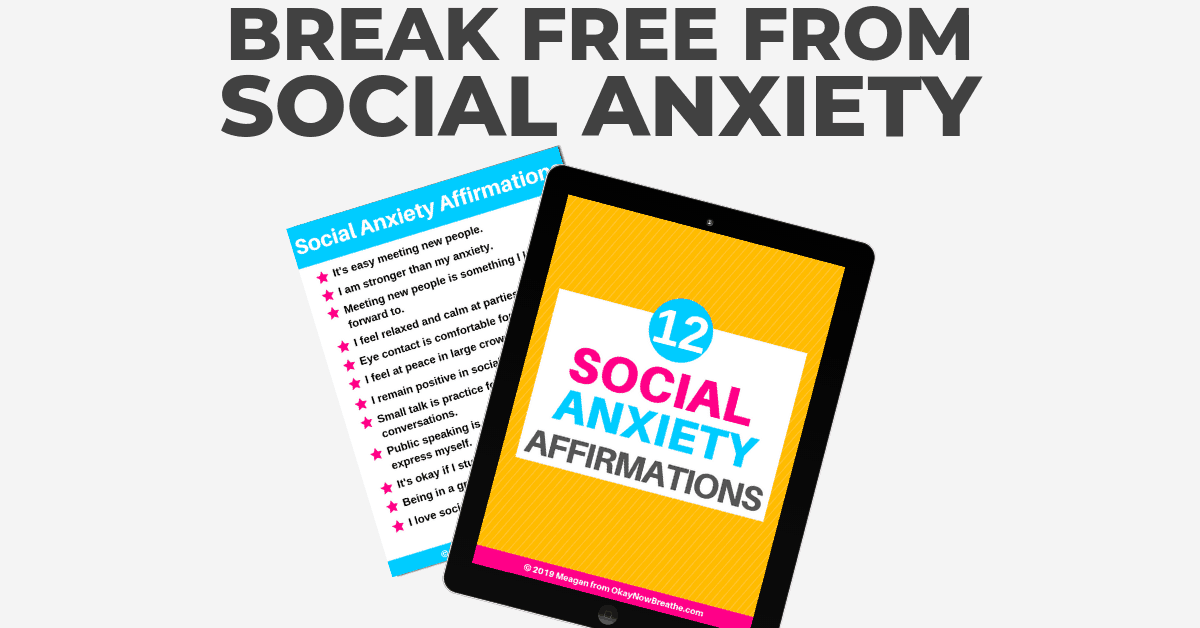 Is Meditating Difficult?
Listen…I get it.
Meditating is hard.
Especially if this is your first time diving into it.
Or maybe you've tried multiple different meditations, but none of them quite worked for you.
I get it. Because I used to be there.
But now I listen to meditations all throughout my day, especially every morning and night.
Benefits of Meditating
Meditating is super beneficial for so many areas of your life.
I used to think I didn't have the time to meditate.
Anytime I tried, I gave up because I thought my mind would never quiet down and let me practice effectively anyways.
But having less anxiety, depression, and a more balanced mood is more than worth any time and commitment it takes.
The Awesome Benefits:
Less anxiety and depression
Less stress and feelings of overwhelm
Learning to be mindful and stay in the moment longer
Increases feelings of happiness
Promotes positive mental health
Improves sleep
Reduces anger
Gives feelings of clarity and calm
Interested in receiving these benefits? Check out my favorite free guided (and nonverbal) meditations for social anxiety below!
When you're struggling with social anxiety, it might be helpful to talk to an online therapist. I always recommend Online Therapy, because it's a complete online counseling toolkit, and you can get incredible therapy for an affordable monthly cost.
17 Best Meditations for Social Anxiety
1.

OVERCOME SOCIAL ANXIETY AFFIRMATIONS
Did you know that I run a free meditation channel on YouTube called Peaceful Awakening Meditations?
In one of my favorite meditations I've created, I share powerful mantras to help overcome social anxiety and gain self-esteem.
What I love most is my meditation is spoken to the frequency of the throat chakra, which is the chakra responsible for social anxiety.
2. Hypnosis for Social Anxiety: Hypnotherapy for Self Confidence
I've listened to Michael Sealy for a couple of years now, and his voice instantly calms me.
Unlike the previous meditation, this meditation is designed to put you into a deep hypnosis.
This meditation is one full hour long, so it's fantastic for those super anxious days.
3.

Guided Meditation: Cope with Social Anxiety & Shyness
If you're looking for a quick meditation, check out this one.
It's relaxing and comforting.
What I love is that there's even soothing video footage to go along with it.
4.

THROAT CHAKRA Sleep Meditation
This is an excellent meditation to play while you sleep, because it's nine hours long and set to the frequency of the throat chakra.
I listen to it every night leading up to a social event.
5.

Guided Meditation to Help Overcome Social Anxiety
Guided visualizations are a fantastic way to overcome social anxiety.
They help prepare you for times when you're facing impending anxiety.
The guided visualization helps you achieve a state of relaxation, while using guided imagery to help you overcome shyness and social anxiety.
6.
S
elf Hypnosis for Social Anxiety Disorder
Self-hypnosis is an incredible way to train your mind and body to relax during social situations.
This 30-minute meditation does just that.
If you watch the video, you'll notice a dim candle gently flickering. This helps you fall into a deeper state of hypnosis.
7.

Guided meditation for sleep and social anxiety
Using this guided meditation can assist you with any sleep problems associated with overthinking and worry.
It's 40 minutes long and has the sound of gentle waves in the background.
8.

3 Hours Social Anxiety Subliminal Meditation
If you're looking for a meditation with subliminal messages, this 3-hour meditation is phenomenal.
The background music is delicate but powerful at the same time.
9.

Stop Social Anxiety Hypnotherapy
For a meditation with a female speaker, here is a wonderful option.
The meditation is a hypnotherapy session, which makes it fantastic for releasing the causes of your social anxiety.
What I love most is that the meditation helps you replace old negative thought patterns with positive ones.
10.

Loving Kindness Meditation for Social Anxiety
Another female speaker, this social anxiety meditation is designed to bring a sense of calmness into your life.
There is a lot of breathwork throughout the meditation, which helps ground you.
11.

Guided Meditation for Social Anxiety
For social situations visualizations, this meditation will help calm you and center you.
I find it comforting that this meditation isn't overly produced, and it feels like you're meditating with a friend.
It's important to keep in mind that this meditation doesn't officially start until a couple of minutes in.
12.

Hypnosis To Overcome Social Anxiety
If you're looking for a social anxiety meditation to fall asleep to, here is a wonderful hypnosis.
It's nearly an hour long and filled with a calming energy.
13.

Overcome Social Anxiety Disorder While You Sleep
For a somewhat longer meditation, this 90-minute meditation will help you fall asleep while overcoming social phobia.
It's the perfect mix of relaxation and positive suggestions to help your anxiety.
14.

Guided Mindfulness Meditation for Social Anxiety
This shorter social anxiety meditation is designed to put you in a place of mindfulness.
Mindfulness and self-compassion are a must for overcoming anxiety.
15.

Guided Hypnosis For SOCIAL ANXIETY Hypnosis SLEEP
Another sleep hypnosis, this guided meditation was created to help incorporate more self-love into your healing.
It's designed to help harness the power within you.
16.

Hypnosis for Social Anxiety, Stuttering and Stammering
This meditation addresses both the psychological and neurological root causes of stuttering and stammering.
I've been following Unlock Your Life for years, and I truly love her work.
17.

Safe & Motivation Hypnosis for Social Anxiety
This nearly 30-minute meditation is a hypnotherapy session to help you feel safe in situations that cause you anxiety or stress.
The meditation is fantastic for relieving social anxiety and agoraphobia.
Meditation Tips
Meditating is like a muscle: The more you practice it, the better and more effective it will be.
Here are some of my favorite tips:
1. If you've never meditated before, Excel at Life can help you.
2. Get in a comfortable position. This could be either sitting or laying down.
3. Don't judge yourself if your mind wanders! This is completely normal!
4. Try meditating at the same time every day. I listen to them first thing in the morning, and they are the last thing I do as I fall asleep every night.
5. Create a dedicated meditation spot in your home.
I hope that these meditation tips and guided meditations will help you as much as they've helped me!
---
Did you know there's online therapy?
Online Therapy is a complete online therapy toolbox.
Your therapy toolbox includes:
Live video, voice, or text chat session with your therapist
8 easy-to-follow sections, including 25 worksheets
Activity plan, journal, and tests
Yoga and meditation videos
What I love about Online Therapy is that there are several life-changing options and therapists available, and you don't even have to leave the comfort of your home.
This means you never need to worry before getting help.
Get 20% off your first month with my exclusive link.
---

Facebook | Instagram | YouTube | TikTok | Pinterest