DISCLOSURE: I am not a mental health professional. If you need help finding a mental health care provider, call 1-800-662-HELP (4357) or visit Online Therapy to call, message, or video chat a certified therapist online. This post contains affiliate links. As an Amazon Associate, I earn from qualifying purchases. I may also receive compensation from Online Therapy or other sources if you purchase products or services through the links provided on this page. You can read my full disclaimer.
Do you ever wish there were more fun things to do on your own?
Sometimes other people can be stressful. Sometimes you just need time to yourself.
You deserve time to enjoy yourself. You deserve to do more of the things that make you happy.
When you're struggling with anxiety, it might be helpful to talk to an online therapist. I always recommend Online Therapy, because it's a complete online counseling toolkit, and you can get incredible therapy for an affordable monthly cost.
Frequent solo dates are essential for your mental health, especially if you're an introvert.
Solo dates are the ultimate form of self-care.
And self-care is not an indulgence. Self-care is vital to your mental wellbeing.
Keep reading for 12 incredibly fun solo dates to take yourself on.
12 Fun Things to Do On Your Own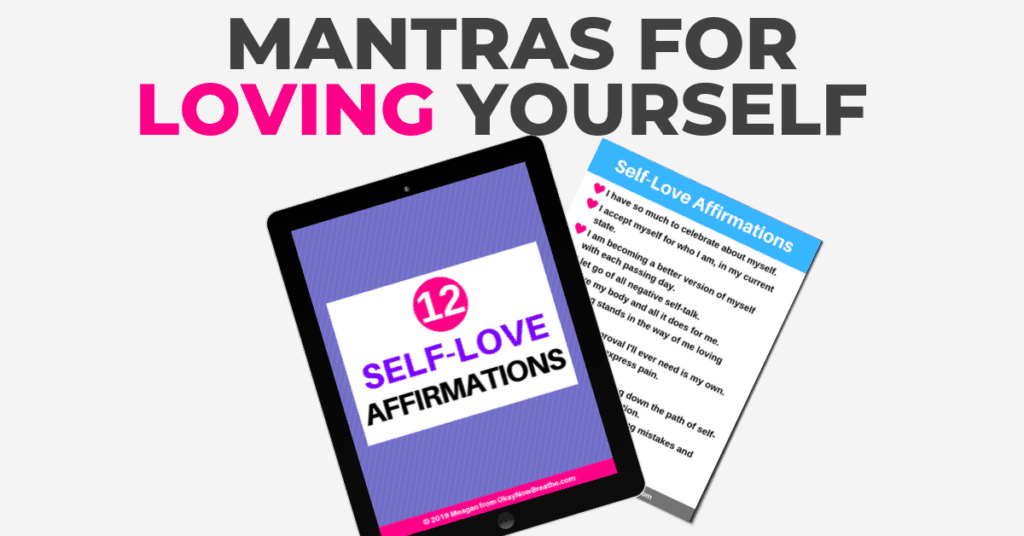 1.

PLAY AT AN ARCADE
Ignoring all the germs, arcades are the best.
They make the best dates and even better solo dates!
Maybe it's just me, but I can never walk into an arcade without playing skee ball.
Play games until you win enough tickets to trade in for a delicious piece of candy. You'll never use any of those cheap toys again anyways!
2.

VISIT THE LIBRARY
I loooovvvveeeee the library.
You can rent all sorts of stuff from the library, such as books, audiobooks, movies, CDs, and video games. All for 100% free!
Honestly, one of my favorite days of the week is going to the library, browsing the NEW RELEASES section, and going to town.
Spend some time reading synopsis and picking out any books that sound interesting.
Need some inspiration? Some of my favorite BookTubers are Emmmabooks, NayaReadsandSmiles, and Brittany the Bibliophile.
Pro tip: check your library's calendar of events. They always have free activities going on every week!
3.

SEE A MATINEE MOVIE
Going to see a movie by yourself is the perfect solo date!
No need to argue about what movie to go see. No need to argue what time to see it or what snacks to get or not to get.
Plus, you can sit wherever you want!
Matinees are usually less crowded, and they're much cheaper!
4.

RELAX AT THE

SPA
Nothing says a pampering solo date like a trip to the spa.
Get your nails done. Get a massage by someone who actually knows what the heck they're doing.
There are always awesome deals on Groupon and Living Social, so be sure to check there first!
5.

TAKE A RELAXING BATH
A cheaper alternative would be to have a hot, relaxing bubble bath at your home.
Baths are my go-to self-care activity.
Taking a bath keeps the body aches away, improves sleep, and helps your body relax.
Don't forget to light a candle, use a bath bomb, and put on an audiobook.
6.

GO THRIFTING
Better for the environment and better for your wallet, go to your local thrift store instead of the mall. You can find the best gems out there!
I've shopped at ThredUp several times over the past couple years.
ThredUp is an online thrift store. And unlike a traditional thrift store, all the clothes at ThredUp are sorted by brand, type, and size.
You can even find brand new items with tags!
Use my link and get $10 off your first purchase!
7.

FIND A SPOT TO MEDITATE
Meditating is super beneficial for so many areas of your life.
The Awesome Benefits:
Less anxiety and depression
Less stress and feelings of overwhelm
Learning to be mindful and stay in the moment longer
Increases feelings of happiness
Promotes positive mental health
Improves sleep
Reduces anger
Gives feelings of clarity and calm
If you want to learn how to meditate, check out 10 Totally Free Guided Meditations for Anxiety.
8.

TAKE YOURSELF OUT TO EAT
Don't you hate when you're craving a certain type of food, but everyone is craving something else so you have to settle and get what everyone else wants instead?
You can avoid this by taking yourself out to eat!
Taking yourself out to eat doesn't have to be scary, either.
You can even order it online and get it delivered straight to your house.
9.

GO TO A MUSEUM
I know there have been several times when I was at a museum with other people, and I felt rushed.
I couldn't read the information fast enough, and I wanted to spend more time looking at artifacts.
Going to a museum by yourself helps avoid these stressful feelings!
10.

HAVE A DANCE SESSION
Dancing can be such a fun thing to do by yourself!
The best thing is you don't need any skills.
All you gotta do is create a playlist and jam out to your heart's content.
My go-to songs are from the 90s and early 2000s. Backstreet Boys, anyone?
11.

WATCH YOUTUBE VIDEOS
My most favorite time of the day is when I get to cuddle up in my bed and watch YouTube on the TV.
I love beauty videos, cleaning videos, true crime videos, and even scary ghost hunting videos.
I feel like my favorite YouTubers are my best friends. Their presence helped me through so much depression and anxiety over the years.
Now, watching videos automatically becomes the perfect solo date.
12.

DO YOUR OWN PHOTOSHOOT
Nothing makes you feel more powerful than dressing up, wearing your favorite clothes, and doing your hair and makeup.
Follow along to a makeup tutorial. Try a new hairstyle.
Feel confident, beautiful, and sexy.
Then go ham and fill up your camera with selfies!
There's no greater feeling than loving yourself!
Solo Dates are Perfect for Self-Care
Doing fun things on your own is so vital for your mental health.
Take time at least once a week to go on a solo date. Make time to do more of the things you enjoy doing.
Remember, self-care isn't an indulgence. Self-care is absolutely necessary for your mental wellbeing.
Pin to read later! ↓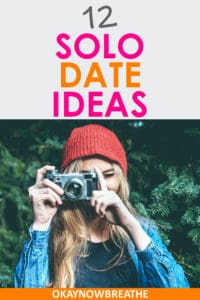 What are some of your favorite solo dates? Share in the comments!
Related posts:
---
Did you know that there is online therapy?
Online Therapy is a complete online therapy toolbox.
Your therapy toolbox includes:
Live video, voice, or text chat session with your therapist
8 easy-to-follow sections, including 25 worksheets
Activity plan, journal, and tests
Yoga and meditation videos
What I love about Online Therapy is that there are several life-changing options and therapists available, and you don't even have to leave the comfort of your home.
This means you never need to worry before getting help.
Get 20% off your first month with my exclusive link.
---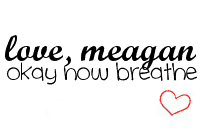 Facebook | Instagram | YouTube | Twitter | Pinterest
Self-Love eBook
In this FREE 16-page, detailed eBook, I offer all the inside knowledge I personally use on my self-love journey.