DISCLOSURE: I am not a mental health professional. If you need help finding a mental health care provider, call 1-800-662-HELP (4357) or visit Online Therapy to call, message, or video chat a certified therapist online. This post contains affiliate links. As an Amazon Associate, I earn from qualifying purchases. I may also receive compensation from Online Therapy or other sources if you purchase products or services through the links provided on this page. You can read my full disclaimer.
Subscription Boxes for Periods
Receiving monthly subscription boxes for periods can help ease the stress and discomfort of your monthly visitor.
This means, subscribing to a period box means you'll never run out of tampons and pads, which are total essentials!
Plus, depending on which monthly subscription you choose, you'll receive a handful of self-care items, such as chocolate and tea! Yum! 😋
---
✨ Have you gotten your copy of these period trackers? Use the code PERIOD for 10% off!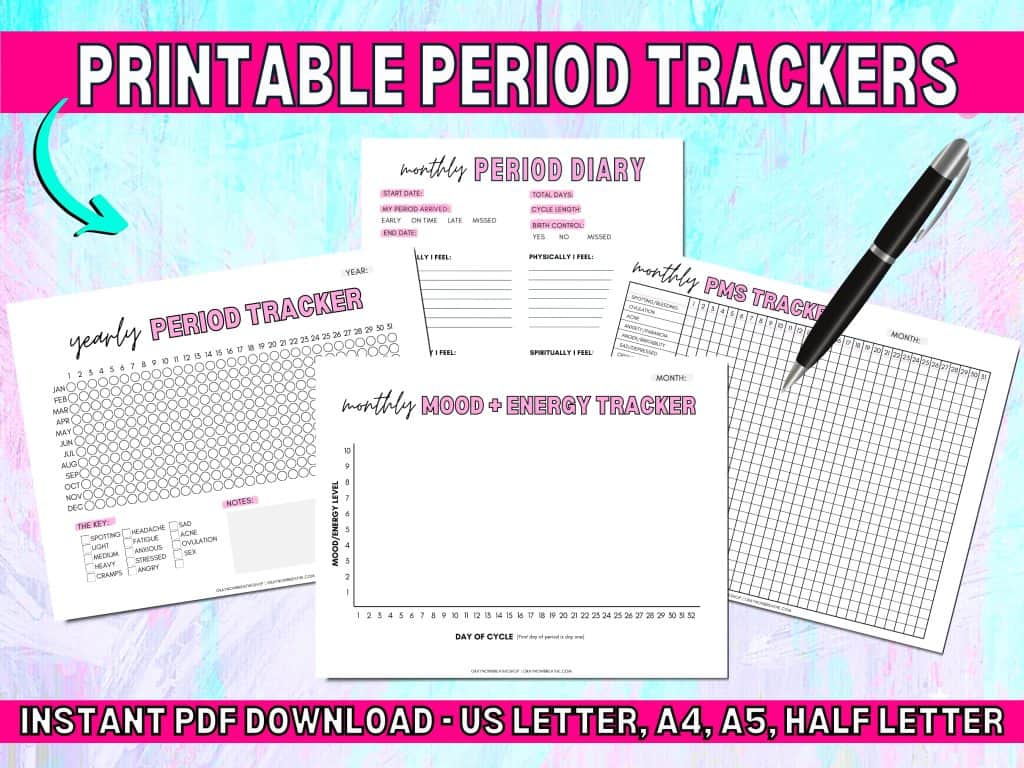 ---
What do you put in a period box?
Like I said, subscribing to a monthly period box gives you every thing you need to help you when Aunt Flo visits.
In other words, you'll receive menstrual products like tampons and pads, as well as self-care items to help pamper you.
Some of the boxes below also provide you with pain relievers, hygiene wipes, and even underwear!
This list features period subscriptions for women who menstruate, as well as options for trans and non-binary people — because being inclusive is important here!
So let's dive right on into the 11 best subscription boxes for periods 👇
11 Best Period Subscription Boxes
1.

ROSE WAR PANTY POWER
For a highly customizable period subscription box, Rose War Panty Power allows you to choose your period preferences, such as tampons or pads, and what kind of underwear you want.
What's Inside:
🔴 15 Organic Pads/Tampons, 2 Undies, 3-5 Lifestyle Items
🔴 Underwear size ranges from small to 3XL
🔴 100% cruelty-free
🔴 Minimum of $70 in Retail Value
🔴 Ships to select countries from US
Price as low as $25.20 per month
2.

PMS PAMPERING
Ms and Miss Subscription Boxes – PMS Pampering is (as you can tell by the name) a PMS subscription box focusing on all things relaxing and pampering during that time of the month.
What's Inside:
🔴 Chocolate, Bath Bombs, Lotions, and other Self-Care Products
🔴 Best for providing comfort
🔴 Ships worldwide from United States
Price is $17.99 plus $5 shipping
3.

LADY BOX, INC.
Lady Box, Inc. is a convenient way to get organic period products delivered straight to your door each month.
What's Inside:
🔴 Organic pads and tampons based on preference and flow
🔴 The Mini Lady Box: Try out the products
🔴 The Basics Needs Lady: Period essentials, plus one comfort item and snack
🔴 The Pampered AF Lady: Period essentials, 5 self-care items, 3 snacks
🔴 Just the Goodies: No period products but 3 snacks and 3 pamper items instead
🔴 Ships worldwide from United States
Plans as low as $17.00 per month
4.

SHARK WEEK SURVIVAL KIT LLC
Shark Week Survival Kit LLC allows you to chose how heavy your flow is, if you prefer pads and/or tampons, and if you want self-care products included from a variety of monthly period boxes.
What's Inside:
🔴 Organic Pads and Tampons
🔴 Teas, Self-Care Products, Sweets and Goodies
🔴 Products from small women-owned businesses
🔴 Ships worldwide from United States
Plans as low as $23.75 per month
5.

DOLLAR MAXI PAD CLUB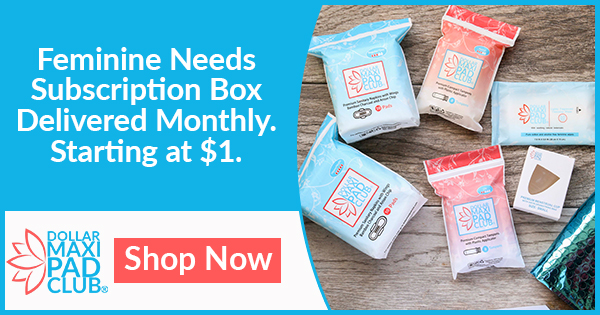 Dollar Maxi Pad Club is the most customizable period box I've yet to see, as you can select what products you want and how many.
What's Inside:
🔴 Panty Liners, Pads, Tampons, Menstrual Cups, Hygiene Wipes
🔴 Pamper Products, such as Chocolate, Face Mask, Makeup Sponge
🔴 First period and Postpartum kits available.
🔴 Free Shipping on orders over $10!
Plans start as low as $1 a month
6.

TAMPON TRIBE
Tampon Tribe believes in offering the highest quality, safest, and most sustainable period products on the planet.
What's Inside:
🔴 Organic Tampons, Pads, Panty Liners
🔴 Options for Menstrual Cup
🔴 Organic, toxin-free, compostable, sustainable
🔴 Every month bought, period products are donated to the homeless
Options start at $10 per month
7.

BONJOUR JOLIE
For an LGBTQIA+ inclusive box (such as a gender-neutral box and a box for men who menstruate), Bonjour Jolie is the perfect option.
What's Inside:
🔴 First Period Box: Pads. Liners, Pamper Items, Hygiene Wipes, Tea, Sweets
🔴 Mens-truate Box: 20 Menstrual Items, Bath and Body Items, Drinks, Treats, Hygiene Wipes, Advil
🔴 Gender Neutral Box: 20 Menstrual Items, Bath and Body Items, Drinks, Treats, Hygiene Wipes, Advil
🔴 Can customize dietary restrictions
Plans start at $16.00 per month
8.

MONTHLY & CO
For a well-rounded box filled with both period products and comfort items, Monthly & Co is a no-brainer.
What's Inside:
🔴 Tampons, Pads, Pain Relievers, Heating Pads, Tea, Chocolate
🔴 Preferences are taken into account
🔴 Only full-sized products
🔴 Ships worldwide from United States
Plans as low as $24.17 per month
9.

LIVIA
Livia is the first scientifically proven wearable solution to provide instant, drug-free relief from menstrual cramps.
What's Inside:
🔴 Livia, a Cover, a USB Charging Cable, Livia Flower Pads, and a 3-Month Supply of Livia Gel Pads
🔴 No painkillers, no side effects, and no interruptions to your day
🔴 Feel relief within 30 to 60 seconds
🔴 Lifetime warranty with subscription
Starts at $8 plus a sign-up fee
10.

THE REAL BOX – PERIOD
The Real Box – Period sends menstrual products and self-care items to make your monthly visitor a little more manageable.
What's Inside:
🔴 Pads, Tampons, Underwear, Chocolate
🔴 Designed to help you relax
🔴 Ships worldwide from United States
Price starts at $28.33 per month
11.

LOVE YOUR CYCLES – PERIOD PAMPER BOX
Love Your Cycles – Period Pamper Box brings you comfort, relaxation, and pampering to your cycle.
What's Inside:
🔴 Pampering, Wellness, and Health Items, Aromatherapy, Self-Care Goodies
🔴 Created by a Menstrual & Fertility Therapist
🔴 Online Members Hub, Online Courses, and Membership Included
🔴 Only ships within United Kingdom
Plans as low as £30.00 GBP per month
Best Monthly Period Boxes
Let's face it…having a period sucks.
But having period products delivered straight to your door every month?
Yeah, that makes having a period suck a little less.
Another thing that makes periods suck a little less are period trackers!
Have you gotten your copy of these period trackers?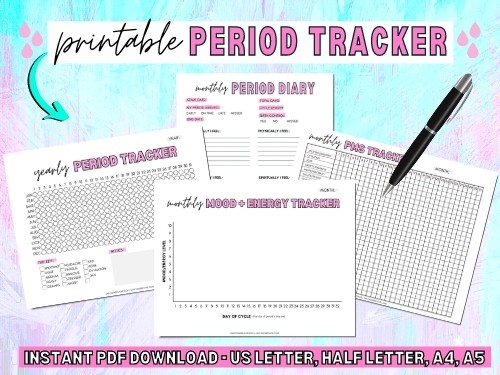 Use the code PERIOD to get 10% off these period trackers!
Here's a recap of the best period subscription boxes:
Which monthly box are you going to try?
More period posts:
---
Is Your Period Negatively Impacting Your Life?
Talking to a therapist might help you cope with your period.
Did you know that there is online therapy?
Online Therapy is a complete online therapy toolbox.
Your therapy toolbox includes:
Live video, voice, or text chat session with your therapist
8 easy-to-follow sections, including 25 worksheets
Activity plan, journal, and tests
Yoga and meditation videos
What I love about Online Therapy is that there are several life-changing options and therapists available, and you don't even have to leave the comfort of your home.
This means you never need to worry before getting help.
Get 20% off your first month with my exclusive link.
---

Facebook | Instagram | YouTube | TikTok | Pinterest
Best Subscription Boxes for Periods