DISCLOSURE: I am not a mental health professional. If you need help finding a mental health care provider, call 1-800-662-HELP (4357) or visit Online Therapy to call, message, or video chat a certified therapist online. This post contains affiliate links. As an Amazon Associate, I earn from qualifying purchases. I may also receive compensation from Online Therapy or other sources if you purchase products or services through the links provided on this page. You can read my full disclaimer.
Period Affirmations
Speaking period affirmations can be a gamechanger when your cramps and pain are unbearable.
Positive affirmations can ground you, inspire you, and heal you from your pain and symptoms.
Yep, these 50 period affirmations are that powerful!
---
Did you know tracking your period can help you navigate your pain by recording all your symptoms?
Yes, recording and keeping track of your entire cycle will help you see the patterns of your mood, energy, and symptoms.
⠀⠀⠀⠀⠀⠀⠀⠀⠀
This is actually the first step to getting all your crippling symptoms under control 🙌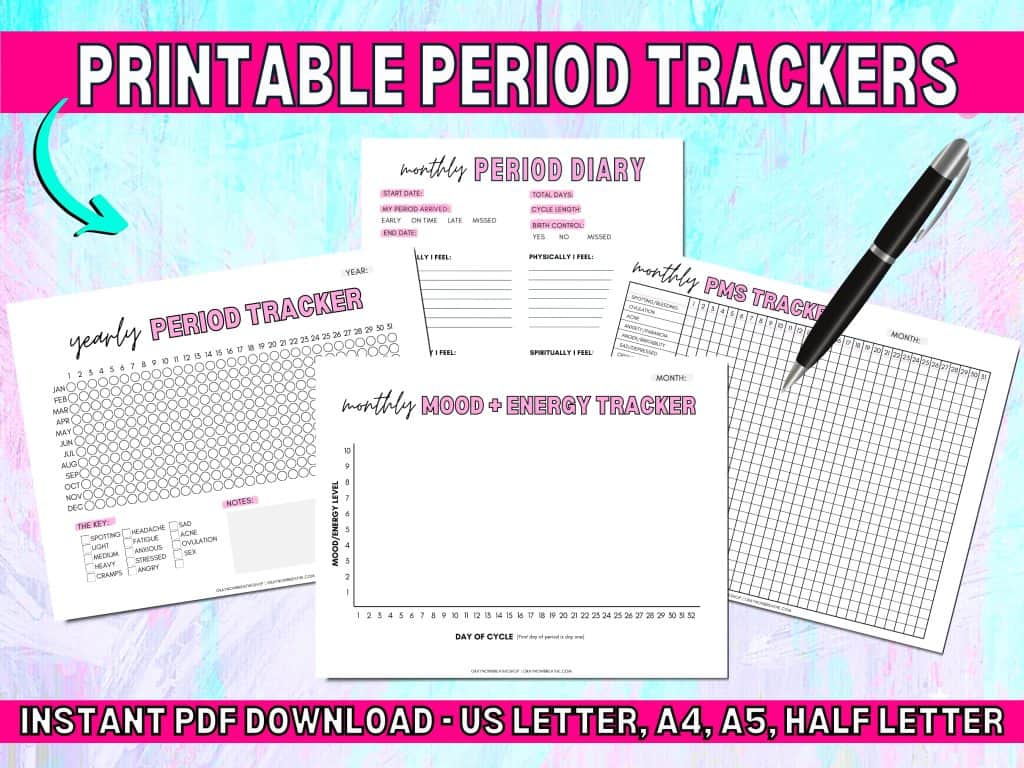 Use the code PERIOD to get 10% off these period trackers!
---
Can affirmations heal menstrual problems?
Words hold such powerful vibrations, and they have the ability to change how we cope with a situation.
When it comes to periods, speaking these period affirmations while listening to the frequency of the Sacral Chakra (288 Hz or 417 Hz), will cause the benefits you'll receive to be much more potent.
Plus, using products to manage pain (like herbal medicine and a wearable device blocking cramps) in conjunction with the affirmations can enhance your healing tenfold!
(Find more products for period cramps here).
And now on to the real good stuff…the period affirmations!
50 Affirmations for Menstrual Cramps
1. I can overcome this.
2. I will overcome this.
3. I have overcome this.
4. This pain will pass.
5. This pain makes me stronger.
6. With each breath, I feel my pain subsiding.
7. My cramps are evaporating.
8. My pain is manageable.
9. I am at home in my body.
10. I am stronger than this pain.
11. I am safe to express this pain.
12. My body is healing.
13. Every part of my body works in alignment.
14. My hormones are flowing in perfect balance.
15. I honor my body.
16. With each exhale, I am becoming more and more relaxed.
17. I relax and allow my mind to be at peace.
18. I relax and allow this time for my mind to rest.
19. I relax and allow this time for my body to rejuvenate.
20. Today, I give myself grace.
21. I am prioritizing self-care in this moment.
22. It is okay to breathe deeply into my pain.
23. I trust my body.
24. I cherish my body.
25. I will conquer this pain.
26. My mind is stronger than my body.
27. I am safe in my body.
28. I live in harmony with my cycle.
29. I nourish my mind, body, and soul during this time.
30. My mind is powerful and full of healing energy.
31. I believe these affirmations are making a huge difference.
32. I respect myself and treat myself with kindness and love.
33. I thank my body for all it does for me.
34. My pain is subsiding.
35. I allow myself to be gentle in my body.
36. I am patient in this moment.
37. I am kind in this moment.
38. I treasure my body.
39. I carry strength and resilience with me wherever I go.
40. My relationship with my body is one of perfect harmony.
41. I overcome every obstacle with ease.
42. I am allowed to express pain.
43. My symptoms are manageable.
44. I feel safe in my vessel.
45. I trust in my ability to survive any obstacle that comes my way.
46. I have power over my body.
47. I can get through this period.
48. I will get through this period.
49. This pain is temporary.
50. I release all pain.
How to use these period affirmations:
The 50 positive period affirmations are best used while listening to the 288 Hz or 417 Hz frequencies of the Sacral Chakra.
The Sacral Chakra is all about balancing the hormones and the menstrual cycle.
It's also incredibly beneficial to speak these affirmations while using other period-pain-fighting-products, such as this powerfully potent herbal supplement that I SWEAR by.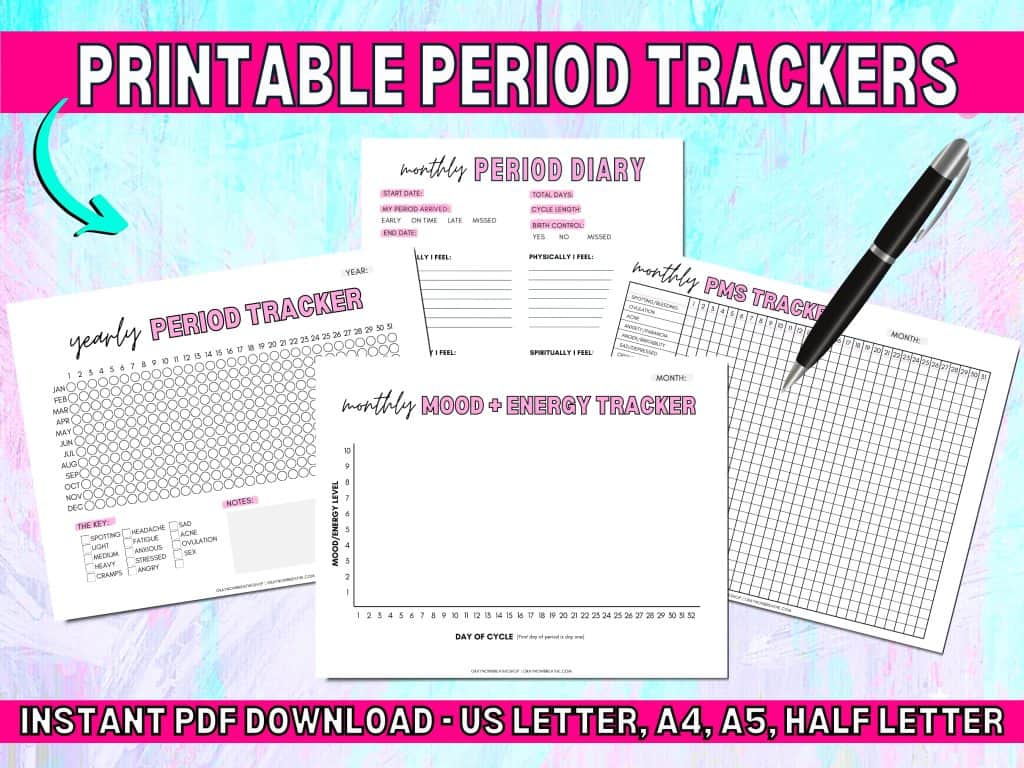 Use the code PERIOD to get 10% off these period trackers!
Other ways to fight period cramps:
I took this more affordable supplement for about a year, before I started to take this one that finally gave me my life back.
Livia is a scientifically proven wearable solution to provide instant, drug-free relief from menstrual cramps.
I also find essential oils to be really powerful to use alongside period affirmations.
Find out more of the best period management products here.
More period posts:
---
Is Your Period Negatively Impacting Your Life?
Talking to a therapist might help you cope with your period.
Did you know that there is online therapy?
Online Therapy is a complete online therapy toolbox.
Your therapy toolbox includes:
Live video, voice, or text chat session with your therapist
8 easy-to-follow sections, including 25 worksheets
Activity plan, journal, and tests
Yoga and meditation videos
What I love about Online Therapy is that there are several life-changing options and therapists available, and you don't even have to leave the comfort of your home.
This means you never need to worry before getting help.
Get 20% off your first month with my exclusive link.
---

Facebook | Instagram | YouTube | TikTok | Pinterest
Powerful Period Affirmations