DISCLOSURE: I am not a mental health professional. If you need help finding a mental health care provider, call 1-800-662-HELP (4357) or visit Online Therapy to call, message, or video chat a certified therapist online. This post contains affiliate links. As an Amazon Associate, I earn from qualifying purchases. I may also receive compensation from Online Therapy or other sources if you purchase products or services through the links provided on this page. You can read my full disclaimer.
If you're looking for PMS treatment, you're most likely looking for more natural remedies.
Because struggling with horrible PMS can make you feel absolutely miserable and like a prisoner in your own body.
Keep reading for 5 holistic treatment options for PMS – these natural remedies are a must-try!
---
Have you gotten your copy of these period trackers?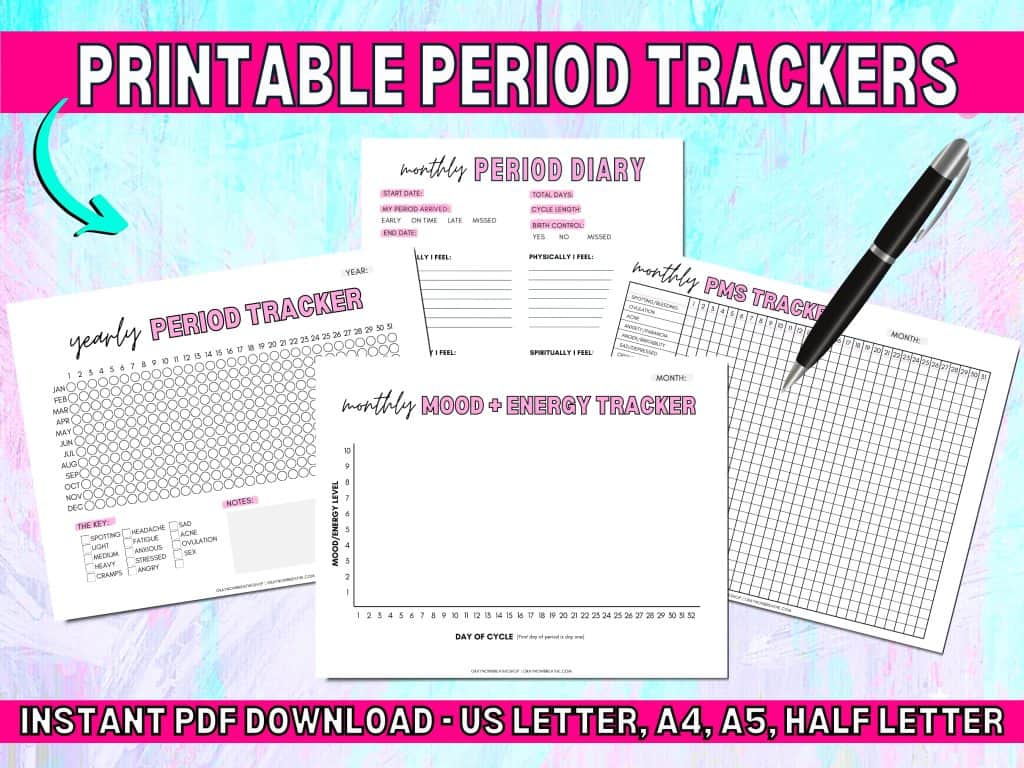 Use the code PERIOD to get 10% off these period trackers!
---
WHAT IS PMS AND PMDD
PMS (Premenstrual Syndrome) is a monthly pattern of physical and physiological symptoms that occur about a week before your period. These symptoms last until about halfway through your period.
Symptoms of PMS:
Mood Swings
Irritability
Anxiety
Depression
Insomnia
Confusion
Bloating
Digestive Issues
Headaches
Body Aches
Breast Tenderness
Acne
A more severe case of PMS is PMDD, Premenstrual Dysphoric Disorder.
Symptoms tend to be much more intense and may make it challenging for some people to function in everyday life.
When you're struggling with mood changes from your period, it might be helpful to talk to an online therapist. I always recommend Online Therapy, because it's a complete online counseling toolkit, and you can get incredible therapy for an affordable monthly cost.
Without further ado, here are 5 holistic treatment remedies for PMS.
PMS Treatment: 5 Must-Try Natural Remedies
1.

VITAMINS AND SUPPLEMENTS
I initially started to take a multivitamin and an omega 3 supplement as a way to keep my anxiety and depression more managed.
In addition, I take this PMS Relief Supplement every day.
What I found out was that after a couple of months of taking daily vitamins, my incredibly debilitating period cramps have decreased significantly.
Beneficial Vitamins and Supplements:
Calcium
Magnesium
Vitamin B6
Vitamin E
As always, please talk to your health care provider before taking any vitamins or supplements.
2.

SACRAL CHAKRA BALANCING
Your Sacral Chakra is located in the lower abdomen and deals with your reproductive organs.
If your Sacral Chakra is imbalanced, it can lead to irregular periods, depression, and emotional overreactions.
Luckily, you can balance your Sacral Chakra in a number of ways.
Balancing Your Sacral Chakra:
⭐ Meditations
I love listening to Sacral Chakra mediations while I sleep.
More meditations for your period:
⭐ Foods
The Sacral Chakra is associated with the color orange, so it's beneficial to eat orange-colored foods. Think oranges, tangerines, cantaloupe.
⭐ Crystals
Orange crystals are also amazing to use when balancing your Sacral Chakra. Calcite, citrine, and carnelian are all excellent to have on hand.
We'll talk more about crystals in the next section.
⭐ Essential Oils
Orange, grapefruit, and tangerine are all wonderful essential oils to use for balancing your Sacral Chakra.
We'll also be talking about essential oils more later on.
Additionally, balancing the Root Chakra and Solar Plexus Chakra is also incredibly beneficial for your PMS.
3.

MOONSTONE
We've already talked about orange crystals in the above section, but now let's talk about another crystal for PMS.
Moonstone is the ultimate PMS crystal.
It normalizes the biological rhythm affecting the female reproductive system, alleviates menstrual problems, and helps eliminate fluid retention.
Moonstone also helps fertility by promoting an easier pregnancy, childbirth, and bringing hormonal balance.
You can wear moonstone as a necklace or bracelet, or you can simply keep it in your home.
An excellent place to keep moonstone is on your bedside table!
More crystals for periods:
👉 17 Crystals for Period Cramps and Pain (That Actually Help)
4.

ESSENTIAL OILS
For the past year or two, I've been really into aromatherapy and the benefits of essential oils.
When I started to incorporate them into my daily routine, I started to feel more grounded, more confident, and more relaxed.
Different essential oils have been proven to give different benefits.
The best part is you can mix them and blend the essential oils together in your diffuser. Doing this helps create even more benefits and even more amazing smells!
My Favorite PMS Essential Oils:
Lavender
Chamomile
Eucalyptus
Peppermint
Rose
I recommend Plant Therapy essential oils because they're high quality, vegan, and cruelty-free!
More on essential oils:
5. HEALTHY CYCLE TEA
Tea has so much amazing healing properties.
I notice a huge difference in my period symptoms when I drink tea versus when I don't.
There's a bunch of period tea on the market, but I highly, highly recommend Healthy Cycle Tea.


The tea includes raspberry leaf and rosehip. Both are incredible for relieving period symptoms and help to regulate your cycle.
It is the best tasting (herbal with hints of mint and citrus), and it helps my body the most.
Plus, it's made from 98% organic ingredients, if you're into that kinda thing.
PMS Treatment Natural Remedies
When it comes to coping with my PMS symptoms, I love finding more holistic approaches.
From crystals to essential oils, I'm relieved that I can manage my PMS naturally!
Tracking your period can help you navigate your pain by encouraging you to record all your symptoms.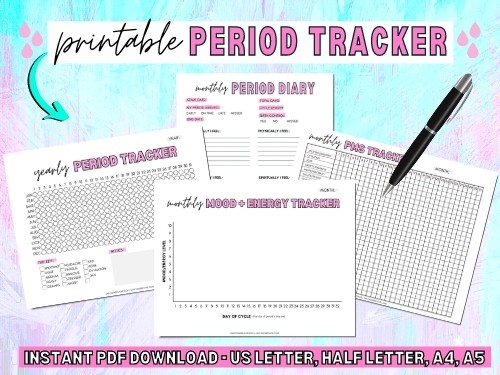 Use the code PERIOD to get 10% off these period trackers!
Have you used any natural remedies to treat your PMS? Tell me in the comments below!
More period posts:
---
Is PMS Negatively Impacting Your Life?
Talking to a therapist might help you cope with your PMS or PMDD.
Did you know that there is online therapy?
Online Therapy is a complete online therapy toolbox.
Your therapy toolbox includes:
Live video, voice, or text chat session with your therapist
8 easy-to-follow sections, including 25 worksheets
Activity plan, journal, and tests
Yoga and meditation videos
What I love about Online Therapy is that there are several life-changing options and therapists available, and you don't even have to leave the comfort of your home.
This means you never need to worry before getting help.
Get 20% off your first month with my exclusive link.
---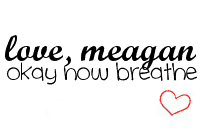 Facebook | Instagram | YouTube | Twitter | Pinterest