DISCLOSURE: I am not a mental health professional. If you need help finding a mental health care provider, call 1-800-662-HELP (4357) or visit Online Therapy to call, message, or video chat a certified therapist online. This post contains affiliate links. As an Amazon Associate, I earn from qualifying purchases. I may also receive compensation from Online Therapy or other sources if you purchase products or services through the links provided on this page. You can read my full disclaimer.
Period Pain Relief at Home
My period pain can be absolutely unbearable at times, and it's crucial for me to find period pain relief at home.
As I've gotten older, my menstrual cramps and pain have gotten more debilitating.
Luckily in the past several months, I've added some remedies into my life that have made a significant change to my PMS and time of the month.
---
Did you know tracking your period can help you navigate your pain by recording all your symptoms?
Yes, recording and keeping track of your entire cycle will help you see the patterns of your mood, energy, and symptoms.
⠀⠀⠀⠀⠀⠀⠀⠀⠀
This is actually the first step to getting all your crippling symptoms under control 🙌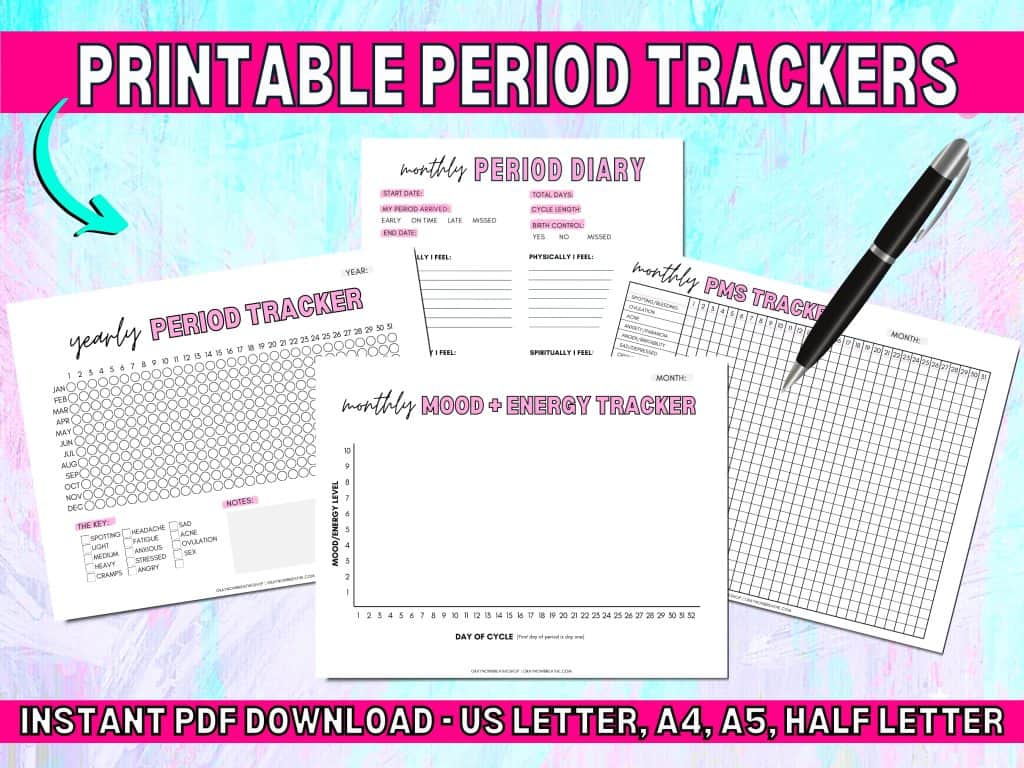 Use the code PERIOD to get 10% off these period trackers!
---
Causes of Period Cramps:
During menstruation, your uterus contracts to expel its lining.
Hormone-like substances, known as prostaglandins, trigger the uterine muscle contractions.
Higher levels of prostaglandins are associated with pain, inflammation, and more severe menstrual cramps.
Menstrual cramps can also be caused by:
🔴 Uterine Fibroids
These are noncancerous growths on the wall of the uterus that range in size and amount.
🔴 Endometriosis
A painful disorder where the tissue that normally lines the inside of your uterus grows outside your uterus, such as your ovaries, fallopian tubes, and the lining of your pelvis.
Surrounding tissue can become irritated and eventually develop scar tissue and adhesions.
🔴 Adenomyosis
A condition where the tissue that lines your uterus begins to grow into the muscular walls of the uterus.
🔴 Pelvic Inflammatory Disease
This infection of the female reproductive organs is usually caused by sexually transmitted bacteria.
For more insight into the causes of period cramps, head over to Mayo Clinic.
Please talk to your doctor if you are experiencing intense pain, heavy bleeding, or irregular periods.
How to Stop Period Pain Naturally
1.

TRADITONAL CHINESE MEDICINE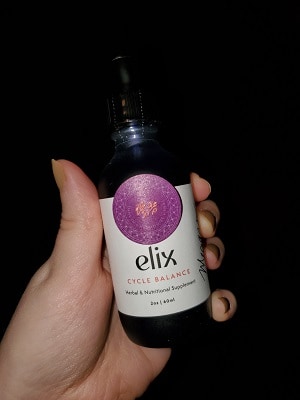 At the time I'm writing this, I've been using Elix Cycle Balance Herbal Supplement for eight months, and I could cry how much it's given me my life back!
My debilitating cramps are hardly noticeable, and my PMS depression and anxiety aren't as noticable.
Based on Traditional Chinese Medicine, Elix Cycle Balance is a liquid herbal supplement catered to your unique period and PMS symptoms.
To get your unique formula, you'll take an online health assessment and take a picture of your tongue — which is considered the window of your health.
My results say that I have a lot of inflammation in my body.
So…the herbs I take are meant to invigorate the flow of blood and qi (the vital life force that flows through the body) and reduce inflammation.
How to use TCM period supplement:
With this monthly subscription, you'll take six full squeezes of the dropper two times per day.
You'll drink it in the five to seven days leading up to your period.
While the taste of the brownish liquid takes a bit to get used to, it certainly beats having debilitating period symptoms.
You can try risk-free for three months, which is the length it takes for the herbs to truly make an impact.
Get $20 off your first month with my exclusive link.
2.

VITAMINS & SUPPLEMENTS
I initially started to take a multivitamin and an omega 3 supplement as a way to keep my anxiety and depression more managed.
In addition, I take this PMS Relief Supplement every day.
What I found out was that after a couple of months of taking daily vitamins and supplements, my incredibly debilitating period cramps have decreased significantly.
Beneficial Vitamins and Supplements:
Calcium
Magnesium
Vitamin B6
Vitamin E
As always, please talk to your health care provider before taking any vitamins or supplements.
3.

LIVIA WEARABLE DEVICE
Livia is the first scientifically proven wearable solution to provide instant, drug-free relief from menstrual cramps.
This means there are no painkillers, no side effects, and no interruptions to your day.
How Livia works:
Livia is based on the technology of Gate Control Therapy.
In simple terms, this means it works by transmitting a unique pulse to keep the nerves busy.
When the nerves are stimulated, it prevents pain signals from reaching the brain.
Once Livia is turned on, you'll start to feel relief within 30 to 60 seconds!
How to use Livia:
Clip Livia to your waistband
Attach the electrode gel pads to your lower abdomen
Press the on button
Adjust the pulses to your preferred intensity with the -/+ buttons
Feel period pain relief at home and when you're out
Once you order your device, your package will include your Livia, a choice of four colorful covers, a USB charging cable, a protective travel case, a set of Livia flower pads, and a 3-month supply of Livia gel pads.
You can then subscribe to get an ongoing supply of gel pads, plus a lifetime warranty!
4.

HEALTHY CYCLE TEA
Tea has so much amazing healing properties.
I notice a huge difference in my period symptoms when I drink tea versus when I don't.
There's a bunch of period tea on the market, but I highly, highly recommend Healthy Cycle Tea.


The tea includes raspberry leaf and rosehip. Both are incredible for relieving period symptoms and help to regulate your cycle.
It is the best tasting (herbal with hints of mint and citrus), and it helps my body the most.
Plus, it's made from 98% organic ingredients, if you're into that kinda thing.
5.

PERIOD SMOOTHIE
I think everyone knows that smoothies are freaking delicious.
But do you know that they can help heal your body as well?
Here's an awesome smoothie recipe loaded with key nutrients your body needs on your period.
Cramp Fighting Recipe:
1 cup Non-Dairy Milk
1 Banana
1 handful of Spinach
1 cup Strawberries
1/2 cup Pineapple
Pinch of Ginger
You can adjust the ingredients to taste, and you can even switch out the spinach for kale or the pineapple for orange.
Another way to easily get more nutrients into your diet is by adding a nutrient-dense protein powder to your smoothie.
I recommend Vega products, because they're vegan and contain no artificial colors, flavors, or preservatives.
Plus, you can save up to 20% off every order by joining the Plant Co/op – which is totally free by the way!
6.

HEATING PAD
Whenever my cramps come out to play, I snuggle up with my heating pad.
I recommend an electric heating pad over a microwavable one, because you're not going to want to have to keep getting up to reheat it.
My cramps can be completely debilitating, and I often put my heating pad on when I go to bed.
It has an automatic turn off, so I don't have to worry if it'll burn me throughout the night.
The heat is so, so soothing.
7.

BUBBLE BATH
Bubble baths are so healing for the mind and body, and they are incredible for period cramps.
I've taken a bubble bath during the middle of the night on a number of occasions when my cramps were trying to kill me.
Not only did the bath help minimize my cramps, but my body was so ready to fall asleep by the end.
If you find baths boring, why not try listening to an audiobook?
If you're like me and you prefer to listen to self-help books, you can try Audible FREE for 30 days. With Audible, you can listen to professionally-narrated audiobooks anytime and anywhere.

More on baths:
8.
YOGA
I know moving our bodies is the last thing we want to do when we're doubled over in pain.
But yoga can really help calm or mind and relieve our pain.
One of my absolute favorite places to learn more about yoga poses, flows, and sequences is Yoga Download.
There are a countless selection of free yoga classes, from beginner all the way to advanced as well as different lengths.
The best part is you can do yoga in the comfort of your own home.
It might be hard to find the motivation to move your body, but your body will thank you once you do.
9.

SACRAL CHAKRA BALANCING
Your Sacral Chakra is located in the lower abdomen and deals with your reproductive organs.
If your Sacral Chakra is imbalanced, it can lead to irregular periods, depression, and emotional overreactions.
Luckily, you can balance your Sacral Chakra in a number of ways.
Balancing Your Sacral Chakra:
⭐ Meditations
I love listening to Sacral Chakra mediations while I sleep.
Below, is one of my most listened to.
⭐ Foods
The Sacral Chakra is associated with the color orange, so it's beneficial to eat orange-colored foods.
Think oranges, tangerines, cantaloupe.
⭐ Crystals
Orange crystals are also amazing to use when balancing your Sacral Chakra.
Calcite, citrine, and carnelian are all excellent to have on hand.
We'll talk more about crystals in the next section.
⭐ Essential Oils
Orange, grapefruit, and tangerine are all wonderful essential oils to use for balancing your Sacral Chakra.
We'll also be talking about essential oils more later on.
10.

HEALING CRYSTALS
We've already talked about orange crystals in the above section, but now let's talk about another couple of healing crystals for period cramps.
Crystals for Cramps:
⭐ Moonstone
Moonstone normalizes the biological rhythm affecting the female reproductive system, alleviates menstrual problems, and helps eliminate fluid retention.
Moonstone also helps fertility by promoting an easier pregnancy, childbirth, and bringing hormonal balance.
⭐ Shiva Lingam
I always keep my Shiva Lingam crystal in my pocket the week leading up to my period.
It's a fantastic stone for menstrual cramps, infertility, and divine feminine energy.
⭐ Pink Opal
Another crystal I always have on me around the time of my cycle is Pink Opal.
This stone is a very delicate and gentle crystal known for its emotional healing properties.
More crystals for periods:
👉 17 Crystals for Period Cramps and Pain (That Actually Help)
11.

ESSENTIAL OILS
For the past year or two, I've been really into aromatherapy and the benefits of essential oils.
When I started to incorporate them into my daily routine, I started to feel more grounded, more confident, and more relaxed.
Different essential oils have been proven to give different benefits.
The best part is you can mix them and blend the essential oils together in your diffuser.
Doing this helps create even more benefits and even more amazing smells!
My Favorite Essential Oils for Periods:
Lavender
Chamomile
Eucalyptus
Peppermint
Rose
I recommend Plant Therapy essential oils because they're high quality, vegan, and cruelty-free!
Try a bunch in this 7 & 7 Essential Oil Set, which features 7 single oils and 7 synergies.
*While using essential oils, be sure to use them in a well-ventilated room and keep harmful ones away from pets and kids.
More on essential oils:
At Home Period Pain Relief
If you're someone who menstruates, you've most likely experienced horrible period cramps at one point or another.
In fact, 80 percent of menstruating people have dealt with cramps, with 5 to 10 percent being severe.
Tracking your period can help you navigate your pain by encouraging you to record all your symptoms.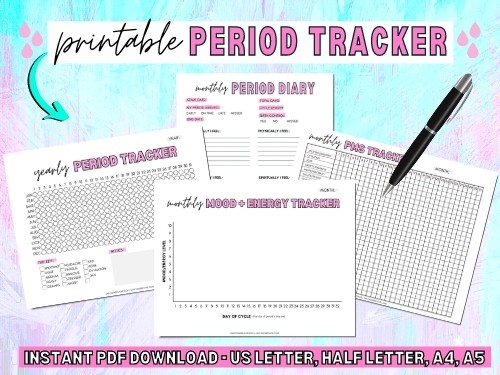 Use the code PERIOD to get 10% off these period trackers!
Here's a recap of 10 remedies you can try to help relieve some pain:
🔴 Period smoothie with Vega protein powder
🔴 Take a bubble bath
🔴 Do some yoga
🔴 Balance the Sacral Chakra
🔴 Healing Crystals – Moonstone, Shiva Lingam, and Pink Opal
Have you found any period pain relief at home?
More period posts:
---
Are Your Periods Negatively Impacting Your Life?
Talking to a therapist might help you cope with your periods, including PMS and PMDD.
Online Therapy is a complete online therapy toolbox.
Your therapy toolbox includes:
Live video, voice, or text chat session with your therapist
8 easy-to-follow sections, including 25 worksheets
Activity plan, journal, and tests
Yoga and meditation videos
What I love about Online Therapy is that you can get incredible therapy from the comfort of your own home, so you never need to worry before getting help.
Get 20% off your first month with my exclusive link.
---

Facebook | Instagram | YouTube | TikTok | Pinterest
Natural Period Pain Relief at Home