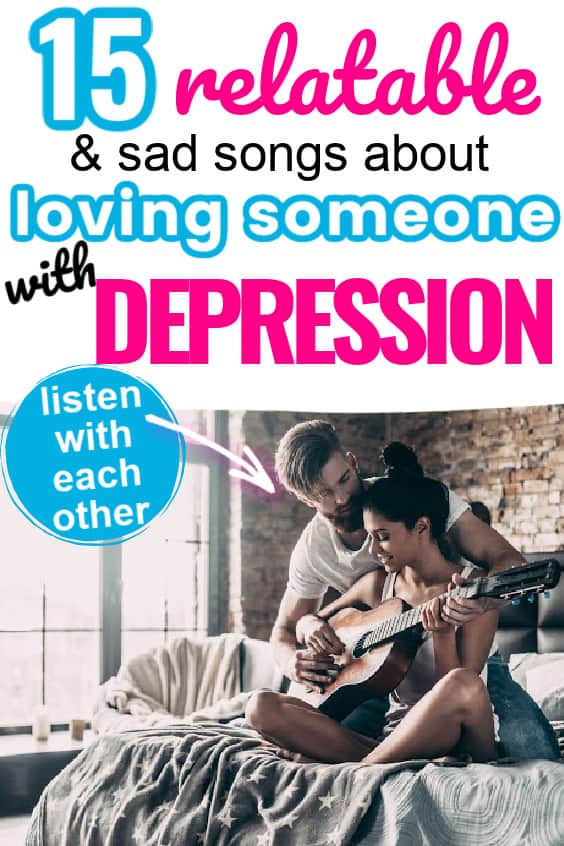 DISCLOSURE: I am not a mental health professional. If you need help finding a mental health care provider, call 1-800-662-HELP (4357) or visit Online Therapy to call, message, or video chat a certified therapist online. This post contains affiliate links. As an Amazon Associate, I earn from qualifying purchases. I may also receive compensation from Online Therapy or other sources if you purchase products or services through the links provided on this page. You can read my full disclaimer.
Songs About Loving Someone with Depression
Loving someone with depression is not easy, but listening to relatable songs can help you through the battle.
The truth is: not all love songs are sunshine and rainbows.
Sometimes, love songs are difficult and painful because you can relate to the realism of loving someone with mental illness.
When you're struggling with your mental health, it might be helpful to talk to an online therapist. I always recommend Online Therapy, because it's a complete online counseling toolkit, and you can get incredible therapy from the comfort of your own home.
Unfortunately, I find a lot of love songs about depression and mental illness to be breakup songs.
And while mental illness can certainly make relationships more difficult, sometimes mental illness can make relationships even more fulfilling.
Here are 20 relatable songs about loving someone with depression:
20 Love Songs For Mental Illness
1. BIGGER THAN LOVE – LAST CHANCE HIGHWAY
Relatable Lyrics:
If there's a hole in your heart,
you gotta pull it together.
It takes the courage to start,
but now is better than never
2. ORDINARY GIRL – REBELUTION
Relatable Lyrics:
I've been around you for sometime
and yes I've seen some things,
but nothing even comes close
to the love that you bring
3. I WILL FOLLOW YOU INTO THE DARK – DEATH CAB FOR CUTIE
Relatable Lyrics:
If there's no one beside you
when your soul embarks,
then I'll follow you into the dark
3. WHEN YOU FIND ME – JOSHUA RADIN FEAT MARIA TAYLOR
Relatable Lyrics:
Something is said,
it sits in my head
It's been there too long,
it's killing me slow
4. BY YOUR SIDE – TENTH AVENUE NORTH
Relatable Lyrics:
'Cause I'll be by your side wherever you fall
In the dead of night whenever you call
And please don't fight these hands that are holding you
My hands are holding you
5. PARACHUTE – INGRID MICHAELSON
Relatable Lyrics:
I don't need a parachute,
baby, if I've got you
Baby, if I've got you,
I don't need a parachute
6. BESIDE YOU – MARIANAS TRENCH
Relatable Lyrics:
And if your heart wears thin
I will hold you up
And I will hide you
when it gets too much
7. STRONG ENOUGH – SHERYL CROW
Relatable Lyrics:
God, I feel like hell tonight
Tears of rage I cannot fight
I'd be the last to help you understand
Are you strong enough to be my man, my man?
8. YOUR GUARDIAN ANGEL – THE RED JUMPSUIT APPARATUS
Relatable Lyrics:
I will never let you fall
I'll stand up with you forever
I'll be there for you through it all
Even if saving you sends me to heaven
9.

NAKED – AVRIL LAVIGNE
Relatable Lyrics:
But then you came around me
The walls just disappeared
Nothing to surround me
And keep me from my fears
10.

DEMONS – IMAGINE DRAGONS
Relatable Lyrics:
Your eyes, they shine so bright
I wanna save that light
I can't escape this now
Unless you show me how
11.

FIX YOU – COLDPLAY
Relatable Lyrics:
Lights will guide you home
And ignite your bones
And I will try to fix you
12.

CHASING CARS – SNOW PATROL
Relatable Lyrics:
If I lay here
If I just lay here
Would you lie with me
And just forget the world?
13.

DEATHBED – PWOFU
Relatable Lyrics:
I'm happy that you're here with me,
I'm sorry if I tear up
When me and you were younger
you would always make me cheer up
14.

WONDERWALL – OASIS
Relatable Lyrics:
Because maybe
You're gonna be the one that saves me
And after all
You're my wonderwall
15.

FLOWERS FOR A GHOST – THRIVING IVORY
Relatable Lyrics:
Who will bring me flowers
when it's over
And who will give me comfort
when it's cold
16.

LOST IN THE LIGHT – BAHAMAS
Relatable Lyrics:
They'd help you too
See you through
All the hard things
We've all gotta do
17. YOUNG AND BEAUTIFUL – LANA DEL REY
Relatable Lyrics:
Will you still love me when
I got nothing but my aching soul?
I know you will,
I know you will,
I know that you will
18.

SHADOW – BLEACHERS
Relatable Lyrics:
If you're feeling small
I'll love your shadow
And if you're feeling small
I'll love your shadow
19. I NEED MY GIRL – THE NATIONAL
Relatable Lyrics:
I can't get my head around it
I keep feeling smaller and smaller
I need my girl
I need my girl
20. THERE FOR YOU – FLYLEAF
Relatable Lyrics:
Swirling shades of blue
Slow dancing in your eyes
The sun kisses the earth
And I hush my urge to cry, cry
Loves songs and depression:
Mental illnesses, like depression, can be excruciatingly difficult and painful to live with.
Adding a relationship into the mix makes it that much more difficult.
That's why these 15 relatable love songs are so important to listen to with each other!
More relatable song recommendations:
---
Did you know that there is affordable online therapy?
Online Therapy is a complete online therapy toolbox.
Your therapy toolbox includes:
Live video, voice, or text chat session with your therapist
8 easy-to-follow sections, including 25 worksheets
Activity plan, journal, and tests
Yoga and meditation videos
What I love about Online Therapy is that there are several life-changing options and therapists available, and you don't even have to leave the comfort of your home.
This means you never need to worry before getting help.
Get 20% off your first month with my exclusive link.
---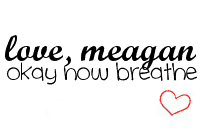 Facebook | Instagram | YouTube | Twitter | Pinterest