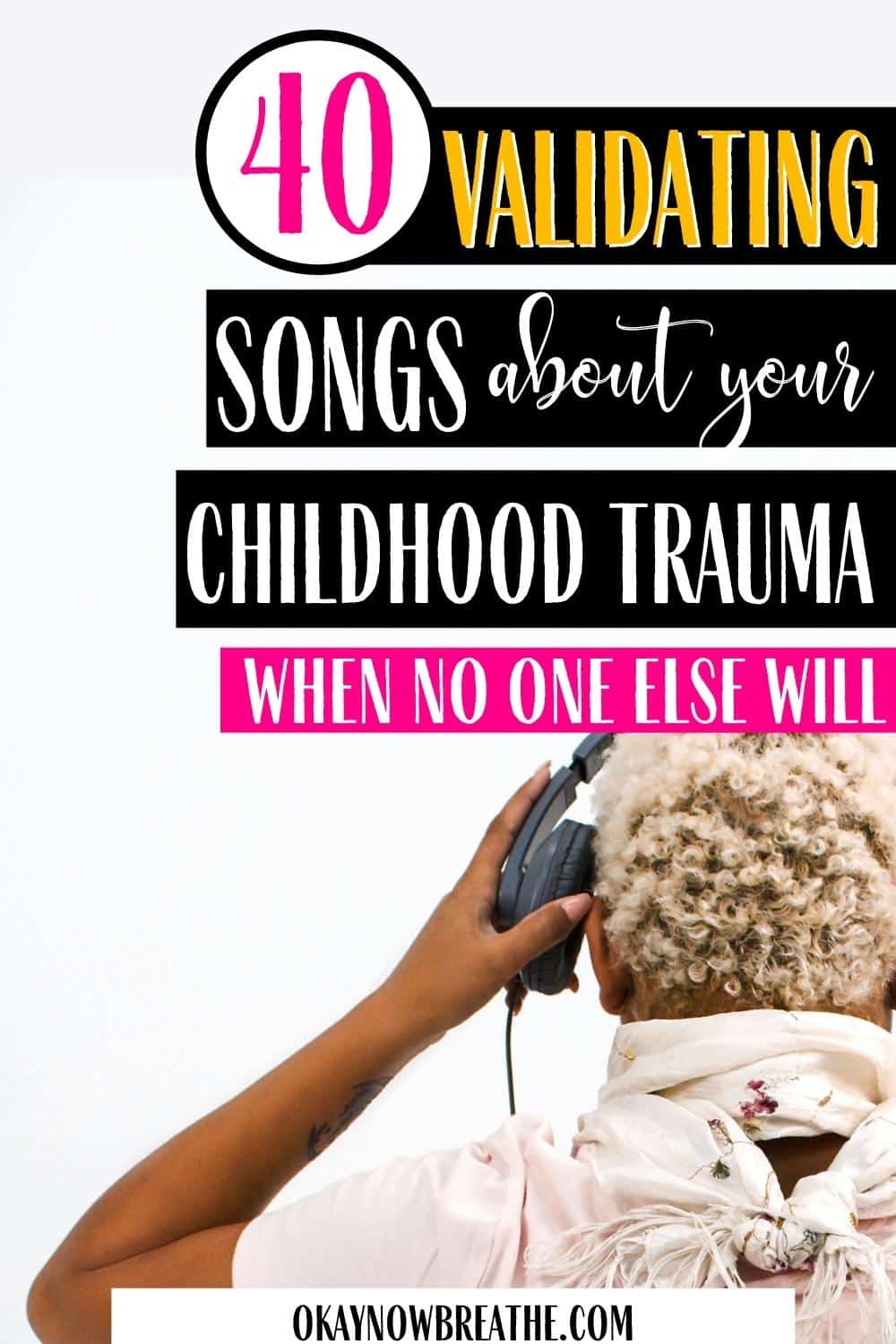 DISCLOSURE: I am not a mental health professional. If you need help finding a mental health care provider, call 1-800-662-HELP (4357) or visit Online Therapy to call, message, or video chat a certified therapist online. This post contains affiliate links. As an Amazon Associate, I earn from qualifying purchases. I may also receive compensation from Online Therapy or other sources if you purchase products or services through the links provided on this page. You can read my full disclaimer.
Child Abuse Songs
If you've experienced a bad childhood from family problems, listening to songs about child abuse can help heal your inner child.
You've had to endure so much neglect and trauma, and music can be painfully validating and healing.
The 40 songs featured are all about surviving childhood emotional, physical, and sexual abuse.
Why listen to songs about child abuse?
🎵 The lyrics can make you feel less alone
🎵 Your family problems are more common than you think
🎵 They're sad but can be incredibly healing
Before we get to the list of child abuse and neglect songs, have you downloaded your free inner child healing workbook yet? 👇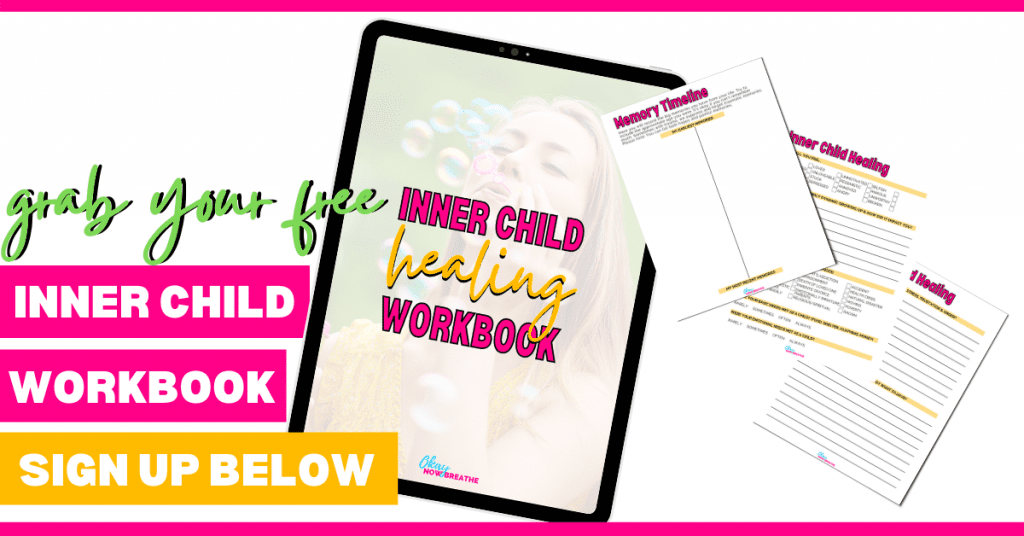 40 Songs About Abused Children
1. CONFESSIONS OF A BROKEN HEART (DAUGHTER TO FATHER) – LINDSAY LOHAN
I grew up a big fan of Lindsay Lohan's movies and music, so it was a no-brainer putting this song first.
In this emotional song, she sings about her estranged relationship with her dad.
Relatable Lyrics:
Daughter to father, daughter to father
I don't know you, but I still want to
Daughter to father, daughter to father
Tell me the truth, did you ever love me
You might relate to these movies about child abuse:
👉 23 Heartbreaking Movies About Childhood Trauma (That are Therapeutic)
2. OH, MOTHER – CHRISTINA AGUILERA
Another popular singer from my upbringing, Christina Aguilera brings light to the domestic violence she faced.
Relatable Lyrics:
Oh mother, we're stronger
From all of the tears you have shed
Oh mother, don't look back
Cause he'll never hurt us again
3.

BRENDA'S GOT A BABY – 2PAC
Icon Tupac brings light to the harsh upbringing of Brenda, whose mom wasn't around and her dad was addicted to drugs.
Relatable Lyrics:
Now Brenda really never knew her moms
And her dad was a junkie putting death into his arms
It's sad, cause I bet Brenda doesn't even know
Just cause you're in the ghetto doesn't mean you can't grow
4. FAMILY PORTRAIT – PINK
Another song depicting domestic violence, the lyrics tell the story of a family wrapped up in abuse and trauma.
Relatable Lyrics:
I hear glasses breaking
As I sit up in my bed
I told dad you didn't mean
Those nasty things you said
Movies about domestic violence:
👉 27 Best Movies About Domestic Violence (That Are Cathartic)
5.

BECAUSE OF YOU – KELLY CLARKSON
Our parents can break our trust like no one else, and this song encapsulates what it's like to learn to not even trust yourself.
Relatable Lyrics:
Because of you
I find it hard to trust not only me,
But everyone around me
Because of you
I am afraid
6.

BLOWN AWAY – CARRIE UNDERWOOD
Here is another song about growing up around domestic violence, and there's a strong indication of alcoholism within the words.
Relatable Lyrics:
She heard those sirens screaming out
Her daddy laid there passed out on the couch
She locked herself in the cellar
Listened to the screaming of the wind
7. FATHER – PHORA
When you grow up with an absentee father, you feel a pain that not many people experience.
And when you live in poverty on top of that, it can create a recipe for trauma and neglect.
Relatable Lyrics:
I wonder if he feels my pain
Cause everyday its getting more intense
Moms could barely afford the rent
Had to do some shady shit to survive
Autobiographies about child abuse:
👉 22 Celebrity Memoirs About Stars Who Survived Childhood Trauma
8.

HERO (RED PILL MIX) – SUPERCHICK
Sometimes our parents fail to recognize when we're experiencing emotional pain.
This song showcases what it's like for people to bear invisible (and visible) scars.
Relatable Lyrics:
No one talks to her,
She feels so alone
She's in too much pain
To survive on her own
9.

FATHER OF MINE – EVERCLEAR
Whether you have a father who's out of the picture or a dad who's there but not actually there, you can blame yourself for their absence.
Relatable Lyrics:
Father of mine
Tell me where have you been
You know I just closed my eyes
My whole world disappeared
10. CONCRETE ANGEL – MARTINA MCBRIDE
Growing up amongst domestic violence makes you feel like you have to hide your family's secrets.
Relatable Lyrics:
She walks to school with the lunch she packed
Nobody knows what she's holdin' back
Wearin' the same dress she wore yesterday
She hides the bruises with linen and lace
Movies about bullying:
👉 28 Best Movies About Bullying (for Teens, Kids, and Adults!)
11.

WARRIOR – DEMI LOVATO
Experiencing something like childhood sexual abuse completely shatters and alters the world you once knew.
Relatable Lyrics:
There's a part of me I can't get back
A little girl grew up too fast
All it took was once,
I'll never be the same
12. WHAT WOULD YOU DO – CITY HIGH
No one deserves to live in poverty, but it's a whole other injustice when a child has to grow up surrounded by it.
Relatable Lyrics:
What would you do if your son was at home
Crying all alone
On the bedroom floor,
'Cause he's hungry
And the only way to feed him is
To sleep with a man for a little bit of money
13.

WHAT'S THE MATTER HERE – 10,000 MANIACS
Experiencing physical violence at the hands of your parents can scar you for a lifetime.
Relatable Lyrics:
But her screams and cussing,
I hear them every day.
Threats like: "If you don't mind I will beat on your behind,"
"Slap you, slap you silly."
Use these to heal from your childhood:
👉 11 Ways to Heal Childhood Trauma Spiritually (and Awaken Your Inner Child)
14.

HOW COULD YOU LEAVE US – NF
Watching a parent struggle with addiction alters your world.
Relatable Lyrics:
I don't get it, mom,
Don't you want to watch your babies grow?
I guess pills are more important,
All you have to say is no
15. SHADOW – ASHLEE SIMPSON
In this song, Ashlee Simpson shares what it was like exeriencing favoritism by her parents.
Relatable Lyrics:
Living in a nightmare
A never-ending sleep
But now that I am wide awake
My chains are finally free
Don't feel sorry for me
Do your parents play favorites?
👉 10 Signs Your Parents Play Favorites (and Why it Freaking Sucks)
16.

OPEN WOUNDS – SKILLET
Relatable Lyrics:
How could you, how could you, how could you hate me?
When all I ever wanted to be was you?
How could you, how could you, how could you love me?
When all you ever gave me were open wounds?
17.

SOMEWHERE I BELONG – LINKIN PARK
Relatable Lyrics:
I wanna heal,
I wanna feel like I'm close to something real
I wanna find something I've wanted all along
Somewhere I belong
18.

PERFECT – SIMPLE PLAN
Relatable Lyrics:
Hey, dad, look at me
Think back and talk to me
Did I grow up according to plan?
And do you think I'm wasting my time
Doing things I wanna do?
But it hurts when you disapprove all along
Check out these coming-of-age TV shows:
👉 28 Coming-of-Age TV Shows (Bursting with 90s and 2000s Nostalgia)
19.

NOBODY'S HOME – AVRIL LAVIGNE
Relatable Lyrics:
She wants to go home
But nobody's home
It's where she lies
Broken inside
20.

HOLD ON – GOOD CHARLOTTE
Relatable Lyrics:
And no one seems to care
Your mother's gone
and your father hits you
This pain you cannot bear
21.

STAY TOGETHER FOR THE KIDS – BLINK-182
Relatable Lyrics:
It's hard to wake up
When the shades have been pulled shut
This house is haunted, it's so pathetic
It makes no sense at all
22.

I'M SO SICK – FLYLEAF
Relatable Lyrics:
I'm so sick
Infected with where I live
Let me live without this
Empty bliss
Selfishness
23. UNSTEADY – X AMBASSADORS
Relatable Lyrics:
Momma, Come here
Approach, Appear
Daddy, I'm alone
'Cause this house don't feel like home
Do you have toxic parents?
👉 17 Signs a Parent is Toxic (That are Painfully Relatable)
24. MOCKINGBIRD – EMINEM
Relatable Lyrics:
I know you miss your mom,
and I know you miss your dad
When I'm gone but I'm trying to give
You the life that I never had
25.

TEMPORARY HOME – CARRIE UNDERWOOD
Relatable Lyrics:
Little boy, six years old
A little too used to being alone
Another new mom and dad
Another school, another house that'll never be home
26.

JUST LIKE YOU – THREE DAYS GRACE
Relatable Lyrics:
I could be mean
I could be angry
You know I could be just like you
27.

BEHIND BLUE EYES – LIMP BIZKIT
Relatable Lyrics:
No one knows what it's like to feel these feelings
Like I do, and I blame you
No one bites back as hard on their anger
None of my pain and woe can show through
You probably relate to these TED Talks:
👉 13 TED Talks on Childhood Trauma (to Heal Your Inner Child)
28.

OH, FATHER – MADONNA
Relatable Lyrics:
It's funny that way
You can get used to the tears and the pain
What a child will believe
You never loved me
29.

BROKEN HOME – PAPA ROACH
Relatable Lyrics:
I can't seem to fight these feelings
I'm caught in the middle of this
And my wounds are not healing
I'm stuck in between my parents
30.

DON'T LET DADDY KISS ME – MOTORHEAD
Relatable Lyrics:
Little girl sleeping in dreams of peace
Mommy been gone a long time
Daddy comes home and she still sleeps
Waiting for the world worst crime
And he comes up the stairs like he always does
31.

FOR YOU – STAIND
Relatable Lyrics:
To my mother, to my father
It's your son or it's your daughter
Are my screams loud enough for you to hear me?
Should I turn this up for you?
Read these relatable quotes:
👉 107 Toxic Parents Quotes (When Mother and Father Are Abusive AF)
32.

TRAUMA – NF
Relatable Lyrics:
Say you're here, but I don't feel it
Give me peace, but then you steal it
Watch them laugh at all my secrets
Scream and yell, but I feel speechless
Ask for help, you call it weakness
Lied and promised me my freedom
33.

DAMAGED – PLUMB
Relatable Lyrics:
Healing comes so painfully
And it chills to the bone
Will anyone get close to me?
I'm damaged, as I'm sure you know
34.

DADDY – KORN
Relatable Lyrics:
Mother please forgive me
I just had to get out all my pain and suffering
Now that I am done, remember I will always love you
I'm your son
Heal your inner child:
👉 13 Inner Child Healing Exercises (for Your Wounded Younger Self)
35.

BROKEN GIRL – MATTHEW WEST
Relatable Lyrics:
Look what he's done to you
It isn't fair
Your light was bright and new
But he didn't care
He took the heart of a little girl
And made it grow up too fast
36.

A CHILD CALLED 'IT' – BUCKCHERRY
Relatable Lyrics:
Mother, I really hate the way
You treat me like no other
And I refuse to be your victim
37.

DOWN WITH THE SICKNESS – DISTURBED
Relatable Lyrics:
No mommy, don't do it again
Don't do it again
I'll be a good boy
I'll be a good boy, I promise
38.

ZOMBIE – THE CRANBERRIES
Relatable Lyrics:
Another head hangs lowly
Child is slowly taken
And the violence caused such silence
Who are we mistaken
Movies about childhood friends:
👉 27 Movies About Childhood Friends (Filled with Nostalgia)
39.

DEAR DAD – B-MIKE
Relatable Lyrics:
Dad, it's so ridiculous,
Feeling silly I hit you up
For thinking you were really a parent
It makes me sick as fuck
40. BAD CHILD – TONES & I
Relatable Lyrics:
And you took a part of me
Left me with the memories, oh
We were never a family
Now you're standing in front of my door
Songs about surviving child neglect:
Having a bad childhood filled with abuse and neglect can feel incredibly isolating.
But I promise: You are not alone.
If you want to feel less alone, head to my TikTok, where I share countless childhood trauma stories and how I've overcome them.
💭 Which songs about child abuse resonate with you the most?
💾 Bookmark this page to return to over and over again!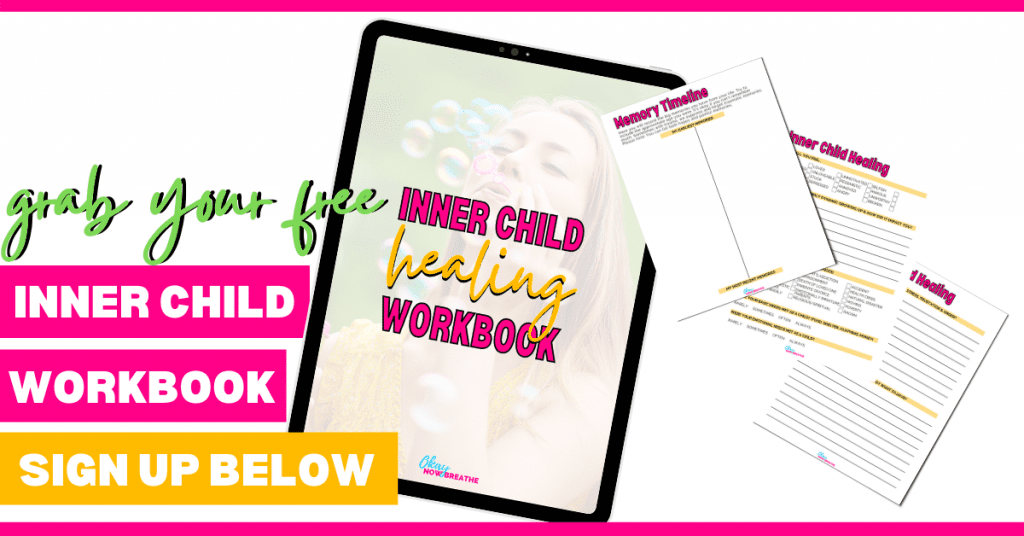 More inner child posts:
More relatable

song recommendations:
---
Did you know that there is affordable online therapy?
Online Therapy is a complete online therapy toolbox.
Your therapy toolbox includes:
Live video, voice, or text chat session with your therapist
8 easy-to-follow sections, including 25 worksheets
Activity plan, journal, and tests
Yoga and meditation videos
What I love about Online Therapy is that there are several life-changing options and therapists available, and you don't even have to leave the comfort of your home.
This means you never need to worry before getting help.
Get 20% off your first month with my exclusive link.
---

Facebook | Instagram | YouTube | TikTok | Pinterest
Songs About Child Abuse