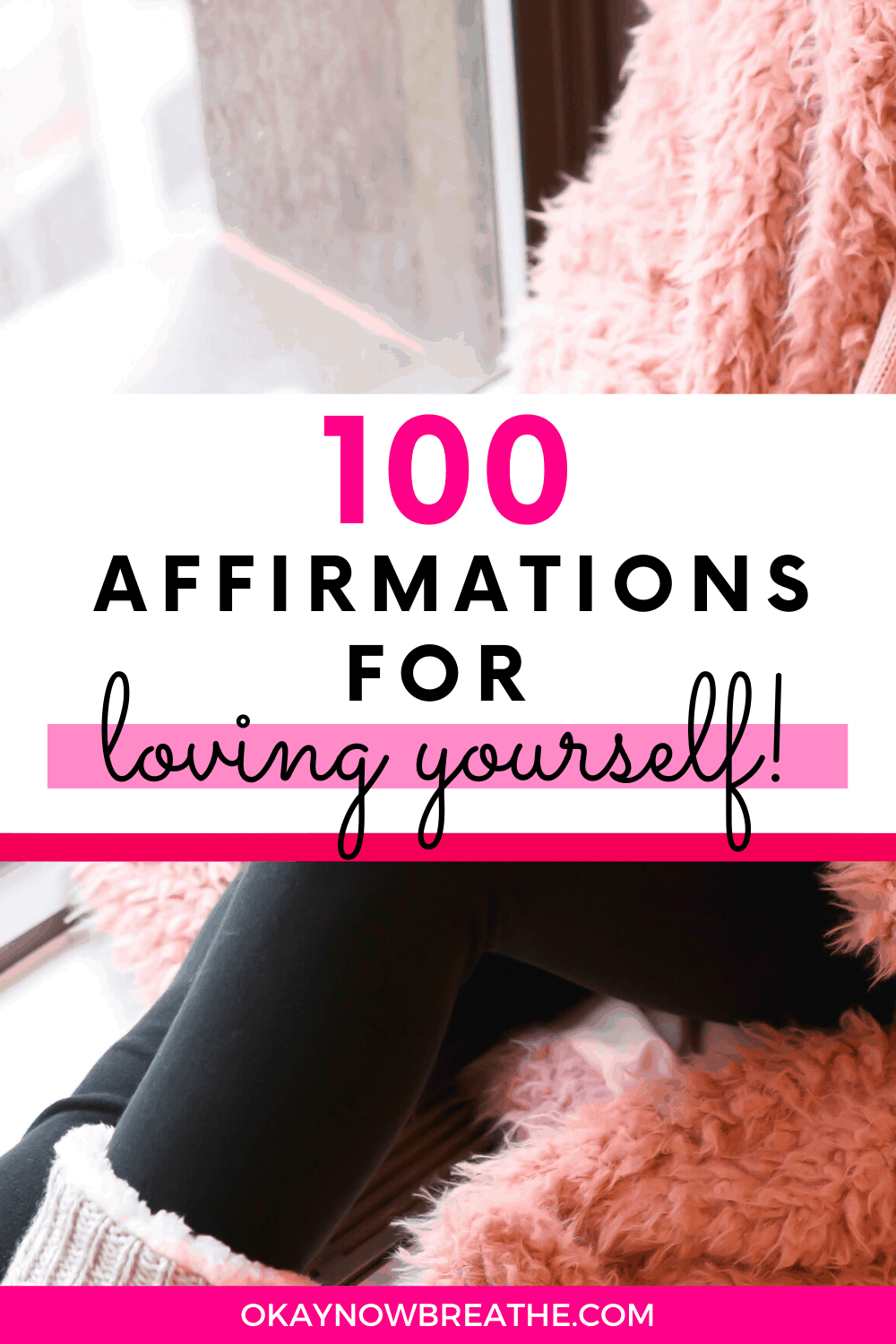 DISCLOSURE: I am not a mental health professional. If you need help finding a mental health care provider, call 1-800-662-HELP (4357) or visit Online Therapy to call, message, or video chat a certified therapist online. This post contains affiliate links. As an Amazon Associate, I earn from qualifying purchases. I may also receive compensation from Online Therapy or other sources if you purchase products or services through the links provided on this page. You can read my full disclaimer.
100 Self-Love & Self-Esteem Affirmations
If you're finding it hard to love yourself, self-love and self-esteem affirmations could be just the thing you're needing.
Does it seem like you've forgotten how to love yourself? Are you knee-deep in low self-esteem?
It's time to start incorporating positive affirmations into your life.
WHAT ARE POSITIVE AFFIRMATIONS?
So what exactly is the deal with using positive affirmations for self-love and self-esteem?
Well, they reveal the limiting beliefs you have about yourself.
You've spent so many years believing bad things about yourself and thinking that they were true.
You've thought you were filled with flaws, would never be successful, or find true happiness.
The goal of positive affirmations is to work as dismantling these beliefs, because they simply are not true.
Is it easier to go through life with these negative emotions and feelings about yourself? Does that make living with low self-esteem and hating yourself easier?
No, it does not.
Life actually becomes a lot easier when you change how you see yourself and the situations you're in.
WHY USE AFFIRMATIONS FOR SELF-LOVE?
If you just started reading affirmations, you might think they are hella cheesy.
You think, what's the point? You think, why am I even wasting my time on this crap?
Well, because your brain needs to hear them.
Your brain believes the words you tell yourself. The last thing you should tell yourself is how ugly, dumb, and worthless you are.
Instead, fill your head with empowerment. Fill your head with self-love.
Rather listen to these self-love affirmations?
Hear it on Peaceful Awakening Meditations!
1. I accept compliments with ease, because I know I am worthy of them.
2. I am becoming a better version of myself with every passing day.
3. I let go of any fear of making mistakes and feeling like a failure.
4. I let go of all negative self-talk.
5. My life is beautiful.
6. I accept myself unconditionally.
7. I choose to stop going down the path of self-hatred and self-destruction.
8. I am worthy of good things, and so is everybody else.
9. I accept myself for who I am in this current moment.
10. I respect myself and treat myself with kindness and love.
11. My life is a place of happiness and love.
12. I am allowed to express pain.
13. I choose to stop apologizing for who I am.
14. The only approval I will ever need is my own.
15. I love my body and all it does for me.
16. I let go of all people who do not have my best interests at heart.
17. I have so much to celebrate about myself.
18. I've got my own back.
19. My eyes are full of honor and integrity.
20. I stay balanced when other people are unbalanced.
21. I see my struggles as opportunities to learn and grow.
22. My mind is full of endless gratitude.
23. I am my best source of motivation.
24. I overcome every obstacle with ease.
25. I deeply love and approve of myself.
26. I cherish the unique person I am.
27. I am blessed to have a wonderful soul.
28. My soul radiates from the inside and warms the souls of others.
29. I appreciate my life.
30. I am proud of all I have accomplished.
32. I believe in me.
33. Nothing stands in the way of me loving myself.
34. Today, I chose my happiness.
35. I am a total badass.
37. I exude patience.
38. Loving myself is easy.
39. Loving myself means I can give love to others more freely.
40. I have everything I need within myself.
41. I wake up every morning with an abundance of love for myself.
42. Every night, I appreciate who I am as a person.
43. When others speak negatively of who I am, I let the negatives roll easily off my back.
44. I choose not to take it personally.
45. I honor my inner voice.
46. I am confident in who I am.
47. Having good self-esteem comes naturally to me.
48. I attract incredible people into my life.
49. I am incredibly intelligent.
50. Being infinitely confident comes easily to me.
51. I accept and embrace my flaws.
52. I feel at peace with how I look.
53. I am unquestionably attractive.
54. My confidence is soaring higher than the clouds.
55. I honor my unique path in life.
56. I respect my boundaries.
57. The people in my life respect my boundaries.
58. I only attract people who respect me.
59. My mind is brilliant.
60. I radiate self-love.
61. My self-esteem is rising higher and higher.
62. I acknowledge my self-worth.
63. My heart is pure.
64. I treasure my body.
65. I am self-assured in all areas of my life.
66. I practice gratitude for my life daily.
67. I choose to be grateful for the things I have.
68. I am free.
69. I believe these affirmations are making a huge difference in my life.
70. Amazing opportunities are flowing to me endlessly.
71. I am a magnet for love.
72. I am a masterpiece.
73. I celebrate my successes each and every day.
74. I make wise decisions.
75. I am not my mistakes.
76. I let go of all feelings of regret and shame.
77. I unconditionally accept myself.
78. I unconditionally love myself.
79. My heart is warm and caring.
80. I am powerful and capable of reaching all my dreams.
81. Every step I take is courageous.
82. I carry strength and resilience with me wherever I go.
83. I am authentic.
84. I stand my ground and protect myself.
85. I have the strength to rise up and face any adversity.
86. My voice is valuable.
87. My opinions matter.
88. I feel completely comfortable with myself.
89. I deserve love, compassion, and empathy.
90. My body is an artistic expression of my individuality.
91. My relationship with my body is one of perfect harmony.
92. Every part of my personality and body radiates beauty.
93. I honor who I am in this current moment.
94. I am loveable.
95. I am outstanding.
96. I trust in my ability to survive any obstacle that comes my way.
97. My efforts are being supported by the universe.
98. I am thriving in all areas of my life.
99. I am unstoppable.
100. Today, I choose me.
HOW TO CORRECTLY USE AFFIRMATIONS
Now that you have read these affirmations, let's see how you can correctly apply them.
1. Let go of negative affirmations
How many times a day do you not believe in your abilities, skills, or even yourself? How many times a day do you catch yourself saying negative insults about yourself?
I'm sure you've caught yourself saying things like: I will never be healthy enough, I'm not smart enough, My body will never look the way I want it to.
These negative affirmations are destructive to your self-esteem, your success, and your ability to love and appreciate yourself.
As soon as you catch yourself thinking negative thoughts, pause and stop yourself. Letting go of negative affirmations might be the most important step in learning to use affirmations correctly.
2. Replace with nothing
That's right. Get used to saying nothing at all.
Pay attention to how you feel when you don't react to any of your negative thoughts. Get comfortable with not giving them power.
This might be more difficult than you imagined, and that's okay.
You've been conditioned to absorb negativity.
3. Incorporate positive affirmations
Now's the time to start saying positive affirmations. You can say them to yourself internally or out loud.
Positive affirmations are always in the present tense, include positive words, and are spoken as a fact and the truth.
The most powerful affirmations are the ones that turn your negative thoughts into positive ones.
Using the examples above, start saying: I AM healthy, I AM incredibly smart, My body IS beautiful.
4. Repeat the process
Using affirmations correctly takes practice and dedication.
Let me say that again. It takes practice, practice, and more practice.
You won't be able to say these affirmations for self-love and self-esteem once and feel much different.
The first couple of times you practice them, you might even feel defeated because they didn't really work at all.
But keep at it.
Keep letting go of negative affirmations, getting comfortable with the silence, and then incorporating positive affirmations.
Affirmations for Self-Love
If you're not sure about affirmations, really take the time to practice them.
Take the time to really believe in them and their power.
It's best if you say these loving affirmations both morning and night for 21 days straight.
That's when you'll really start to see a difference in your self-esteem and how you feel about yourself!
Don't forget that you can listen to these affirmations for free with Peaceful Awakening Meditations!
What are your favorite self-love affirmations? Share below!
More Self-Love Posts:
---
Is Your Self-Esteem Negatively Impacting You?
Talking to a therapist might help you break through your low self-esteem.
Online Therapy is a complete online therapy toolbox.
Your therapy toolbox includes:
Live video, voice, or text chat session with your therapist
8 easy-to-follow sections, including 25 worksheets
Activity plan, journal, and tests
Yoga and meditation videos
What I love about Online Therapy is that there are several life-changing options and therapists available, and you don't even have to leave the comfort of your home.
This means you never need to worry before getting help.
Get 20% off your first month with my exclusive link.
---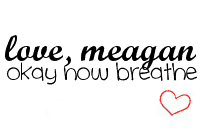 Facebook | Instagram | YouTube | Twitter | Pinterest
Affirmations for Self-Love