DISCLOSURE: I am not a mental health professional. If you need help finding a mental health care provider, call 1-800-662-HELP (4357) or visit Online Therapy to call, message, or video chat a certified therapist online. This post contains affiliate links. As an Amazon Associate, I earn from qualifying purchases. I may also receive compensation from Online Therapy or other sources if you purchase products or services through the links provided on this page. You can read my full disclaimer.
Meditations for Sleep
Listening to meditations at night for sleep has completely changed my entire life.
My sleep is more peaceful, and I wake up feeling more inspired and relaxed than ever before.
If you've never listened to meditation music at bedtime before, you're in for a real treat.
---
Record and keep track of your sleep, sleeping habits, and dreams in this Sleep + Dream Printable Pack!
✨ YOU'LL RECEIVE ✨
• Sleep Tracker Chart
• Sleep Tracker Graph
• Sleep Tracker Coloring Page
• Nightly Sleep Diary
• Nightly Dream Diary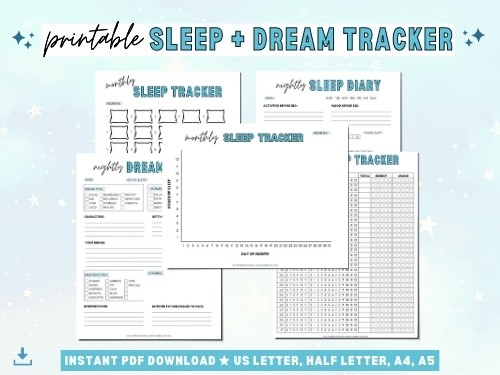 Use code SLEEP to get 10% off your sleep trackers!
---
I Can't Meditate!
Listen…I get it.
When you're first starting out, meditating is hard.
It feels foreign.
Your mind can't slow down.
Or maybe you've tried multiple different meditations, but none of them quite worked for you.
I get it.
Because I used to be there.
But now I listen to meditations all throughout my day, especially every morning and night.
Benefits of Meditating
Meditating is super beneficial for so many areas of your life.
I used to think I didn't have the time to meditate.
Anytime I tried, I gave up because I thought my mind would never quiet down and let me practice effectively anyway.
But being able to sleep at night is more than worth any time and commitment it takes.
Meditation Benefits:
Less anxiety and depression
Less stress and feelings of overwhelm
Learning to be mindful and stay in the moment longer
Increases feelings of happiness
Promotes positive mental health
Improves sleep
Reduces anger
Gives feelings of clarity and calm
Nighttime Meditating for Sleep
The way I meditate at bedtime is literally laying in bed like I'm going to sleep.
Then I put on some meditation music, and then I close my eyes.
I then allow my breathing to become slow and deep.
My eyelids start to feel heavy.
Then I drift off to sleep.
For me, it's really that simple!
Meditating for Sleep Tips:
💤 Find a meditation at least 8 hours long to listen to the entire night
💤 Listen with sleep headphones
💤 Don't force it!
Want to know my favorite products for when I'm having trouble sleeping?
Check out: 8 Bedtime Essentials for Better Sleep
⭐ Did you know I have a meditation YouTube channel?
That's right! I run Peaceful Awakening Meditations with my fiance.
There, you'll find a bunch of videos filled with loving, positive affirmations, as well as inspiring instrumental music.
Here's one of my favorites! ↓
Be sure to subscribe here!
Without further ado, here are calming sleep meditations.
10 Best Sleep Meditations
1.

"The Blue Forest" Binaural Beats Sleep Music
SleepTube – Hypnotic Relaxation has some of my absolute favorite sleep meditations.
I find them soothing, and they almost instantly pull me into a meditative state.
2. Tranquil Sleep Meditation
Healing Sleep Tones is another one of my most listened to meditation channels.
Their sleep meditations are more upbeat and inviting, and I feel like I have more positive dreams when I listen to them through the night.
3.

Healing Sleep Music
For a wide variety of nighttime meditation music, check out Nu Meditation Music.
There are deep sleep and healing sleep meditations, as well as music for the day time.
4. 432 Hz Safe Music For Sleep
MoonLight Meditations focuses on helping treat insomnia and other sleep disorders.
Their music is wonderful for encouraging your mind to heal overnight.
5.

396Hz | Root Chakra Sleep Music
Meditative Mind is my go-to when it comes to sleep meditations geared towards balancing the chakras.
Whenever I feel like I need extra help with a certain chakra, I'll listen to the specific chakra meditation a few nights in a row.
P.S. if you want to learn more about chakras, read this enlightening book.
6.

Sleep Hypnosis to Fall Asleep Fast
I couldn't write a sleep meditation post without including Michael Sealy.
If you prefer guided hypnosis meditations, he will become your right-hand man.
7.

Guided Sleep Meditation for Forgiveness and Sleep
Another guided sleep meditation channel I love is Lauren Ostrowski Fenton.
Sometimes you just need somebody to speak gently to you in order to fall asleep.
8.

Sub Bass Heart Beat Pulse Music for Relaxation
When I'm having a difficult time sleeping, I turn to Sub Bass Meditation Music.
Their meditations are lower frequency, and a lot of them focus on mimicking the pulse of a heartbeat.
9.

Peaceful Night 💕 Deep Sleep Music 528Hz
Personal Power – Sleep Serenity & Meditation allows me to wake up feeling inspired.
I'm more likely to be creative and do the things I love the next day.
10.

Deepest Sleep Music
Jason Stephenson – Sleep Meditation Music offers both guided meditations and instrumental music.
His meditations are encouraging and uplifting.
Meditating for Sleep
Meditating is like a muscle: The more you practice it, the better and more effective it will be.
One of the easiest (and often most effective) forms of meditating is listening to healing meditations while you sleep.
Music is super powerful, and it can truly change everything in your life.
Which meditation are you going to listen to tonight?
More meditation posts:
More sleep posts:
---
Do Your Thoughts Keep You Up at Night?
Did you know that Online Therapy is a complete online therapy toolbox?
Your therapy toolbox includes:
Live video, voice, or text chat session with your therapist
8 easy-to-follow sections, including 25 worksheets
Activity plan, journal, and tests
Yoga and meditation videos
What I love about Online Therapy is that there are several life-changing options and therapists available, and you don't even have to leave the comfort of your home.
This means you never need to worry before getting help.
Get 20% off your first month with my exclusive link.
---

Facebook | Instagram | YouTube | TikTok | Pinterest
Best Meditations for Sleep