DISCLOSURE: I am not a mental health professional. If you need help finding a mental health care provider, call 1-800-662-HELP (4357) or visit Online Therapy to call, message, or video chat a certified therapist online. This post contains affiliate links. As an Amazon Associate, I earn from qualifying purchases. I may also receive compensation from Online Therapy or other sources if you purchase products or services through the links provided on this page. You can read my full disclaimer.
Do you have a hard time figuring out effective ways to cope with your depression? Do you know the must-haves for coping with depression?
For over a decade, I tried so many things that I ended up feeling beaten down and low.
From self-harming to trying to ignore it, I've tried nearly every unhealthy way to cope with my depression.
Now that I've found these 7 healthy must-haves for coping with depression, my depression is much better managed.
When you're struggling with your mental health, it might be helpful to talk to an online therapist. I always recommend Online Therapy, because it's a complete online counseling toolkit, and you can get incredible therapy for an affordable monthly cost.
7 Must-Haves for Coping with Your Depression
1.

LIGHT

THERAPY LAMP
When I first started hearing about light therapy lamps about two years ago, I was intrigued. I wondered if there was any science to it, or if it was just some sort of placebo effect.
Within the first week of getting my HappyLight Therapy Light, I saw an increase in my energy levels and mood. I even got to sleep earlier at night than usual (around 2 am)!
Now, I love it so much that any day I'm feeling low, I turn it on for about 30 minutes.
Benefits of Light Therapy:
1. Mood: Light therapy improves mood by triggering the release of serotonin.
2. Focus: Full spectrum light provides signals in your body to help you relax, focus, and feel revitalized.
3. Energy: Studies found that light therapy lamps combat tiredness associated with the winter blues.
4. Sleep: Light therapy improves sleep by resetting your circadian rhythm to its natural state and regulating melatonin.
Related post:
2.

HAPPY PLAYLIST
The last music you should be listening to when you're depressed is sad music. I know it's tempting and you want to relate to something, but it just further sucks you into your depression spiral.
When I'm having a bad day, I try to listen to more uplighting music. I might feel annoyed at first, but by the time I'm done listening to one song, I start to feel the negativity lift off of me.
Some of My Favorite Songs:
1. Hand in My Pocket – Alanis Morrisette
2. If It Makes You Happy – Sheryl Crow
3. I Lived – OneRepublic
4. Fuckin Perfect – Pink
5. Good Day – Nappy Roots
If you want to hear more songs that help me, I talk about them in Songs to Listen to When You're Depressed.
What songs do you like listening to? Drop some suggestions in the comments below. I love learning new music!
3. DEPRESSION JOURNAL GUIDES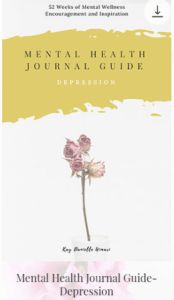 I've always loved writing, but journaling always felt like a chore for some reason.
With practice, journaling is now one of my most favorite parts of the day. (Actually, I usually write at night, but who's counting?)
Journaling is a fantastic way to combat feelings of depression. You get to release your feelings of sadness, anger, and pain all out onto paper.
If you are like me and have no idea where to begin, Mental Health Journal Guides for Depression is a great place to start!
It includes weekly journal prompts, such as Gratitude Prompts, Emotional Intelligence, Signs and Symptoms, and Self-Care. You will also get a 52 week calendar laying out the year for mental health journaling.
Use the code meagan15 at checkout to get 15% off your purchase!
4.
30 DAY NEGATIVE DETOX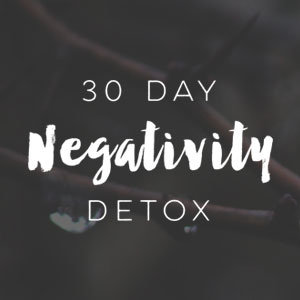 If you're truly ready to make a change for your overall mental wellbeing, then I highly recommend getting 30 Day Negativity Detox. You can either get it in eBook or video course form.
What You'll Learn:
Week 1: Cut out the negative things in your life, so you can make room for the good
Week 2. Let go of the past, so it no longer negatively impacts your future
Week 3: Change your mindset, so you can view life in a new light
Week 4: Infuse positivity into your life, so you can become a happier, more optimistic you
To get some savings, you can opt to get the Resilient Big Bundle. The bundle includes 6 amazing personal development products, such as 30 Day Negativity Detox and Figure Out Your Life.
All of these together would cost over $120 if you purchased them separately, but you'll get a big 20% discount if you get the whole bundle.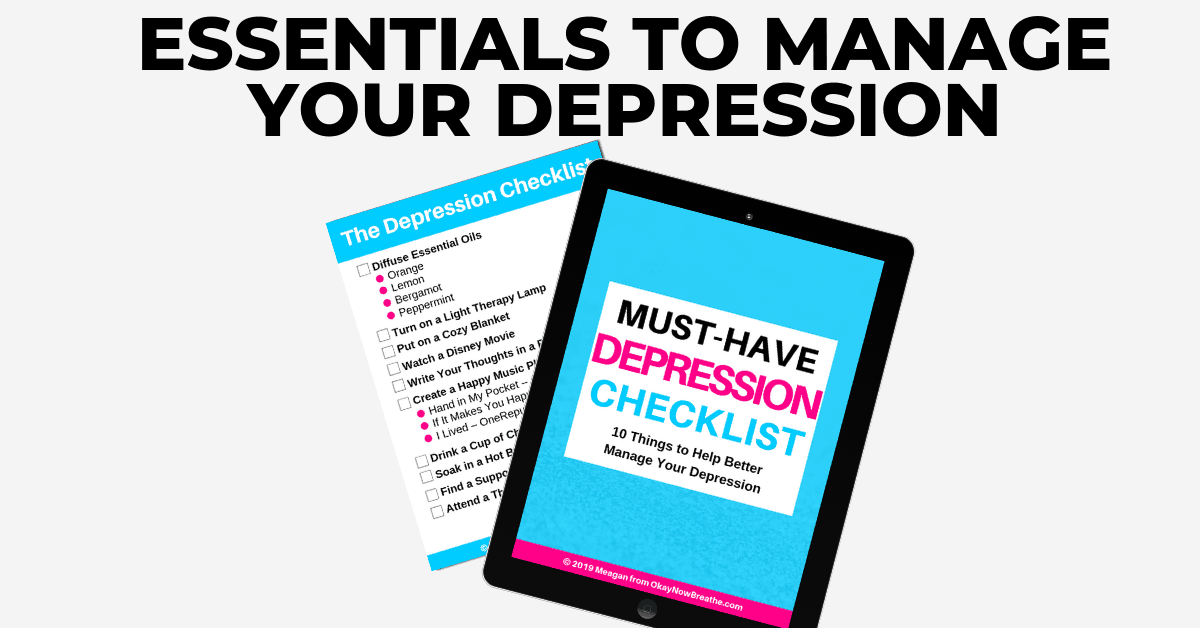 5.

ESSENTIAL OILS
When it comes to coping with my depression, I love finding more holistic approaches.
Lately, I've been really into aromatherapy and the benefits of essential oils. When I started to incorporate them into my everyday routine, I started to feel more grounded, more confident, and more relaxed.
Different essential oils have been proven to give different benefits. The best part is you can mix them and blend the essential oils together in your diffuser. Doing this helps create even more benefits and even more amazing smells.
My Favorite Essential Oil Blends:
1. Mood Lifting: 3 drops sweet orange, 3 drops lemon, 3 drops lime, 3 drops grapefruit
2. Uplifting: 4 drops lemon, 3 drops tea tree, 3 drops peppermint, 3 drops lime
3. Positivity: 3 drops eucalyptus, 3 drops bergamot, 3 drops tangerine
I use ArtNaturals essential oils, because they're high quality, vegan and cruelty-free!
6.

FIND A SUPPORT GROUP
Finding a support group has been so vital to my recovery.
I know sometimes it can be really difficult to talk about your mental illnesses to people you know in person. Facebook, Twitter, and Instagram all have excellent mental health communities.
Everyone I've met is so supportive and so understanding, and I know I can count on them when I'm feeling low and alone.
Be sure to follow me on Instagram, Facebook, and Twitter so we can connect!
Related post:
7.

ATTEND THERAPY
Did you know that there is online therapy?
Online Therapy is a complete online therapy toolbox.
Your therapy toolbox includes:
Live video, voice, or text chat session with your therapist
8 easy-to-follow sections, including 25 worksheets
Activity plan, journal, and tests
Yoga and meditation videos
What I love about Online Therapy is that there are several life-changing options and therapists available, and you don't even have to leave the comfort of your home.
This means you never need to worry before getting help.
Get 20% off your first month with my exclusive link.
To Wrap Up…
Depression is incredibly draining and often very difficult to live with. Hopefully, these 7 coping must-haves will help you as much as they've helped me.
Now that I have the right coping mechanisms, my bad days are fewer and farther in between.
Please remember that you are never alone in your sufferings. You are never, ever alone.
What ways do you cope with your depression? Share them below!
Related posts: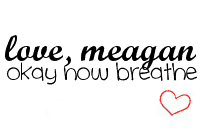 Facebook | Instagram | YouTube | Twitter | Pinterest