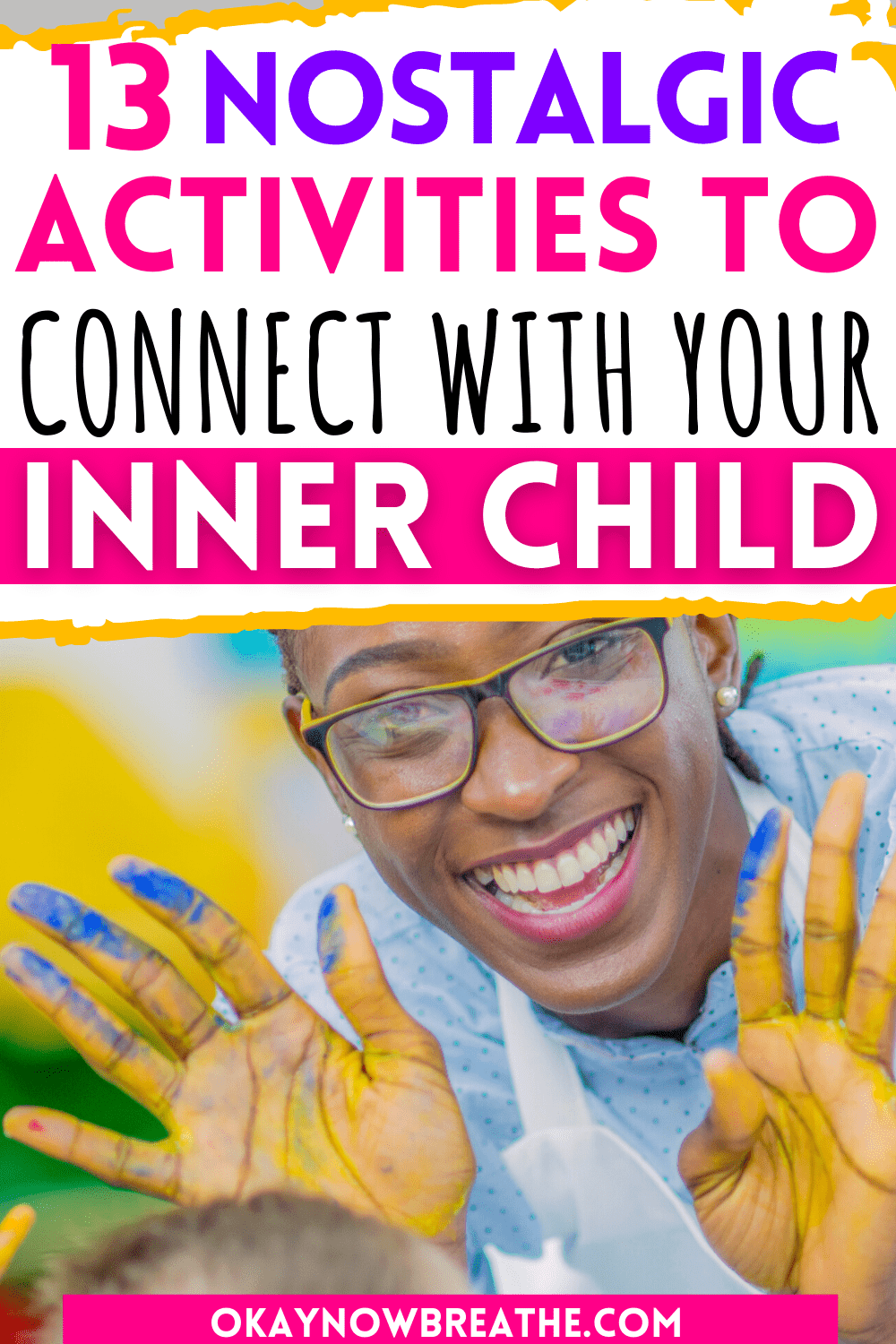 DISCLOSURE: I am not a mental health professional. If you need help finding a mental health care provider, call 1-800-662-HELP (4357) or visit Online Therapy to call, message, or video chat a certified therapist online. This post contains affiliate links. As an Amazon Associate, I earn from qualifying purchases. I may also receive compensation from Online Therapy or other sources if you purchase products or services through the links provided on this page. You can read my full disclaimer.
How to Reconnect with Your Inner Child
When you are on your healing journey, you might be searching for ways and activities to reconnect with your inner child.
I'm a sucker for all things nostalgia, and I truly believe participating in nostalgic activities can set your inner child's soul on fire.
I'm sure the 13 activities featured in this post will unlock some sentimental childhood memories.
How do I unblock my inner child?
Therapy is a great way to start unraveling and healing any blockages stopping you from connecting with your inner child.
Healing your inner child is essential for you to live your most fulfilling life possible.
Without healing, it's incredibly difficult to connect, honor, and love yourself fully.
Have you downloaded your free inner child healing workbook yet? 👇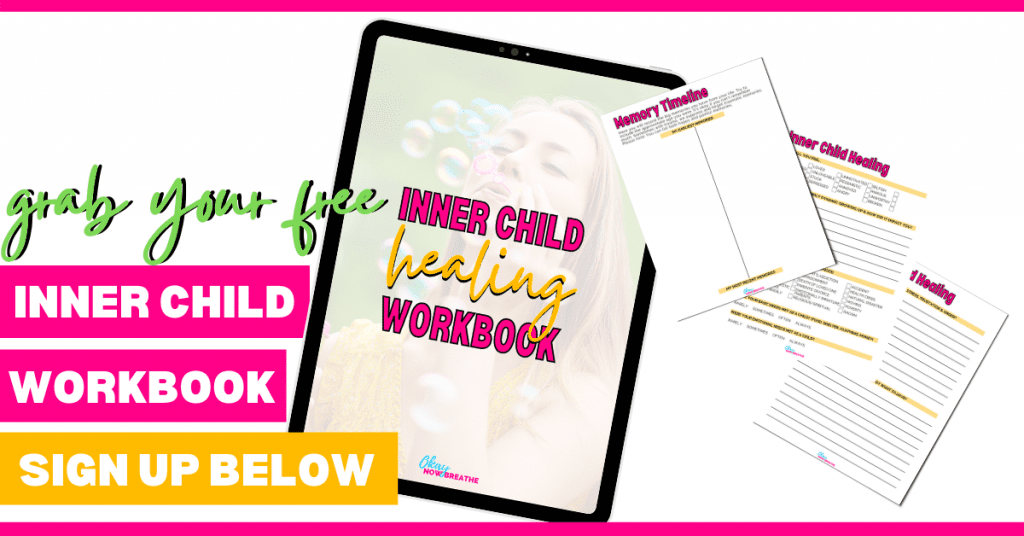 Activities to Connect to Inner Child
1. INNER CHILD MEDITATION
Meditating is one of the best ways you can connect with your inner child.
This healing inner child meditation is incredibly powerful at untangling the bonds of codependency.
You'll be encouraged to visualize your younger self, while forgiving, honoring, and loving them.
The first time I listened to the meditation, so many built up emotions pooled out of my eyes as I cried.
More meditations for inner child:
2. LISTEN TO SONGS FROM CHILDHOOD
Music heals us in ways other tools can't — and healing your inner child is no exception.
I'm a 90s baby, so I'm partial to music that came out in the 90s and early 2000s.
Some of my favorite feel-good songs are ⤵️
🎵 Sk8er Boi – Avril Lavigne
🎵 All Star – Smash Mouth
🎵 Man! I Feel Like a Woman! – Shania Twain
Whenever I hear music from my childhood, I am reminded why reconnecting with our inner child is a pivotal way to heal childhood trauma.
More song recommendations:
4. WATCH DISNEY MOVIES
I don't know about you, but Disney movies (and Disney music) are my jam.
I grew up watching Disney movies, and I have a true soft spot in my heart for them.
Nostalgic Disney Recommendations ⤵️
🎬 Oliver and Company
🎬 Emperor's New Groove
🎬 Mulan
And while I love the Disney classics, I love how much more diverse and inclusive the newer ones are becoming (like Coco and Moana).
Whether you watch the classics or gravitate towards the modern ones, Disney movies are a fantastic way of connecting with your inner child.
Related post on Disney movies:
5. PLAY VIDEO GAMES
Another nostalgic way to reconnect with your inner child is to play old school video games.
Some of us grew up on SEGA (*cues SEGAAAAA song*), Game Boy, or Nintendo.
I also grew up on PC games, and I still play Rollercoaster Tycoon and Sims to this day.
More video game recommendations:
6. DANCE IN THE RAIN
I wasn't allowed to play in the rain or splash in puddles when I was younger.
When I was in my teens, I finally danced in the rain.
Not only did it help me connect with my inner child, but it was also a total spiritual experience.
We are meant to explore our world, and when we don't get to do that as kids, it's more important than ever that we give ourselves a chance to do that as adults.
Related post to heal wounded child:
7. BUILD SANDCASTLES
Another thing I was scolded for was playing in the sand.
My dad encouraged us kids, but my mom hated when we would bring sand in the car (even when she never drove that car).
But playing in nature is one way we learn about the world as kids.
So the next time you go to the beach, bring some sand toys and let your inner child run wild.
8.

FINGER PAINT
I remember buying finger paint when I was in my late teens.
When I started finger painting, my inner child soared.
To this day, finger painting is one of my favorite activities to release my inner child.
9.

PLAY WITH PLAY-DOH
Playing with Play-Doh was hands down one of my favorite weekend activities as a kid.
It was always so exciting taking the Sunday newspaper after my dad read it and spreading it out over the table.
I would play with Play-Doh for hours playing, creating, and connecting with my soul.
10. MAKE TIE DIE
I remember one of the birthday parties I went to as a kid was a tie dyeing party.
Being creative is such a fantastic way to reconnect with your inner child.
And tie dyeing allows you to wear your boldly colorful creation proudly.
11.

WATCH HOME VIDEOS
While watching home videos can bring up painful memories, they can also help you revisit who you were when you were younger.
When I go back and watch mine, I see both how vibrant I was and how reserved I was.
Watching home videos can help you see and connect with your inner child in ways other activities can't.
12. EFT TAPPING
Tapping, also known as EFT (Emotional Freedom Technique), is based on a combination of ancient Chinese acupressure and modern psychology.
So basically, you use your fingertips to tap specific meridian points (or energy hot spots) on your body while speaking life-changing affirmations to help balance your body's energy.
The first time I tried tapping for my wounded inner child, I cried out years worth of blocked emotions.
13.

SPEAK AFFIRMATIONS
Speaking affirmations for your inner child is self-nurturing, healing, and undeniably life-changing.
Powerful inner child affirmations ⤵️
⭐ My inner child looks up to the person I am today.
⭐ Today, I hold my inner child's hand with tenderness and love.
⭐ I am braver than all the Disney princesses combined.
Reparenting yourself takes massive effort, but speaking inner child affirmations can help speed up the healing process.
More affirmations for your inner child:
Reconnecting with Your Inner Child
As we age, it's harder for us to find time to play and have fun.
But our inner child deserves this time.
Participating in nostalgic activities, like finger painting and playing with Play-Doh, is one of the best ways to connect to your inner child.
💾 Bookmark this page for when you need a reminder on how to reconnect with your younger self.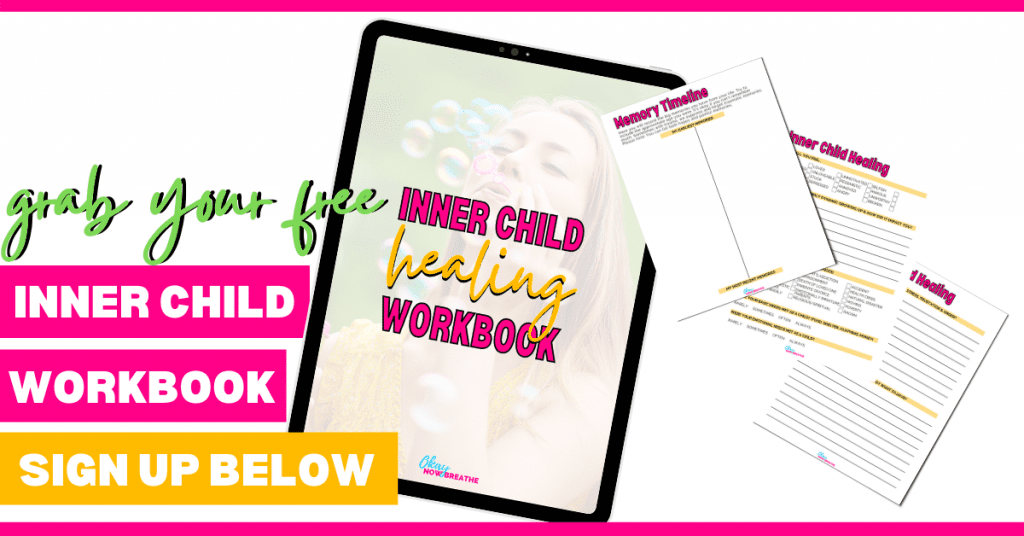 Related posts for inner child healing:
---
Did you know there's online therapy?
Online Therapy is a complete online therapy toolbox.
Your therapy toolbox includes:
Live video, voice, or text chat session with your therapist
8 easy-to-follow sections, including 25 worksheets
Activity plan, journal, and tests
Yoga and meditation videos
What I love about Online Therapy is that there are several life-changing options and therapists available, and you don't even have to leave the comfort of your home.
This means you never need to worry before getting help.
Get 20% off your first month with my exclusive link.
---

Facebook | Instagram | YouTube | TikTok | Pinterest
How to Connect to Your Inner Child