DISCLOSURE: I am not a mental health professional. If you need help finding a mental health care provider, call 1-800-662-HELP (4357) or visit Online Therapy to call, message, or video chat a certified therapist online. This post contains affiliate links. As an Amazon Associate, I earn from qualifying purchases. I may also receive compensation from Online Therapy or other sources if you purchase products or services through the links provided on this page. You can read my full disclaimer.
Tarot Decks for Inner Child Work
Tarot decks are a transformative tool for when you're diving deep into inner child work.
These cards offer both practical and spiritual guidance for how to heal your wounded inner child.
Without tarot decks in my toolkit, my inner child would still be massively hurting.
What does the inner child tarot card mean?
Tarot cards are a self-exploration tool designed to help you tap into your inner soul and unconscious mind.
They're excellent for meditating on, journaling with, and uncovering areas of your life that could use some extra love and attention.
That being said, tarot decks are a fantastic tool for inner child healing.
Speaking of that…have you downloaded your free inner child healing workbook yet? 👇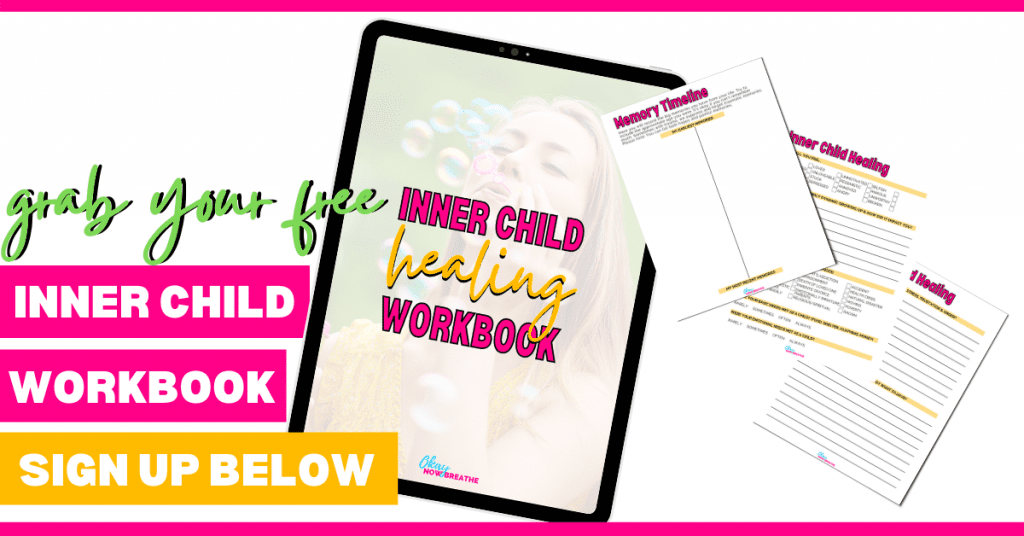 And now, let's get into the best tarot decks for inner child work.
23 Tarot Decks for Healing Your Wounded Child
1.

DISNEY VILLIANS TAROT DECK
Most of us grew up on animated Disney classics, which makes Disney Villians Tarot Deck a must for inner child healing.
As the name suggests, this imaginary deck features the best, most wicked Disney villains.
All my Disney lovers need this tarot deck in their life.
More on Disney:
2.

HOCUS POCUS TAROT DECK
I can't talk about Disney tarot cards without mentioning Hocus Pocus Tarot Deck.
I've seen Hocus Pocus so many times that I can quote the movie by heart!
Because of that, whenever I use my Hocus Pocus Tarot Deck, my inner child instantly becomes activated.
More spooky cards:
3.

ALICE IN WONDERLAND TAROT DECK
Ahhhh yes, in comes another Disney deck with Alice in Wonderland Tarot Deck.
Your inner child will soar when you see Alice, Cheshire Cat, and the White Rabbit throughout the cards.
Alice in Wonderland Tarot Deck captures all the magic of the movie, and you'll be glad to own it!
4.

THE NIGHTMARE BEFORE CHRISTMAS TAROT DECK
Based on the iconic film, The Nightmare Before Christmas Tarot Deck is filled with all of your favorite characters.
The deck is a playful and direct way to dive into inner child work.
Any fan of the movie needs The Nightmare Before Christmas Tarot Deck!
5.

INNER CHILD CARDS: A FAIRY-TALE TAROT
For a deck that will awaken the kid inside you, go for Inner Child Cards: A Fairy-Tale Tarot.
The cards are bright, colorful, and bold, and they help you connect with your childlike wonder.
While the cards are playful in nature, Inner Child Cards will help you identify your truest feelings.
6.

HEALING LIGHT TAROT
Healing Light Tarot shows you that even in the darkest times, light always defeats dark.
Powerfully illuminated images will help guide you to into turning on the light in your healing journey.
I guarantee when you use Healing Light Tarot, you'll sense a bit of healing in you.
7.

TAROT FOR KIDS
With a name like Tarot for Kids, you might think this deck is only for kids — but think again.
No matter your age, your inner child will burst with representation whenever you do a reading with these cards.
Tarot for Kids is a wonderfully lighthearted way to do inner child work.
8.

THE LIGHT SEERS TAROT
The Light Seers Tarot deck is probably my most used deck out of all the ones that I own.
The images are filled with diversity, symbolism, and an undeniable healing energy.
With The Light Seers Tarot, I do my most powerful and life-changing readings.
9.

THE QUEER TAROT
The Queer Tarot is a game-changer for anyone in the LGBT+ community.
So many people in the LGBT+ community face brutal hardships simply because of their identity.
The Queer Tarot allows you to connect with your true, beautiful essence.
10.

HAPPY TAROT
You'll just want to cuddle Happy Tarot, because of how stinkin' cute it is!
This deck is filled with bubbly, positive, and optimistic images.
When you need a break from intense inner child work, grab Happy Tarot.
11.

THE MODERN WITCH TAROT DECK
I love how youthful and contemporary the Modern Witch Tarot Deck is (while still maintaining traditional Rider-Waite imagery).
This deck is incredibly diverse through different skin colors and body types.
The cards in The Modern Witch are vibrant and colorful and bring a freshness to any reading!
12.

TAROT OF OPPOSITIONS
Tarot of Oppositions really showcases the balance that's needed for inner child healing.
Each card displays a mirrored version of itself, so you'll uncover different perspectives.
Tarot of Oppositions can truly helps you see all sides of healing.
13. MYSTICAL MEDLEYS
Inspired by iconic cartoons of the 1930s, Mystical Medleys: A Vintage Cartoon Tarot is a unique tarot deck to add to your collection.
You'll find characters like Betty Boop and Steamboat Willie among these cartoonish cards.
Mystical Medleys is a fantastic deck that all vintage lovers need in their life.
14.

TAROT OF DRAGONS
Every inner child rockstar could use a deck depicting the ancient lore of dragons, and Tarot of Dragons provides just that.
This deck is boldy colorful and rightfully covers dragons across a multitude of cultures.
If you want gorgeous illustrations of these mystical creatures, then look no further than Tarot of Dragons.
15. THE URBAN TAROT
The Urban Tarot pays homage to the city and all its diverse inhabitants in this unquestionably modern deck.
With depictions of different races, ethnicities, cultures, and LGBTQ+ representation, this deck is a literal must-have!
The cards in this deck are gritty and perfect for those deep inner work questions.
16. TAROT OF THE HAUNTED HOUSE
For a mysterious twist on tarot, opt for the Tarot of the Haunted House.
What I love about this deck is that it tells a horror story of a woman (the Fool) who enters a mysterious haunted house.
As you move through the deck, you'll uncover the Fool's forgotten origins by unlocking room after room and discovering the mansion's true legend — which is symbolic of remembering bits of your childhood.
17.

THE MACABRE TAROT
Everyone should purchase The Macabre Tarot just for the box alone — which happens to be in the shape of a coffin!
With this deck, you'll be encouraged to step away from the light and to embrace darkness.
The Macabre Tarot is perfect for anyone looking to dive deeper into shadow work.
18.

NEXT WORLD TAROT
For an incredibly diverse and eclectic mix of representation, you need Next World Tarot!
While the cards are huge for my tiny hands, I can look past that for this wonderfully progressive deck.
What better tarot deck for inner child work than this enlightening deck!
19.

DARK WOOD TAROT
Dare to enter the woods and discover your shadow self with Dark Wood Tarot?
You'll take on the role of a witch entering the dark wood and discover legends (wands), fears (swords), animals (cups), and the natural world (pentacles).
For a beautiful and captivating deck, Dark Wood Tarot is a must for anyone looking to add depth and spookiness to their tarot collection.
20.

THE GOOD TAROT
The Good Tarot is truly one of the most remarkably unique tarot decks I own.
The cards are gritty but carry some of the most gentle, warm energy through them.
I tend to use my The Good Tarot deck when I need some loving guidance — which is so needed on your inner child healing journey.
21.

MYSTIC FAERIE TAROT DECK
If you're searching for a deck that incorporates faeries and tarot, purchase Mystic Faerie Tarot Deck.
The illustrations are mesmerizing, and they remind me of the fairytales I read in elementary school.
To get the most out of Mystic Faerie Tarot Deck, I highly recommend doing tarot reading in a lush garden.
22.

HIP CHICK TAROT
For handpainted and boldly colored tarot cards, go for the Hip Chick Tarot.
While the images are simple, they depict ethnically, culturally, socially, and physically diverse women.
Yes, as the name implies, Hip Chick Tarot is made up entirely of women. #YouGoGirl
23.

DARK GRIMOIRE TAROT
Filled with strange creatures and powerful sorcerers, Dark Grimoire Tarot is a captivating deck for inner child work.
The illustrations remind me of Where the Wild Things Are, as they are artsy and look like detailed sketches.
Dark Grimoire Tarot is perfect for witches, horror fans, and anyone who gravitates toward the dark side.
Healing Inner Child with Tarot Cards
Healing from years of childhood trauma can feel nearly impossible.
But using tarot decks as a self-exploration tool can increase the healing energy required to make overcoming childhood trauma possible.
I personally love pulling one tarot card a day and journalling on the messages I receive.
Best tarot decks for inner child healing ⤵️
⭐ Alice in Wonderland Tarot Deck
⭐ The Nightmare Before Christmas Tarot Deck
⭐ Inner Child Cards: A Fairy-Tale Tarot
⭐ Mystical Medleys: A Vintage Cartoon Tarot
It might be just a me thing, but I love watching my tarot collection grow!
I also love these 23 Inner Child Oracle Cards (for Deep Shadow Work)
💾 Bookmark this page for whenever you want to add another inner child tarot deck to your healing toolkit!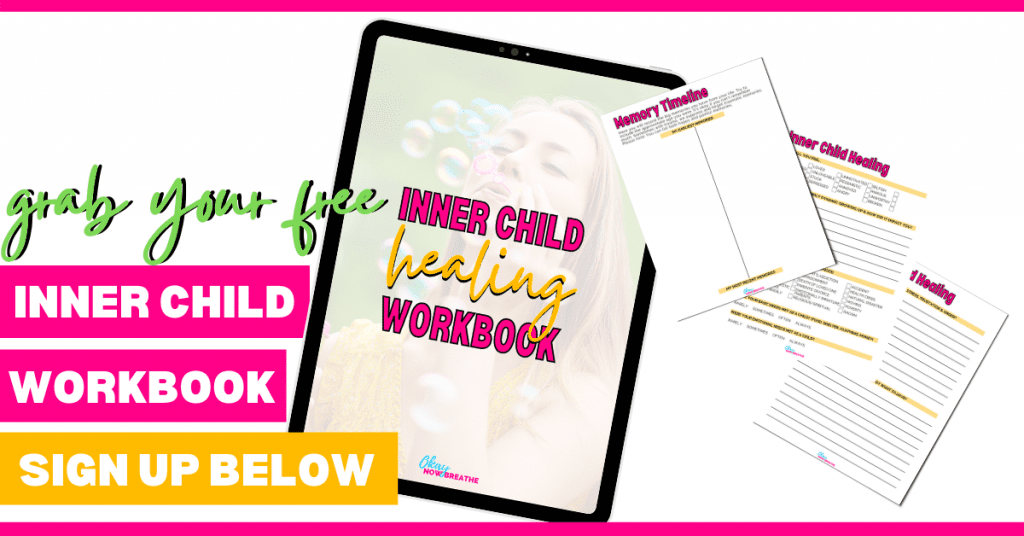 More inner child healing posts:
More tarot posts:
---
Did you know there's online therapy?
Online Therapy is a complete online therapy toolbox.
Your therapy toolbox includes:
Live video, voice, or text chat session with your therapist
8 easy-to-follow sections, including 25 worksheets
Activity plan, journal, and tests
Yoga and meditation videos
What I love about Online Therapy is that there are several life-changing options and therapists available, and you don't even have to leave the comfort of your home.
This means you never need to worry before getting help.
Get 20% off your first month with my exclusive link.
---

Facebook | Instagram | YouTube | TikTok | Pinterest
Healing Tarot Decks for Inner Child Work