DISCLOSURE: I am not a mental health professional. If you need help finding a mental health care provider, call 1-800-662-HELP (4357) or visit Online Therapy to call, message, or video chat a certified therapist online. This post contains affiliate links. As an Amazon Associate, I earn from qualifying purchases. I may also receive compensation from Online Therapy or other sources if you purchase products or services through the links provided on this page. You can read my full disclaimer.
Healing Meditation for Inner Child
Healing your inner child is no easy feat, but finding the right meditation for you can certainly streamline the process.
This list features both guided and unguided meditations, and I recommend checking all 21 meditations out to see which one resonates the most.
Be prepared to cry, feel anger, and release any blocked childhood wounds.
GUIDED INNER CHILD MEDITATIONS
Have you downloaded your free inner child healing workbook yet? 👇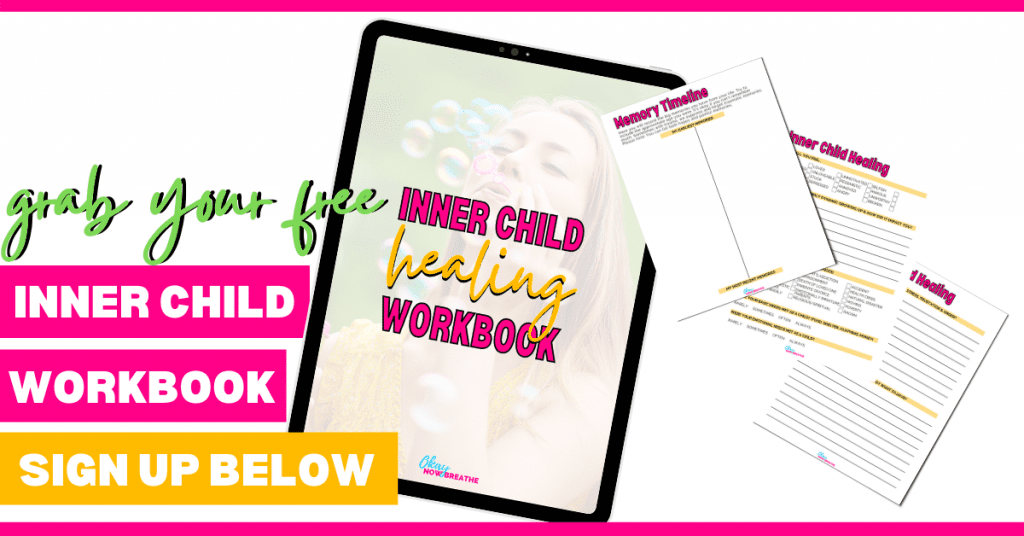 1.

INNER CHILD MEDITATION FOR CODEPENDENCY
Meditating is one of the best ways you can connect with your inner child.
This healing inner child meditation is incredibly powerful at untangling the bonds of codependency.
You'll be encouraged to visualize your younger self, while forgiving, honoring, and loving them.
The first time I listened to the meditation, so many built up emotions pooled out of my eyes as I cried.
Related post to heal wounded child:
---
Record and keep track of your meditation sessions, duration, mindfulness, energy, thoughts, and tools in this Meditation Tracker Printable Pack! 🧘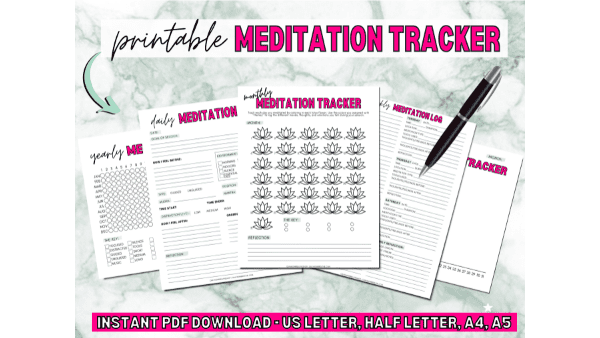 ✨ YOU'LL RECEIVE ✨
• Daily Meditation Diary
• Weekly Meditation Log
• Monthly Lotus Meditation Tracker
• Monthly Graph Meditation Tracker
• Yearly Meditation Tracker
Use code MEDITATE to get 10% off your meditation trackers!
---
2. EFT TAPPING – LOVING YOUR INNER CHILD
Tapping, also known as EFT (Emotional Freedom Technique), is based on a combination of ancient Chinese acupressure and modern psychology.
So basically, you use your fingertips to tap specific meridian points (or energy hot spots) on your body while speaking life-changing affirmations to help balance your body's energy.
The first time I tried tapping for my wounder inner child, I cried out years worth of blocked emotions.
More inner child affirmations:
3. HYPNOSIS FOR MEETING YOUR INNER CHILD
Michael Sealy is one of my go-to YouTubers for meditation.
This hypnosis meditation will guide you to reconnect with your inner child by relaxing any depression and anxiety blocking you.
By the end, any negative energy blocked will be diminished, and you can carry on your day in a more relaxed state.
4.

INNER CHILD HEALING
Forgiveness is one of the best gifts you can give your inner child.
This 30 minute guided meditation will help you free yourself of anger, bitterness, and sadness.
With every breath, you'll feel yourself release trapped negative emotions.
Related childhood trauma post:
5.

GUIDED MEDITATION: HEAL YOUR INNER CHILD
Want a quick meditation to set you in the right headspace fast?
This 10 minute guided meditation focuses on comforting and embracing your inner child.
The goal is to help you banish blocked wounds from your childhood.
6.

10 MINUTE GUIDED MEDITATION FOR INNER CHILD
Here is another 10 minute meditation aimed at loving, honoring, and healing your inner child.
You'll be asked to remember a time when you were a happy and carefree kid.
This meditation encourages you to do everything in your life for your inner child.
7.

INNER CHILD: GUIDED MEDITATION
This guided mediation features 17 minutes of connecting to the hurt child inside you.
It's intended to be listened to while you drift off to sleep.
After you finish this meditation, you'll be more determined to protect your inner child moving forward.
8. CONNECT WITH YOUR INNER CHILD
Our inner child is such a vital component of who we are as people.
Using this powerful meditation, you'll visualize an elevator bringing you back to your childhood.
Be prepared to cry as you discover your protector of your inner child.
9.

HEALING YOUR INNER CHILD
This hypnosis guides you on a journey of connecting you with your true essence.
The person you are today is the product of everything you've been through.
I find this meditation to be incredibly validating for the trauma I experienced in childhood.
12.

FEAR OF ABANDONMENT GUIDED MEDITATION
I don't know about you, but I struggle a lot with abandonment wounds.
(You can hear more about my story here.)
This fear of abandonment meditation will give you the stability you needed in childhood.
You'll be encouraged to heal your insecure attachment styles.
Post related to childhood trauma:
13.

COMFORTING YOUR INNER CHILD
Our childhood wounds can be buried so deep and greatly repressed.
This inner child healing meditation inspires you to stay close to your hurt inner child.
This way, you'll be better able to cope and heal from difficult feelings.
14. LOVING YOUR INNER CHILD
It's good practice to connect with your inner child on a daily basis.
This guided imagery will reconnect with your 5-year-old self.
You will be reminded that you are so, so, so loved.
Post to connect with inner child:
15. HEAL YOUR INNER CHILD GUIDED MEDITATION
Scary, confusing, and overwhelming experiences from childhood are stored in our minds.
Listening to this meditation can bring back these painful memories.
But it's important to revisit these events to help process them now as an adult.
UNGUIDED MEDITATIONS FOR INNER CHILD
17.

INNER CHILD HEALING MUSIC
This unguided inner child healing meditation (created by my husband and me) is designed to help you release old childhood wounds, internal struggles, mental blockages, and self-doubt.
Listen while you meditate, journal, walk, and heal your inner child's soul.
Subscribe to Peaceful Awakening Meditations for more life-changing inner child meditations.
18. HEALING THE INNER CHILD
Another instrumental meditation for healing your inner child is this higher frequency meditation.
With a frequency of 417Hz, you can fill yourself with positive energy while you sleep.
I find the higher tones help replace negative energies with more confident, loving, and vibrant energies.
19.

LET GO OF TRAUMA AND FEAR
For a slightly deeper frequency of 639Hz, this unguided meditation will heal you as you sleep.
When you wake up, you'll feel more love for your inner self.
This energy can be easily accessed throughout the rest of your day.
20.

FREE YOURSELF FROM TRAUMA
This unguided sleep meditation is filled with beautiful tones that will help you connect with your inner child.
When you go to bed with the intention of healing your childhood wounds, the music becomes that much more powerful.
Then you can carry this connection in your heart and soul.
Related post on trauma from childhood:
21.

HEAL THE PAST
Finding self-acceptance and self-love is difficult for anybody.
When you have childhood trauma, it becomes that much more difficult.
This unguided meditation allows you to free yourself from the burden of a painful childhood.
22.

330HZ INNER CHILD HEALING MUSIC
Self-healing work is no easy feat.
This 330Hz frequency meditation is filled with vibrant tones to encourage inner child healing.
You'll feel more playful, more joyful, and more ready to take on your healing journey than ever before.
Meditations for Healing Inner Child
Meditating has countless benefits, and using meditations for healing your inner child is no different.
From the list above, there are meditations for comforting, honoring, forgiving, and releasing any trauma from childhood.
Truthfully, some of my favorite inner child meditations are the instrumental sound frequencies I listen to as I sleep.
No matter what your favorite meditation type is, I'm sure you found at least one you deeply resonate with on the list above.
💾 Bookmark this page for when you need a reminder on how to reconnect with your younger self.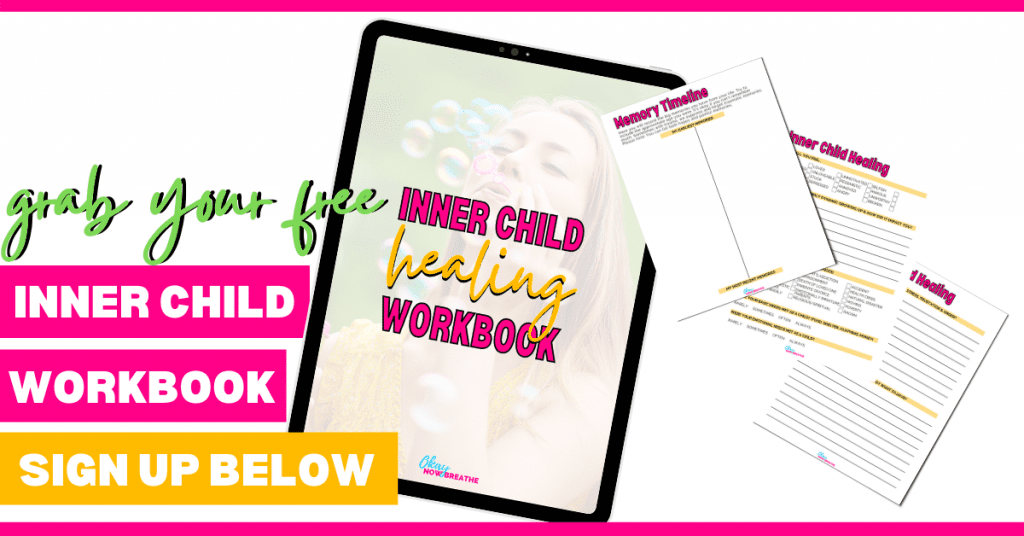 More inner child healing posts:
More meditation posts:
---
Did you know there's online therapy?
Online Therapy is a complete online therapy toolbox.
Your therapy toolbox includes:
Live video, voice, or text chat session with your therapist
8 easy-to-follow sections, including 25 worksheets
Activity plan, journal, and tests
Yoga and meditation videos
What I love about Online Therapy is that there are several life-changing options and therapists available, and you don't even have to leave the comfort of your home.
This means you never need to worry before getting help.
Get 20% off your first month with my exclusive link.
---

Facebook | Instagram | YouTube | TikTok | Pinterest
Meditation for Healing Inner Child