DISCLOSURE: I am not a mental health professional. If you need help finding a mental health care provider, call 1-800-662-HELP (4357) or visit Online Therapy to call, message, or video chat a certified therapist online. This post contains affiliate links. As an Amazon Associate, I earn from qualifying purchases. I may also receive compensation from Online Therapy or other sources if you purchase products or services through the links provided on this page. You can read my full disclaimer.
Christmas Gifts for Anxiety Sufferers
If you enjoy giving thoughtful Christmas gifts, this guide is perfect for anxiety sufferers.
Sometimes, it can be difficult to give a thoughtful gift to someone, especially someone who lives with anxiety.
You don't want to overstep any boundaries, and you definitely don't want to seem rude.
That's why I recommend these 10 presents in this Ultimate Gift Guide for Anxiety.
When you're struggling with anxiety, it might be helpful to talk to an online therapist. I always recommend Online Therapy, because it's a complete online counseling toolkit, and you can get incredible therapy for an affordable monthly cost.
I share all my favorite things that you can gift your loved one this holiday season.
You can even buy any of these for yourself!
1.

ANXIETY JOURNAL GUIDE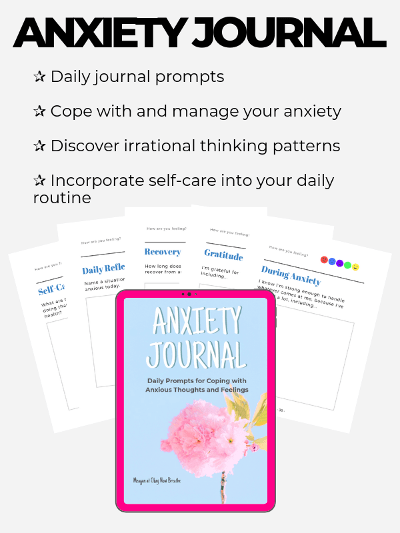 Journaling is a great way to combat feelings of anxiety.
My Anxiety Journal: Daily Prompts for Coping with Anxious Thoughts and Feelings is designed to help you overcome anxiety, practice self-care, and start living a more grateful, fulfilling life.
Achieve a life free from anxiety with eye-opening journal prompts that will help your loved one (or you!):
⭐ cope with and manage your anxiety
⭐ incorporate self-care into your daily routine
⭐ learn to love yourself unconditionally and
⭐ become free from the shackles of anxiety
The Anxiety Journal includes daily journal prompts from a variety of topics, such as During Anxiety, Recovery, Gratitude, and Self-Care.
Your loved one will also get a mood tracker on each prompt.
2.

YOU ARE A BADASS
One of the most eye-opening self-help books I've ever read is You Are a Badass: How to Stop Doubting Your Greatness and Start Living an Awesome Life.
I highly recommend gifting it to your loved one who needs to look past their limiting beliefs in order to feel powerful.
It's funny, encouraging, and life-changing.
3.

GODDESS PROVISIONS
I've been subscribed to Goddess Provisions for a year now, and I think it's a fantastic gift for your friend or family member who's anxious.
What's Inside:
⭐ Crystals, Aromatherapy, Beauty, Snacks, Tools for Spiritual Growth
⭐ 5 to 7 full-size products in each box
⭐ 100% vegan and cruelty-free
⭐ Typical box value $80-$100
⭐ Free U.S. shipping!
The price for the box starts at $27.75 / month.
I've loved every box I've received!
More subscription boxes to gift:
4.

A WEIGHTED BLANKET
If you know someone has really intense anxiety, a weighted blanket would be a great gift!
Weighted blankets help relax the nervous system by simulating the feeling of being held or hugged.
This increases serotonin and melatonin levels and decreases cortisol levels, which improves mood and promotes restful sleep at the same time.
5.

A COLORING BOOK
Coloring books are all the craze when it comes to trying to remedy some symptoms of anxiety.
It's easy to forget about your racing thoughts when you're concentrating on coloring in the lines.
My aunt bought me this coloring book a couple years back.
It's a fantastic present, because it encourages your loved one to forget about the problems going on in their head by focusing on trying to color in between the lines – which is no easy feat.
6.
SOCIAL ANXIETY TO SOCIAL SUCCESS
If your loved one suffers from social anxiety, I recommend gifting Social Anxiety to Social Success.
It's perfect if they're ready to gain control over their social anxiety.
It's super easy to follow along to, and there's even a workbook where they can track their progress.
7.

SLOW IT DOWN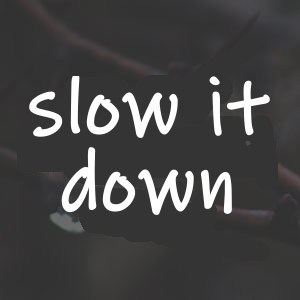 Slow it Down is a class about slowing down and simplifying your life.
It teaches about letting the stresses of the world go.
It's a chance to start fresh, simplify, and declutter.
The goal is to let go of what no longer serves you, and it's a excellent gift for anyone who needs to let go of stress.
BUY NOW
8.
ESSENTIAL OILS
Gifting essential oils to your loved one with anxiety is a wonderful way to provide them with some holistic healing.
Aromatherapy has been used for thousands of years, and it provides countless benefits.
Essential Oils for Anxiety:
Lavender
Chamomile
Lemongrass
Patchouli
Bergamot
I recommend Plant Therapy essential oils, because they're high quality, vegan, and cruelty-free!
Gift a bunch in this 7 & 7 Essential Oil Set, which features 7 single oils and 7 synergies.
*While using essential oils, be sure to use them in a well-ventilated room and keep harmful ones away from pets and kids.
More on essential oils:
9.

PINK HIMALAYAN SALT LAMP
A Pink Himalayan Salt Lamp helps illuminate a room with a warm, pleasant, and relaxing amber glow.
They also provide some pretty remarkable benefits, such as boosting mood, help air quality, and can help you sleep.
It's an incredible gift for anyone who needs more calmness and tranquility in their life!
10.

WORRY STONE
Worry stones are crystals that have a groove that fits the thumb.
The indents in the stone can be rubbed when you're feeling stressed or anxious.
The repetition and gentle vibrations from the stones are an excellent way to find relaxation and anxiety relief.
More on anxiety and crystals:
Christmas Gifts for Anxiety Sufferers
A gift can show how much you pay attention to your loved one's likes and interests.
A gift can also show your empathy for what they're struggling with.
The items featured on this list are really helpful, useful, and thoughtful.
Gift recap:
Slow it Down
More Christmas posts:
10 Ways to Save Money on Christmas Gifts This Holiday Season
---
Did you know that there is affordable online therapy?
Online Therapy is a complete online therapy toolbox.
Your therapy toolbox includes:
Live video, voice, or text chat session with your therapist
8 easy-to-follow sections, including 25 worksheets
Activity plan, journal, and tests
Yoga and meditation videos
What I love about Online Therapy is that there are several life-changing options and therapists available, and you don't even have to leave the comfort of your home.
This means you never need to worry before getting help.
Get 20% off your first month with my exclusive link.
---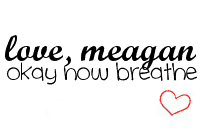 Facebook | Instagram | YouTube | Twitter | Pinterest
Guide: Christmas Gifts for Anxiety Sufferers