DISCLOSURE: I am not a mental health professional. If you need help finding a mental health care provider, call 1-800-662-HELP (4357) or visit Online Therapy to call, message, or video chat a certified therapist online. This post contains affiliate links. As an Amazon Associate, I earn from qualifying purchases. I may also receive compensation from Online Therapy or other sources if you purchase products or services through the links provided on this page. You can read my full disclaimer.
Essential Oils for Childhood Trauma
With the help of essential oils, letting go of emotional pain from childhood trauma is much more bearable.
Living through years of neglect and abuse can leave you riddled with anxiety, low self-esteem, and depression.
Essential oils can boost healing, especially when used during journaling, meditation, and therapy sessions.
What essential oil is good for emotional healing?
Childhood trauma can cause you to struggle with low self-esteem, intense anxiety, and debilitating depression.
The best essential oils provide grounding and relaxation properties.
On their own, essential oils don't cure any mental or spiritual ailment.
But when they're used in addition to other healing practices (like meditation or therapy), that's when they offer the most benefits.
Speaking of healing, have you downloaded your free inner child healing workbook yet? 👇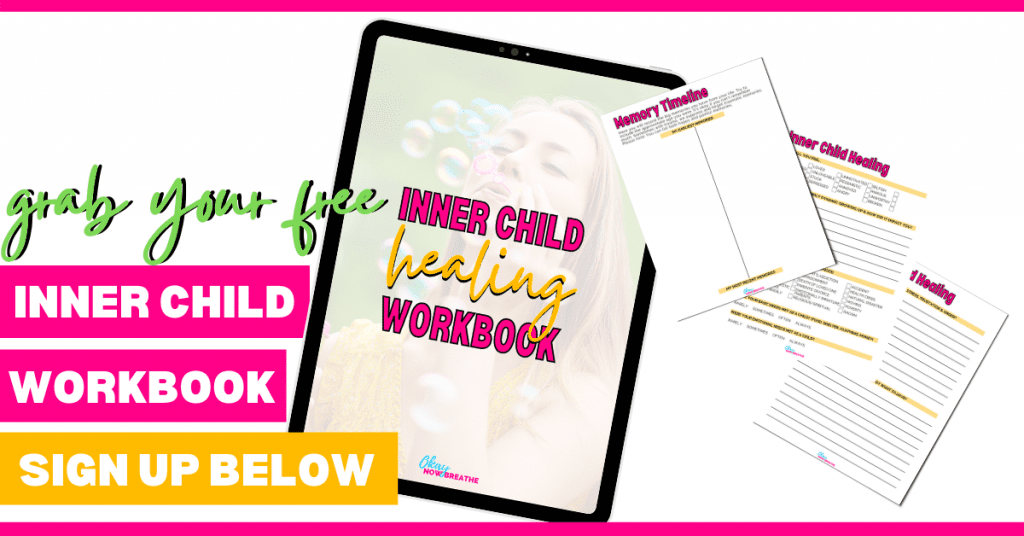 How to start using essential oils?
My personal favorite way of using essential oils is with a diffuser or as a roller ball.
It's also super important to note that some essential oils are not suited for pregnant people, kids, or animals.
And it's always best to diffuse your essential oils in a well-ventilated space.
Plant Therapy is super helpful at providing all this info.
Always talk to your healthcare provider before using any essential oil to see if they're right for you.
And now onto the 13 best essential oils for childhood trauma…
13 Essential Oils for Emotional Trauma
1. LAVENDER
Fun fact: I used to despise the smell of lavender.
But now I associate the floral scent with peace and relaxation.
Benefits of lavender:
⭐ Reduces stress
⭐ Decreases anxiety symptoms
⭐ Promotes calmness
⭐ Lessens depression symptoms
Lavender is wonderful at bringing more serenity to your nighttime, which is especially helpful for people battling the effects of childhood trauma.
More essential oils for trauma:
👉 17 Essential Oils for PTSD (to Heal Anxiety and Depression)
2.

PATCHOULI
With its rich and earthy tones, patchouli grounds you on a spiritual and physical level.
Benefits of patchouli:
⭐ Repels fear and anxiety
⭐ Clears negative energy
⭐ Overcomes anger
⭐ Intensifies meditation sessions
Patchouli is an incredible essential oil for balancing your chakras, which are often blocked because of trauma from childhood.
Related chakra posts:
3.

FRANKINCENSE
Frankincense has been used in religious ceremonies for thousands of years, but this woodsy, citrusy essential oil has so much more to offer.
Benefits of frankincense:
⭐ Balances mood fluctuations
⭐ Decreases feelings of depression
⭐ Reduces anxiety symptoms
⭐ Natural sleep aid
BUY FRANKINCENSE ESSENTIAL OIL
When emotional pain from childhood seems unbearable, frankincense can help ease the overwhelming negativity.
4.

CEDARWOOD
Cedarwood is another earthy essential oil that's powerful at lessening the turmoil caused by childhood neglect and abuse.
Benefits of cedarwood:
⭐ Grounds conflict and chaos
⭐ Calms intense emotions
⭐ Combats negative energy
⭐ Improves sleep quality
When you're facing internal (or external) conflict, invoke the power of cedarwood.
More about emotions:
5.

MYRRH
Rich in amber aroma, myrrh is often used during meditation to create a relaxing and peaceful atmosphere.
Benefits of myrrh:
⭐ Brings feelings of strength
⭐ Relieves nervousness
⭐ Creates a calming environment
⭐ Increases spirituality
Diffusing myrrh while doing an inner child meditation can heighten the positive effects of your session.
Related mediation post:
---
Record and keep track of your meditation sessions, duration, mindfulness, energy, thoughts, and tools in this Meditation Tracker Printable Pack! 🧘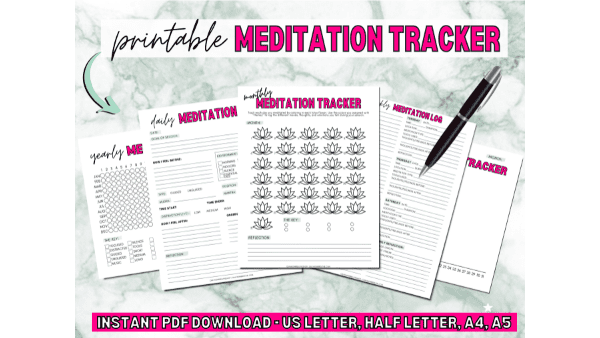 ✨ YOU'LL RECEIVE ✨
• Daily Meditation Diary
• Weekly Meditation Log
• Monthly Lotus Meditation Tracker
• Monthly Graph Meditation Tracker
• Yearly Meditation Tracker
👉 Use code MEDITATE to get 10% off your meditation trackers!
---
6.

SANDALWOOD
Sandalwood is another favorite for meditation to help relax your mind from the worries caused by childhood trauma.
Benefits of sandalwood:
⭐ Quiets the mind
⭐ Calms agitated emotions
⭐ Releases nervous tension
⭐ Relaxes from worries
With sandalwood, you'll gain the mental clarity to heal your inner child on a soul level.
7.

YLANG YLANG
Ylang ylang provides a sweet and floral scent while encouraging you to see the gratitude in your life.
Benefits of ylang ylang:
⭐ Gives energy boost
⭐ Calms the mind
⭐ Reduces worry
⭐ Levels mood
Childhood trauma can make the simplest tasks in adulthood seem overwhelming, but ylang ylang can give you the confidence to overcome anything.
8.

NEROLI
With Neroli's orange blossom scent, you'll be able to grieve the loss of your childhood in a much healthier way.
Benefits of neroli:
⭐ Encourages positive emotions
⭐ Provides a peaceful mindset
⭐ Relaxes the soul
⭐ Decreases fear
Think of neroli as a daily pick-me-up in bottle form.
Need another pick-me-up?
9.

CHAMOMILE
Pretty much everyone thinks of tea when they hear chamomile.
But this powerful flower is so much more versatile.
Benefits of chamomile:
⭐ Eases you to sleep
⭐ Fights off anxiety
⭐ Promotes relaxation
⭐ Alleviates PMS symptoms
Whether you use chamomile through essential oils or drink it as tea, it is an incredible way to ease your inner child.
More tea recommendations:
10.

BLUE TANSY
Diffuse some blue tansy to create a positive and uplifting environment.
Benefits of blue tansy:
⭐ Boosts confidence
⭐ Increases self-esteem
⭐ Soothes nervous tension
⭐ Uplifts mood
Childhood trauma creates such a dark and negative place, but blue tansy can help eliminate the darkness.
11. SWEET ORANGE
With a deliciously citrus scent, sweet orange increases overall feelings of wellbeing.
Benefits of sweet orange:
⭐ Relieves stress
⭐ Improves mood
⭐ Manages depression symptoms
⭐ Natural sleep aid
BUY SWEET ORANGE ESSENTIAL OIL
Sweet orange is super effective at helping you overcome any rough patches in your healing.
12. BERGAMOT
Bergamot can bring much-needed balance to your life.
Benefits of bergamot:
⭐ Decreases feelings of sadness
⭐ Helps you unwind
⭐ Stress reduction
⭐ Eases anxiety
Bergamot is one of the most powerful and calming essential oils out there.
13.

VETIVER
When you have a hard time focusing on anything but your emotional pain, vetiver can help you let go of this burden.
Benefits of vetiver:
⭐ Lifts energy levels
⭐ Promotes better focus
⭐ Improves mood
⭐ Settles down nervousness
If your mind wanders during a healing session, diffuse some vetiver to help center yourself.
Essential oils for trauma:
For a lot of us, our childhood left us with high anxiety and feelings of depression.
Using essential oils can help boost the healing that's needed to overcome your painful childhood.
Here's a recap of the best inner child healing essential oils ⤵️
⭐ Lavender
⭐ Patchouli
⭐ Frankincense
⭐ Cedarwood
⭐ Myrrh
⭐ Sandalwood
⭐ Ylang ylang
⭐ Neroli
⭐ Chamomile
⭐ Blue tansy
⭐ Sweet orange
⭐ Bergamot
⭐ Vetiver
💾 Bookmark this page for whenever you need a reminder of the best inner child healing essential oils.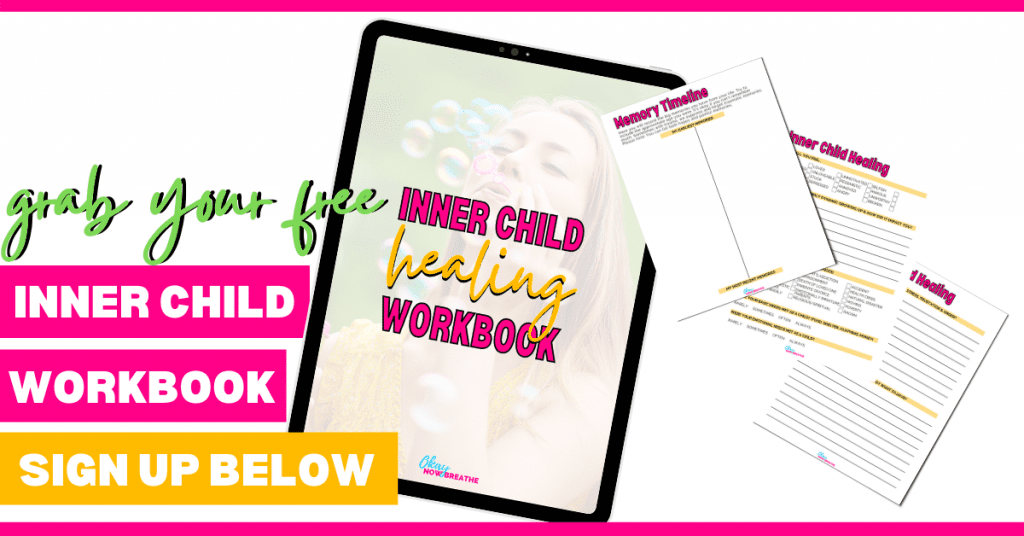 More inner child healing posts:
---
Did you know there's online therapy?
Online Therapy is a complete online therapy toolbox.
Your therapy toolbox includes:
Live video, voice, or text chat session with your therapist
8 easy-to-follow sections, including 25 worksheets
Activity plan, journal, and tests
Yoga and meditation videos
What I love about Online Therapy is that there are several life-changing options and therapists available, and you don't even have to leave the comfort of your home.
This means you never need to worry before getting help.
Get 20% off your first month with my exclusive link.
---

Facebook | Instagram | YouTube | TikTok | Pinterest
Best Essential Oils For Childhood Trauma