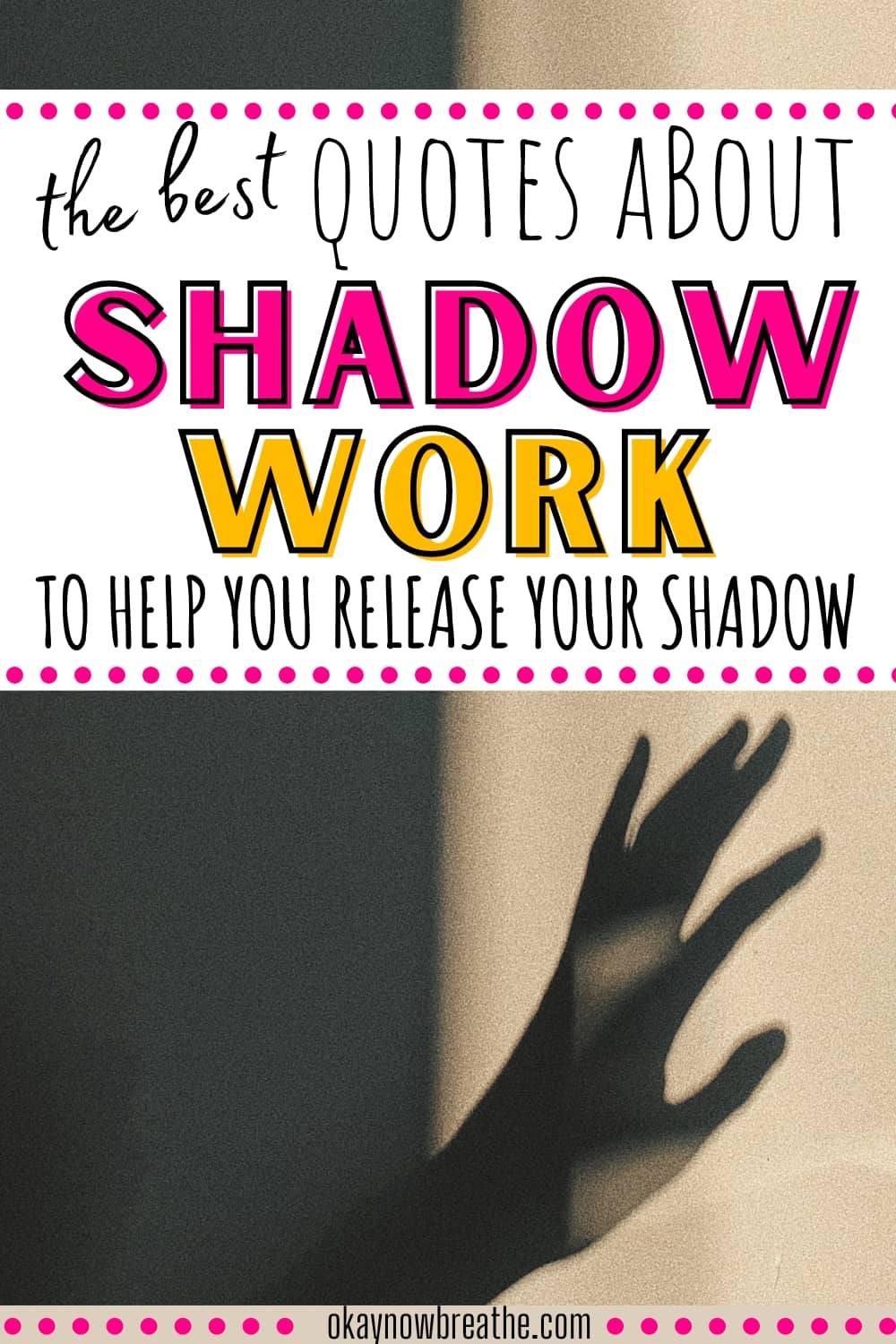 DISCLOSURE: I am not a mental health professional. If you need help finding a mental health care provider, call 1-800-662-HELP (4357) or visit Online Therapy to call, message, or video chat a certified therapist online. This post contains affiliate links. As an Amazon Associate, I earn from qualifying purchases. I may also receive compensation from Online Therapy or other sources if you purchase products or services through the links provided on this page. You can read my full disclaimer.
Shadow Work Quotes
Shadow work quotes can connect you with your inner child to heal you on a deep, soul level.
When you avoid this inner work, you miss out on the best, most fulling parts of life.
Because reading shadow work quotes can remind you to break down your walls, release your toxic habits, and live a life full of balance.
WHAT IS SHADOW WORK?
One of my absolute favorite parts of personal development and self-improvement is getting to the deep inner workings of my soul.
When you think of the nighttime, you think of darkness.
You think of things that are hidden and not seen.
But the moonlight helps shine a light on these gritty inner workings of our thought patterns, decisions, and actions.
More specifically, shadow work helps you see the areas of your life that could use some extra love and attention.
Examples of Shadow Work Questions ⤵️
⭐ How can I heal my inner child?
⭐ What is currently blocking me?
⭐ What truth have I been avoiding?
I could seriously go on and on, because we all have areas to improve on.
But the premise is…what currently needs some maintenance in your life?
And speaking of shadow work, have you downloaded your free inner child healing workbook yet? 👇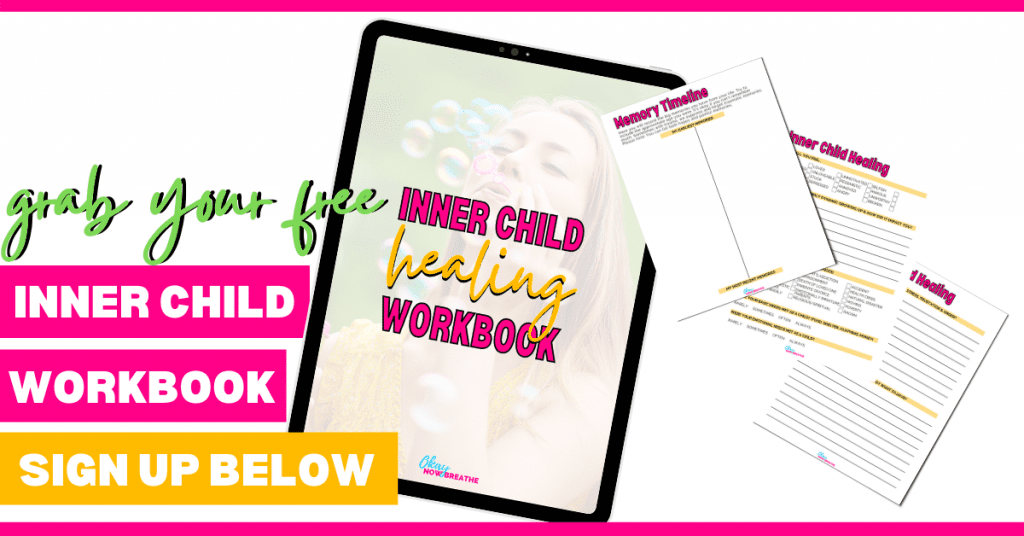 45 Shadow Work Quotes
Want to skip ahead?
✨ Defining Shadow Work Quotes
✨ Carl Jung Shadow Quotes
✨ Quotes for Accepting Your Shadow
✨ Healing Your Shadow Quotes
✨ Relatable Inner Shadow Work Quotes
✨ More Quotes About Shadow Work
👉 If you're looking for quotes about healing your inner child, head over here: 70 Healing Inner Child Quotes (to Help Overcome Childhood Trauma)
Defining Shadow Work Quotes:
1. "Your Shadow is a dark omen, a powerful teacher that reveals to you the places in your life where you are energetically blocked. When you continue to ignore these signs, you perpetuate the cycle of your suffering." ― Mateo Sol (Awakened Empath: The Ultimate Guide to Emotional, Psychological and Spiritual Healing)
2. "Shadow-making happens in families and makes us who we are. It leads to shadow-work, which makes us who we can become." ― Connie Zweig
3. "Everything we see is a shadow cast by that which we do not see." ― Martin Luther King, Jr.
4. "Your Shadow is all of the things, 'positive' and 'negative', that you've denied about yourself and hidden beneath the surface of the mask you forgot that you're wearing." ― Oli Anderson (Shadow Life: Freedom from Bullshit in an Unreal World)
5. "Our shadows hold the essence of who we are. They hold our most treasured gifts. By facing these aspects of ourselves, we become free to experience our glorious totality: the good and the bad, the dark and the light." ― Debbie Ford
6. "The disowned part of self is an energy – an emotion or desire or need, that has been shamed every time it emerged. These energy patterns are repressed but not destroyed. They are alive in our unconscious." ― John Bradshaw (Healing the Shame that Binds You)
7. "Stars are born out of dark moments." — Matshona Dhliwayo
Carl Jung Shadow Quotes:
8. "The Shadow is a moral problem that challenges the whole ego-personality, for no one can become conscious of the shadow without considerable moral effort. To become conscious of it involves recognizing the dark aspects of the personality as present and real." — Carl Jung
9. "Everyone carries a shadow, and the less it is embodied in the individual's conscious life, the blacker and denser it is. At all counts, it forms an unconscious snag, thwarting our most well-meant intentions." — Carl Jung
10. "To confront a person with his shadow is to show him his own light." — Carl Jung
11. "Projection [of our own shadow] makes the whole world a replica of our own unknown face." — Carl Jung
12. "Carl Jung called this his shadow work. He said we never see others. Instead, we see only aspects of ourselves that fall over them. Shadows. Projections. Our associations." ― Chuck Palahniuk (Diary: A Novel)
13. "If such a person wants to be cured it is necessary to find a way in which his conscious personality and his shadow can live together." — Carl Jung
14. "There is no light without shadow, and no psychic wholeness without imperfection." — Carl Jung
15. "People will do anything no matter how absurd to avoid facing their own souls." — Carl Jung
16. "Shadow work is the path of the heart warrior." ― Carl Jung
Quotes for Accepting Your Shadow:
17. "Accept yourself, your strengths, your weaknesses, your truths, and know what tools you have to fulfill your purpose." ― Steve Maraboli (Life, the Truth, and Being Free)
18. "Life is a mixture of light and shadow. Calm and storm, and it's all good." — Susan W. Krebs
19. "We´re afraid that if we fully surrender to our darkness, we´ll never come back from it. We´re afraid our darkness will go on and on and on, that there is no end to it and that we will get lost in it. We´re afraid that if we show these ugly, unpalatable parts of ourselves, it will be too much for others; that nobody will love and accept us, and we´ll be left alone with only the worst parts of ourselves for company." ― Evanna Lynch (The Opposite of Butterfly Hunting: The Tragedy and The Glory of Growing Up)
20. "Important is not so much our place in the theater of the world but our acceptance in the theater of our inner self. ― Erik Pevernagie
21. "If you don't accept yourself, you can't transcend yourself and the world: first, you need to increase your awareness, then you need to accept what you learn, then you need to take action." ― Oli Anderson (Shadow Life: Freedom from Bullshit in an Unreal World)
22. "Never fear shadows. They simply mean there's a light shining somewhere nearby." — Unknown
23. "People are afraid of shadows. People are even more afraid of being in the shadow. But without a shadow, life will be two-dimensional." ― Yoko Ono
Healing Your Shadow Quotes:
24. "The shadow is needed now more than ever. We heal the world when we heal ourselves, and hope shines brightest when it illuminates the dark." ― Sasha Graham (Dark Wood Tarot)
25. "What we repress will persist until heal." ― Levi Ramos
26. "By self-transformation, I don't mean spiritually bypassing yourself or others. I mean actual, genuine growth and transformation, which is often ugly, messy, uncomfortable, and at times painful." ― Mat Auryn (Mastering Magick: A Course in Spellcasting for the Psychic Witch)
27. "At times you got to find the untouched parts within yourself to be able to discover the true you" ― Etheria Divine
28. "Committing to YOU is deep work; you have to look at your shadows and release what no longer serves you." ― Lisa Manyon (Spiritual Sugar: The Divine Ingredients to Heal Yourself With Love)
29. "We can validate trauma by acknowledging it exists (instead of pretending we are okay or burying it) and by taking the necessary time to work through it. It isn't easy, but its the path to freedom and liberation from constant suffering." ― Sarah Parker Thomas
30. "Your life will be transformed when you make peace with your shadow. The caterpillar will become a breathtakingly beautiful butterfly. You will no longer have to pretend to be someone you're not. You will no longer have to prove you're good enough." ― Debbie Ford
---
---
Relatable Inner Shadow Work Quotes:
31. "The Ego is the 'thing' that you've created to keep hiding from your Shadow, convinced that it's all the 'light' or 'good' things about you – when in reality, the ego is neither 'good' nor 'bad' because it's totally unreal." ― Oli Anderson (Shadow Life: Freedom from Bullshit in an Unreal World)
32. "By reintegrating our shadows, we reclaim our 'lost selves' and begin to truly know our Wholeness." ― Christie Inge
33. "Our work is to integrate and eventually transcend darkness and light altogether by holding them equally in a state of interconnection." ― Sasha Graham (Dark Wood Tarot)
34. "Light and shadow are opposite sides of the same coin. We can illuminate our paths or darken our way. It is a matter of choice." — Maya Angelou
35. "There is no light without shadows, just as there is no happiness without pain." ― Isabel Allende (Portrait in Sepia)
36. "It hurts to live in trauma; it hurts to heal from trauma… It takes courage to make a choice. Choose wisely."
— Johnnie Dent Jr.
37. "The problem with introspection is that it has no end." ― Philip K. Dick
More Quotes About Shadow Work:
38. "Shadows which you see with difficulty, and whose boundaries you cannot define … these you should not represent as finished or sharply defined, for the result would be that your work would seem wooden." — Leonardo Da Vinci
39. "A man is whole only when he takes into account his shadow." ― Djuna Barnes
40. "Your Ego and your Shadow are in constant conflict." ― Oli Anderson (Shadow Life: Freedom from Bullshit in an Unreal World)
41. "Its mystery vanishes, like a shadow, the moment the light aimed at your characters turns back upon yourself." — Doran Larson
42. "You need the dichotomy. If you're doing something happy and light, you need the shadows." — Beck
43. "The shadow escapes from the body like an animal we had been sheltering." ― Gilles Deleuze (Francis Bacon: The Logic of Sensation)
44. "Intelligence is a harder gift. For this you must work, you must practice it, challenge it, and maybe toward the end of your life you will master it. Cleverness is the shadow, whereas intelligence is the substance." — Bryce Courtenay
45. "Wrong was easy; gravity helped it. Right is difficult and long. In choosing what is difficult we are free, the mind too making its little flight out from the shadow into the clear in time between work and sleep." — Wendell Berry
The best quotes for shadow work
The best way to work on your personal shadow is to go the therapy, journal, speak positive affirmations, and surround yourself with memorable quotes.
With the help of these, you will see just how much improvement you make in healing your inner child.
Speaking of healing your inner child, have you downloaded your free inner child healing workbook yet? 👇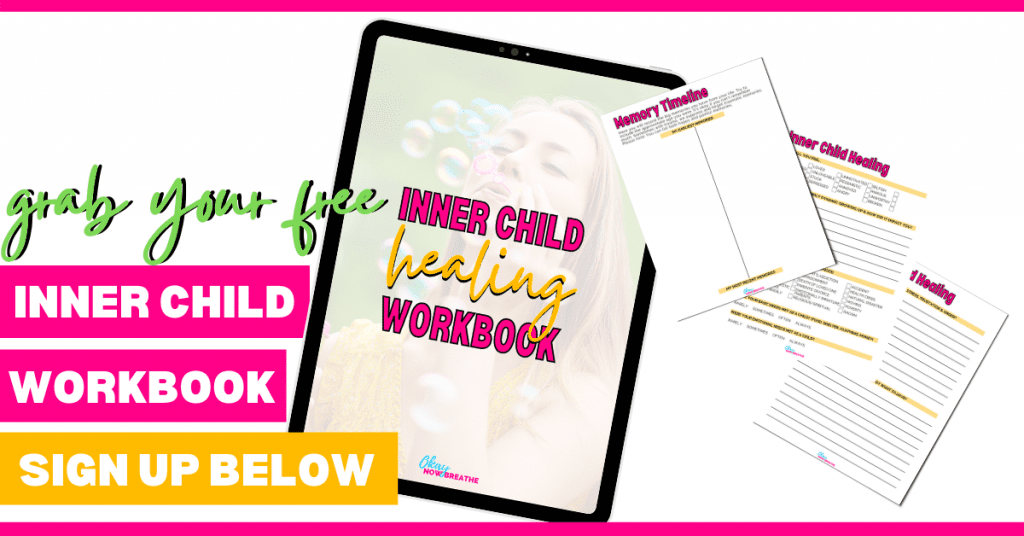 Related shadow work posts:
Related quote posts:
---
Did you know there's online therapy?
Online Therapy is a complete online therapy toolbox.
Your therapy toolbox includes:
Live video, voice, or text chat session with your therapist
8 easy-to-follow sections, including 25 worksheets
Activity plan, journal, and tests
Yoga and meditation videos
What I love about Online Therapy is that there are several life-changing options and therapists available, and you don't even have to leave the comfort of your home.
This means you never need to worry before getting help.
Get 20% off your first month with my exclusive link.
---

Facebook | Instagram | YouTube | TikTok | Pinterest
Best Quotes for Shadow Work