DISCLOSURE: I am not a mental health professional. If you need help finding a mental health care provider, call 1-800-662-HELP (4357) or visit Online Therapy to call, message, or video chat a certified therapist online. This post contains affiliate links. As an Amazon Associate, I earn from qualifying purchases. I may also receive compensation from Online Therapy or other sources if you purchase products or services through the links provided on this page. You can read my full disclaimer.
Inner Child Oracle Cards
When you feel stuck on your inner child healing journey, oracle cards can skyrocket you forward.
These cards offer both spiritual and practical guidance on how to heal your wounded child.
Without oracle decks in my toolkit, I wouldn't be anywhere near as far on my healing journey as I am today.
So, what are oracle cards?
Oracle cards are a self-exploration tool designed to help you tap into your inner soul and unconscious mind.
They're excellent for meditating on, journaling with, and uncovering areas of your life that could use some extra love.
That being said, oracle decks are a fantastic tool for inner child healing.
Speaking of that…have you downloaded your free inner child healing workbook yet? 👇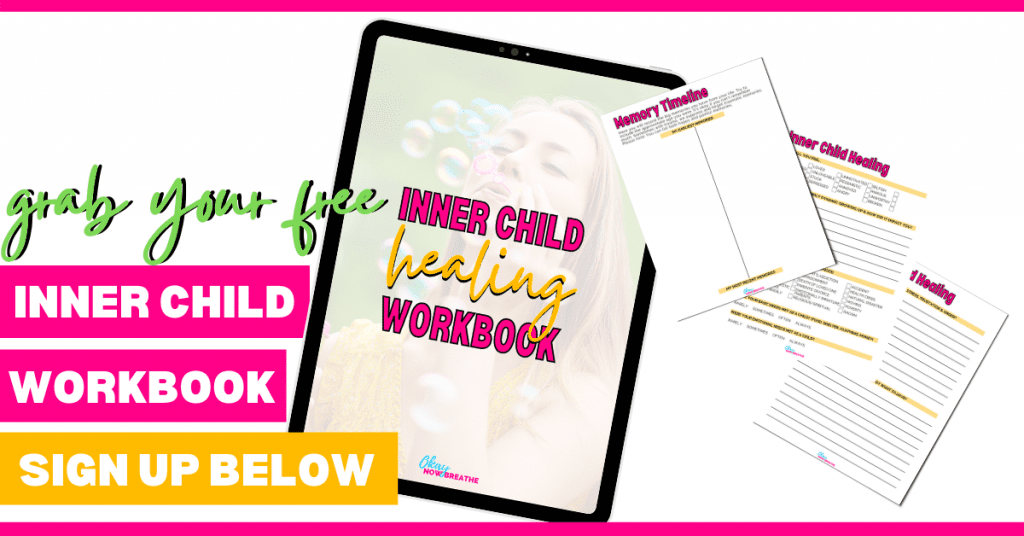 And now, let's get into the best oracle cards for healing your inner child.
23 Oracle Decks for Healing Your Wounded Child
1.

HEAL YOURSELF READING CARDS
One of the most straightforward inner child healing decks out there is Heal Yourself Reading Cards.
These cards encourage you to look inside yourself to bring forth massive transformation by examining challenging emotions and self-destructive thought patterns.
Heal Yourself Reading Cards deck is intuitive, emotional, and raw and expresses both the lighter and darker sides of healing.
2.

QUEEN OF THE MOON ORACLE
Queen of the Moon Oracle is filled with stunning imagery that emits intense healing energy.
The 44 cards feature a full moon cycle — including seasonal moons — that'll help you tune into your inner child.
Each of the strikingly beautiful cards in Queen of the Moon Oracle provides a word of guidance and discernment.
3.

MOONOLOGY MANIFESTATION ORACLE CARDS
If you're looking to heal your inner child with astrology, get yourself Moonology Manifestation Oracle Cards.
You'll uncover the astrological signs and moon phases and how you can use them to amplify the inner work you're doing.
With the help of Moonology Manifestation Oracle Cards, you can dissect what parts of you that need extra attention.
Related post on astrology:
4.

ANGELS AND ANCESTORS ORACLE CARDS
Using Angels and Ancestors Oracle Cards, you can deeply connect with your ancestors and loved ones who have passed.
Did you know that the deeper trauma is engrained into your family history, the harder the chains are to break?
Angels and Ancestors Oracle Cards can help you unearth this trauma, so you can heal on a more soul level.
💭 Have you heard about intergenerational trauma?
Well, intergenerational trauma is the theory that trauma can be inherited, because there are genetic changes within a person's DNA.
More specifically, epigenetics is the study of the effects that environment and behavior have on genes.
I know that's super science-y, but basically, studies have supported the idea that an ancestor's exposure to trauma may impact future generations.
👉 If you import your family tree on MyHeritage.com, I'm sure you'll uncover years of history that can be rooted in trauma.
It's incredible that you can connect with your distant relatives, and you can even get your own DNA test done if you're feeling fancy.
5. SHINE FROM THE INSIDE ORACLE
Crafted with soft and colorful pastels, the Shine From the Inside Oracle is a watercolor dream.
With the inclusivity of different races and body types, there is a realism to the cards that captures what it takes to heal.
The Shine From the Inside Oracle empowers you to be gentle with yourself while you focus on difficult inner work.
6.

CHAKRA WISDOM ORACLE CARDS
Chakra work is pivotal to inner child healing, and Chakra Wisdom Oracle Cards make working on your chakras a little more straightforward.
Each of the 49 cards is designated to a specific chakra that needs your focus.
Chakra Wisdom Oracle Cards is an excellent choice when used in conjunction with meditating.
More on chakra work:
7.

CONSCIOUS SPIRIT ORACLE DECK
Another deck that has ingrained chakra components into the cards is the Conscious Spirit Oracle Deck.
In addition to the representation of chakras, the 44 cards also feature elements of nature, angels, and spirit guides.
This gorgeous deck guides you to awaken your inner spirit and rekindle your connection between the cosmos and the earth.
8.

WORK YOUR LIGHT ORACLE CARDS
By using the Work Your Light Oracle Cards, you'll be able to start to live a life in alignment with who you genuinely are.
As you work with this inner child deck, you'll find your intuition increasing and your soul's voice getting stronger and louder.
By invoking healing, the 44 cards in Work Your Light Oracle Cards will guide you into embracing the work you came here to do — which is your soul's purpose.
9.

DARK MIRROR ORACLE
Dark Mirror Oracle is a fantastic inner child oracle deck, with its harrowing, raw, and intense themes.
As the name implies, the deck highly encourages you to look inside yourself and to shine a light on the darker parts of your current situation.
Dark Mirror Oracle cards will assist you in healing your inner child by accepting the darkness within.
10.

ORACLE OF THE UNICORNS
I'm a big fan of mystical creatures, so Oracle of the Unicorns is one of my most used decks.
With the guidance of unicorns and pegasus, the deck encourages you to reawaken your unique abilities, wisdom, gifts, and potential.
Oracle of the Unicorns will help you become more connected with your inner child by experiencing deeper happiness, peace, love, and prosperity.
11.

ENCHANTED MAP ORACLE CARDS
Enchanted Map Oracle Cards is a superior choice for connecting you to the metaphoric map that is the journey of your life.
The themes in the 54 cards of this deck represent some of the places you'll travel, the conditions you might encounter, and the people you might meet — whether positive or negative.
Enchanted Map Oracle Cards will empower you to understand the story of your fate, destiny, and free will.
12.

A YOGIC PATH ORACLE DECK
For an intensely profound oracle deck, A Yogic Path Oracle Deck is the one for you.
Each of the 54 cards represents yourself, which is symbolized by sacred figures and concepts that are integral to yoga and Ayurveda.
You'll also find symbols of the chakras, Hindu deities, and Vedic spirituality in A Yogic Path Oracle Deck.
13.

SACRED SELF-CARE ORACLE
The Sacred Self-Care Oracle contains 55 cards specializing in the healing practice of self-care.
Even though the images throughout the cards are cartoony, they are positive and impactful.
With the help of the deck, you'll be able to take a much-needed break from intense inner work.
14.

SPELLCASTING ORACLE CARDS
If you're looking for an inner child deck that offers gorgeous artwork, Spellcasting Oracle Cards is a dazzling choice.
The cards capture the grittiness of overcoming trauma, while encouraging you to see the light amongst all your pain.
Spellcasting Oracle Cards is a must for anyone who wishes to see the positive in healing.
15.

BEYOND LEMURIA ORACLE CARDS
The energy radiating off Beyond Lemuria Oracle Cards is indescribable.
Lemuria represents an ancient land that was the cornerstone of a spiritual civilization.
With Beyond Lemuria Oracle Cards, you can reach a new level of spirituality to heal your wounded child.
16.

DIVINE BELOVED ORACLE CARDS
A lot of inner child healing is about surrendering, and Divine Beloved Oracle Cards helps with just that.
When you can acknowledge how you're actually feeling, that's when the most healing takes place.
Divine Beloved Oracle Cards reassures you that you're healing exactly as you're supposed to.
17.

SACRED REBELS ORACLE
If you're looking for an oracle deck that's filled with stunning imagery and sincere guidance, Sacred Rebels Oracle is where it's at.
The 45 cards encourage you to trust in yourself and honor your sacred, rebellious soul.
Sacred Rebels Oracle's goal is to support you in expressing your unique, authentic self.
18.

DEEP, DARK, & DANGEROUS ORACLE
Deep, Dark, & Dangerous Oracle reminds you that shadow work doesn't have to be feared.
When you dive deeper into healing from your childhood, more painful memories will arise.
Though it may be scary, Deep, Dark, & Dangerous Oracle can comfort you through the process.
19.

DIVINE ANIMALS ORACLE
The striking animals and eternal deities depicted in the Divine Animals Oracle can play a significant role in shadow work and inner child healing.
Each card carries so much energy, power, and strength to help benefit your life.
With the cards being beyond breathtaking, Divine Animals Oracle will quickly become one of your most used decks.
20.

SACRED DESTINY ORACLE
The Sacred Destiny Oracle uses symbols and signs in nature to advise you on your path toward healing your inner child.
From the landscapes surrounding you, these vibrant cards will fill your days with messages of guidance.
Every card of Sacred Destiny Oracle invokes a sense of healing.
21.

THE DIVINE FEMININE ORACLE
The Divine Feminine Oracle depicts saints, mystics, gurus, and goddesses from all over the world.
What I find unique about this deck is that each card displays the name, a brief definition, and a positive affirmation connected with it.
Because each card includes so much, The Divine Feminine Oracle is perfect for a one-care daily pull.
22.

MAGICK OF YOU ORACLE
Magick of You Oracle is designed to help you overcome stressful and painful circumstances in your life.
The cards will aid you with universal wisdom as you use your own internal healing powers to improve reoccurring problems in your life.
Magick of You Oracle will urge you to discover and live your true essence.
23. STARRY BEGINNINGS ORACLE CARDS
Starry Beginnings Oracle Cards provides galactic images with a supportive affirmation on top.
With each message, you'll find the inner strength to focus deeply on healing.
Your inner child will feel well taken care of with Starry Beginnings Oracle Cards.
Healing Inner Child with Oracle Cards
Healing from years of childhood trauma can feel like an impossible feat.
But using oracle cards as a self-exploration tool can increase the healing energy required to make overcoming childhood trauma possible.
I personally love pulling one oracle card a day and journalling on the messages I receive.
Best oracle decks for inner child healing ⤵️
⭐ Moonology Manifestation Oracle Cards
⭐ Angels and Ancestors Oracle Cards
⭐ Shine From the Inside Oracle
⭐ Conscious Spirit Oracle Deck
⭐ Work Your Light Oracle Cards
⭐ Deep, Dark, & Dangerous Oracle
⭐ Starry Beginnings Oracle Cards
It might be just a me thing, but I love watching my oracle collection grow!
I also love these 23 Tarot Decks (for Intense Inner Child Work).
💾 Bookmark this page for whenever you want some inner child oracle cards to your healing toolkit!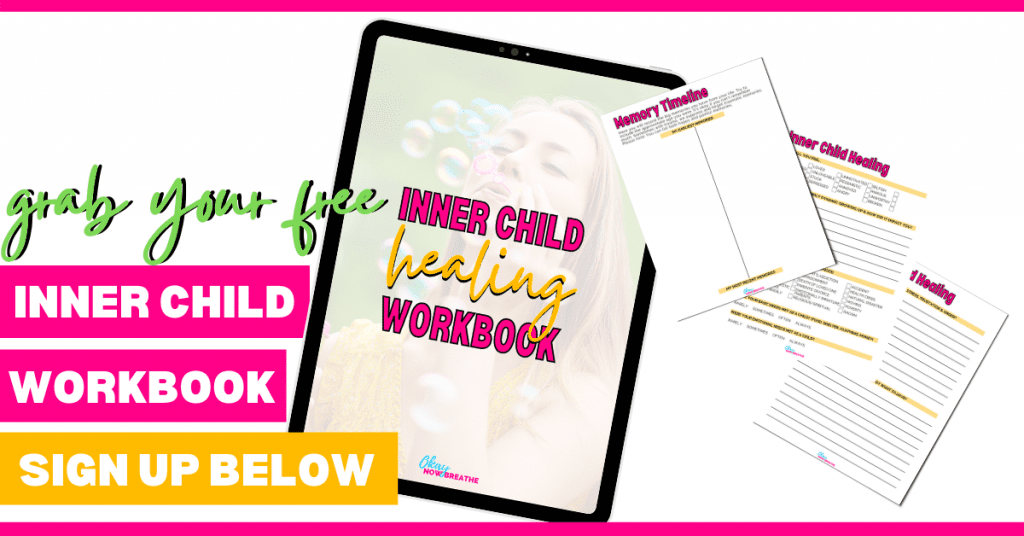 More inner child healing posts:
More oracle and tarot posts:
---
Did you know there's online therapy?
Online Therapy is a complete online therapy toolbox.
Your therapy toolbox includes:
Live video, voice, or text chat session with your therapist
8 easy-to-follow sections, including 25 worksheets
Activity plan, journal, and tests
Yoga and meditation videos
What I love about Online Therapy is that there are several life-changing options and therapists available, and you don't even have to leave the comfort of your home.
This means you never need to worry before getting help.
Get 20% off your first month with my exclusive link.
---

Facebook | Instagram | YouTube | TikTok | Pinterest
Oracle Cards for Inner Child Healing